SERVING UP ANOTHER WINNING YEAR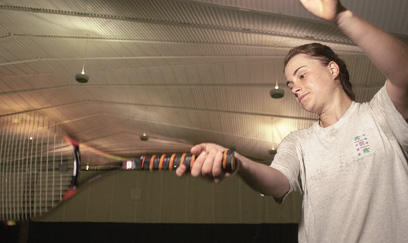 Joanna Toke '03 is looking forward to finishing another successful year with the women's tennis team. She completed the 2001-02 year undefeated in the regular season, losing only in the national championship match.
Last year, Rochester tennis player Joanna Toke '03 was undefeated in the regular season and advanced to the NCAA Division III national championships before losing in the final match. This spring, she is as concerned about acing the Medical College Admission Test (MCAT) as with netting another shot at a title.
The biology and German major has a 3.9 grade point average and plans on attending medical school, so she's putting her academic goals at the top of her list of priorities.
"I definitely want to go to nationals," Toke said, adding that she was hopeful of a trip to the finals in doubles as well.
"We have a really strong team this year," she said before heading to California over spring break to kick off the spring season.
While Toke says tennis is a way to relieve stress, that doesn't diminish her competitive drive. She emphasizes her desire to finish this year better than second place.
"She can do anything at this level, really," said coach Anna Khvalina. "It's a very competitive region, but she can really set her own goals for the rest of the way."
And Toke's goals are to improve on an impressive 2001 season in which she won the New York State singles championship, the state doubles championship with partner Rachael Sandler '02, and the Intercollegiate Tennis Association Northeast Regional Championship. She also helped Rochester win its first Upstate Collegiate Athletic Association team title.
Early this spring, Khvalina was confident that the team could achieve as much this year as last. She pointed to enthusiastic players like Rachel Isenberg '02 as examples of the team's strengths.
"We did really well in the fall, which set us up to have a good chance in the regionals this year," she said. "The whole team is doing well. Hopefully, they'll continue to work hard."
Leading the way will be Toke, who transferred to Rochester at the start of the 2000 year from Cornell - a Division I school - and was named an All-American in her junior year playing for the University. Despite her high hopes to continue her winning trend, she won't be playing during the 2002-03 school year. She's chosen to spend the year studying in Germany, but she expects to return for another year.
Her ultimate goal is to go to medical school, with her sights set on the School of Medicine and Dentistry at Rochester. Thus the pressure of the MCAT.
That's the kind of pressure Toke thrives on, particularly on the tennis court.
"I'm really looking forward to this year," she said. "I think we're going to be even better. I'll be glad to be a part of that."

Maintained by University Public Relations
Please send your comments and suggestions to:
Rochester Review.