AfterWords
Science on the Fly
Science education program produced by Eastman alumnus takes off. By Jenny Leonard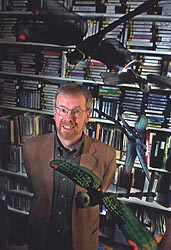 SCIENCE GUY: Hudson is the executive producer of the nationally syndicated science education series Dragonfly TV. (Photo: St. Paul Pioneer Press)
If kids ruled the world you can bet ice cream would always be the first course, skateboards the ride of choice, and science class—if there must be such a thing as science class—a lot like Dragonfly TV. The show that features real kids doing real science in really cool places is one of public television's biggest hits and a sequel of sorts for executive producer Richard Hudson '83E (PhD).
Seen weekly by about 1 million viewers and in classrooms across the country, the show comes on the heels of Hudson's first series for Twin Cities Public Television, the Emmy Award–winning science program Newton's Apple.
The guiding tenet for the series, explains Hudson, is that science is something you "do," not just something you learn. That's why each episode features kids with inquiring minds asking questions and discovering answers. According to the show's complementary Web site, "If kids can dream it, they can do it!"
In one recent episode, young investigators tested weightlessness, trekked to an Arizona desert for a lesson in infrared imaging, created miniature weather monitors, launched model rockets, discussed artificial intelligence with a robotics engineer, and attempted to figure out if aliens are trying to contact earth—all in just 30 minutes.
Hudson came up with the concept for the show while attending a conference for science educators. He saw a copy of the educational magazine Dragonfly and thought, "This would make a great TV show." He went to the National Science Foundation the next day and pitched the idea, securing funding for the first season.
It might seem like a natural fit for Hudson to produce science education programming, considering he has a bachelor's degree in physics and is a serious backyard astronomer, but it was his passion for music—not science—that led him to Minnesota and to a career in public television.
Hudson's decision to enlist and join the U.S. Army Chorus at the height of the Vietnam War set him on a path that led to the Eastman School and a doctorate in opera and performance. From there, it was off to Minneapolis, where Hudson took a position as assistant stage director for the city's opera company.
In the midst of a flourishing career with the company, Hudson learned that Twin Cities Public Television was launching Newton's Apple. Always up for a new challenge, Hudson applied for a production job and was hired. He spent the next decade and a half working on the series, eventually as its executive producer, until the program was canceled in 1997 due to funding problems.
Hudson was concerned Dragonfly TV might suffer the same fate this fall. Best Buy, a company that financially supported the show for the first three seasons, decided to cut its funding for the upcoming season. Thankfully, says Hudson, the National Science Foundation has agreed to pick up the remaining tab, and plans are under way to shoot the next six episodes.
"We're going to film at science museums across the United States to capture the experiences of young people exploring and learning," says Hudson. "It's an interesting approach and perhaps a first for a program of this type."
Since launching in 2001, the program has been praised by educators and parents as well as organizations like the National Science Teacher's Association. Last year, the group selected Hudson to receive its Discovery Faraday Science Communicator Award, an honor given to those outside the classroom who promote informal science education.
Hudson says he had a "hint" that he might win the award but was thrilled when the announcement came. The only dilemma, he says, was figuring out how to spend the cash prize.
"I contemplated taking some exotic vacation, but instead I decided to indulge one of my enduring passions," he says. "I splurged on a new electric piano, and I'm enjoying it immensely."
---
Jenny Leonard is editor of the University's faculty-staff newsletter.