Warner School
Benefactor Scandling Dies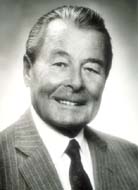 Scandling (Photo: University Public Relations)
William F. Scandling, an innovative businessman whose gifts to the University were recognized in 1993 when the Margaret Warner Graduate School of Education and Human Development was named in honor of his late wife, Margaret Warner Scandling, died August 22 at the age of 83.
"For those of us who had the good fortune to work with Bill and come to know him, this is a deeply personal loss," said Raffaella Borasi, dean of the Warner School. "He was an extraordinary man whose gentle guidance and thoughtful investments helped to inspire us, to empower us, and to give shape to this school. Bill's giving was about people—both honoring those he loved and investing in those he believed had the power to make the world a better place. He will be sadly missed."
"There is no doubt that Bill's generosity had a transformative impact on the school and its ability to serve the Rochester education community," said President Joel Seligman. "His legacy to the University is a thriving and deeply relevant school of education. His legacy to the Rochester community is improved schools and generations of educators who have the compassion, conviction, and skills to be leaders and agents of change."
Scandling attended Hobart and William Smith Colleges in Geneva, New York, and graduated in 1949, after serving in World War II. In his senior year of college, Scandling and two of his classmates took over the bankrupt Hobart cafeteria, which had closed. The young entrepreneurs grew the business and established the Saga Corporation as one of the nation's premier food service companies before its purchase by the Marriott Corporation in 1986.
Scandling's account of his management philosophy, Saga's success, and the company's takeover is recounted in his 1994 book, The Saga of Saga: The Life and Death of an American Dream.
Scandling, who made gifts over the years totaling more than $14 million to the Warner School, was a major contributor to Hobart and William Smith Colleges, as well as to Johns Hopkins University, Deep Springs College, the Salk Institute, and Northern Arizona University, and to many community-based organizations and causes.
Read a tribute to Scandling: The Scandling Legacy at the University of Rochester.