Sports: Squash
On Court: Coach Heath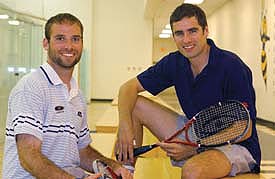 COURT LEADERS: Martin Heath (right), Rochester's new squash coach, and Matthew Dankner, assistant coach, take over Rochester's squash team this winter.
Hailing from Oban, Scotland, Martin Heath has a uniquely Gaelic way of saying goodbye.
"Cheers!" Rochester's new head squash coach tells players, fellow coaches, journalists, and just about anyone who crosses his path.
With a new squash season beginning, everyone involved with the program is betting that fans will soon be offering cheers of their own once the squad hits the court.
Heath certainly has the pedigree to give the Yellowjackets something to cheer about: He spent six years ranked in the world professional top 10 as a player, then several more as a TV commentator and Squash magazine columnist. During that time, Heath also worked as a private coach, helping many athletes prepare for collegiate competition.
"As a world-class player, coach Heath brings immediate credibility to our squash program," says George VanderZwaag, director of athletics and recreation. "Obviously, he has tremendous knowledge of the game. I believe he will be an excellent teacher, and this will make him an effective coach."
Heath immediately got to work fulfilling that promise. Although he didn't officially start his new job until September 19 and didn't start training the Rochester players until the NCAA–mandated date of October 15, he arrived on campus several weeks early and set about "just getting used to it, getting to know the dynamics and meeting the team."
Coaching, he feels, is a natural step for him.
"It was always in the back of my brain that I could do this," the 32-year-old Heath says. "I spend so much time on the court, I felt like I wanted to be involved in a coaching or management capacity."
Heath also has the educational background needed to teach and train young athletes. Unlike many other pro squash players, he completed his academic preparation, earning a bachelor's degree in physiology and sport science from the University of Glasgow. As a result, he says, coaching "was more available to me than other pros."
But, of course, his playing experience helps him as well. A six-time Scottish champion, Heath reached a world ranking of No. 4 after joining the Professional Squash Association world circuit in 1993. That playing experience, he says, will hopefully make him a better coach.
"I've been playing for lots of years, so I think I can look at kids, find their flaws and help remedy them," he says.
And after meeting and watching this year's team for several weeks, Heath predicts good things from the Yellowjackets.
"I'm excited," he says. "We have a lot of potential here."
VanderZwaag believes Heath can continue the strong Rochester squash tradition launched a half century ago by Peter Lyman '47, who for 50 years has nurtured the program.
"Under Martin's leadership, we should continue to provide our students a very positive experience and continue to build on the program's legacy established by coach Lyman," says VanderZwaag.
Will Heath continue that legacy? He feels he and his players can do just that.
"That's the idea," he says. "That's why I was hired."
—Ryan Whirty