When You're in Scottsdale . . .
Winfield Scott, Class of 1859, was many things in his life: Civil War captain, Army chaplain, Baptist missionary, civic pioneer, educational leader, elected representative, and entrepreneur. But not least of the Gettysburg veteran's accomplishments, he is credited as among the first people to see the potential for establishing cities in the Arizona desert.
One of those cities—Scottsdale, now a suburb of Phoenix—is named in his honor, and this spring, a new generation of city leaders recognized the Rochester graduate's accomplishments with a commissioned statue on the Scottsdale Civic Center Mall.
The statue of Scott, his wife, Helen Louise Brown, and the family mule, "Maud," is based on a historic photograph showing the city pioneers surveying their property in the late 1890s. That property included 640 acres that Scott bought in 1888 in order to raise oranges, grapes, apricots, and other fruits.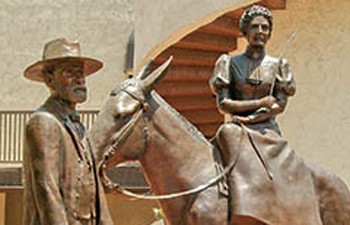 A tireless promoter of the region, he and his family were instrumental in creating Scottsdale's school district, and he served on the city's first school board in 1896. Two years later, he was elected to the Territorial House of Representatives. From 1903 to 1905, he served as chancellor of the University of Arizona in Tucson. Meanwhile, Helen devoted herself to promoting education and land investments.
Scott's life in the desert Southwest was the continuation of a remarkable career for the upstate New York native. After graduating from the University, he entered the Rochester Theological Seminary (now the Colgate Rochester Crozer Divinity School) and became a minister. During the Civil War, he served as a captain in Company C of the 126th New York Volunteer Infantry with classmates Samuel Porter and Francis Pierce.
Wounded five times during the war, including during the 1863 battle at Gettysburg, Scott went on to become a missionary Baptist minister who founded several churches (the town of Winfield, Kan., is also named in his honor) before arriving in the Arizona territory.
The Scotts remained in Arizona until their deaths—Winfield in 1910 at age 73 from complications of his old war injuries, and Helen, 23 years later at age 93.
—Janice Arenofsky