A Rochester Life
G. Robert Witmer Sr. '26: 1904–2007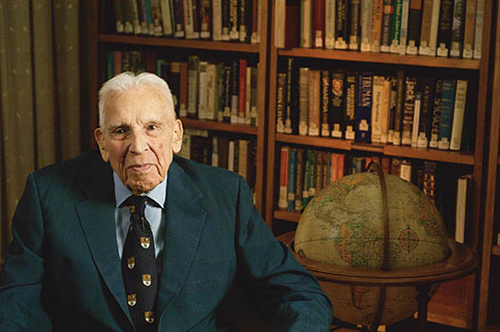 For some people, college gets chalked up in their memory as the best time of their lives. When Judge G. Robert Witmer Sr. '26 thought back to his four years at the University, yes, he had stories to tell. But since graduating more than 80 years ago, there had been a lot of life as well.
At the age of 102, Witmer delighted in tossing out snippets about famed professors like historian Dexter Perkins, who didn't have the charm of Witmer's favorite in the department, Laurence Packard. "He was down to earth, and I liked his manner of teaching," Witmer said last year of Packard. In fact, Packard lived on the same floor of Kendrick Hall with Witmer and other students on the Prince Street campus. "Perkins had a very squeaky voice," Witmer recalled, "but he was a great lecturer."
Mister Witmer, the honorific used regularly for all male students, carried a double major in history and English. He always enjoyed quoting poetry. During an interview, he began one by British poet Robert Herrick with the famous first line "Gather ye rosebuds while ye may." He recited the full poem, "To the Virgins, to Make Much of Time," and then chuckled, perhaps at the irony of its message that beauty is fleeting and death not far behind.
Witmer's life in law was significant. After graduating from Harvard Law School in 1929, he practiced in Rochester and later formed a partnership. In 1933, he became town attorney in Webster, his hometown, and in 1935, he was elected supervisor for 10 years. By 1945, he was elected Monroe County Surrogate until his election to Supreme Court in 1953.
For the next 40 years, says the Appellate Division's own history, he served in other judicial positions, including as associate justice in the First Department (New York City) and the Fourth Department (Rochester) of the Appellate Division until 1980. Even after retirement, he administered the Preargument Program until 1994—when he was 90.
Judge Witmer's wife, Marian, who graduated from William Smith College and became an English teacher, died in 2005. The couple's three sons are all University graduates: G. Robert Witmer Jr. '59, a Rochester lawyer who serves as chairman of the University's Board of Trustees, John Witmer '60, and Thomas Witmer '65. The judge was related to a total of 13 graduates of the University.
At Meliora Weekend 2006, President Joel Seligman recognized Judge Witmer with the gift of a clock for returning to mark 80 years since his graduation in 1926, noting that the judge had been a graduate for more than one-half of the University's life. Records aren't clear on whether he was the oldest living alumnus. Earlier in 2006, the president's residence on Mt. Hope Avenue was renamed in honor of Judge and Marian Witmer. Their son, G. Robert Witmer Jr., and his wife, Nancy, were the chief benefactors in a drive to renovate the historic, 100-year-old house and add 2,400 square feet of space. The new space is used by Seligman and his wife, Friederike, to host University events and to entertain University groups of faculty, students, and guests.
Judge Witmer died September 6.
"He was a truly wonderful man, who was a great jurist, the patriarch of an extraordinary family, a husband, father, grandfather, an alumnus, and a friend whom all of us can only admire," Seligman said. "Friederike and I were deeply honored to have dedicated the Witmer House to Judge Witmer and his late wife, Marian, last year. His charm, wit, and eloquence will stay with us always. He was a model to us all."
—Sharon Dickman