Dining Services
Rochester Is First College to Earn 'Pride of NY' Label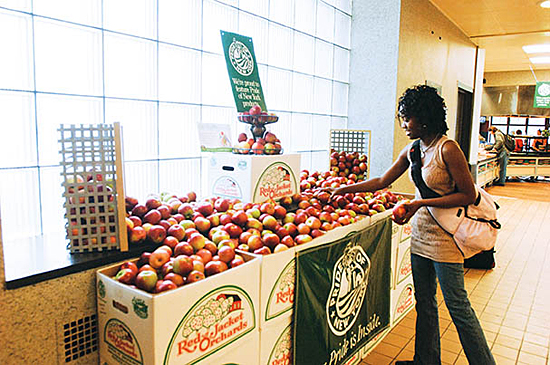 The hunt for quality food grown and processed as close to campus as possible has earned Rochester a place as the first college in New York to join the Pride of New York Program.
For four years, Dining Service has networked and negotiated to find food that pleases eaters' stomachs along with their sense of responsibility to promote local farmers and producers, and contribute to a more sustainable world. Bagels, quiche, herbs, lettuce, tomatoes, cheese, crackers, cider, and, of course, apples have local roots and are served throughout the River Campus.
Cam Schauf, director of Campus Dining Services and Auxiliary Operations, says about 11 percent of total purchases now comes from local sources—up from almost 1 percent three years ago. Last year, for example, more than $500,000 was spent on those items, Schauf says.
Being selected for the program means educating people about New York–based products and using experts and resources around the state to improve the food offered on campus, Schauf says. There's growing recognition nationally and internationally of the desire to buy from nearby producers because it reduces the use of fuel, provides fresh foods, benefits the local economy, and educates the public.