Behind the Small Screen
By Katina Antoniades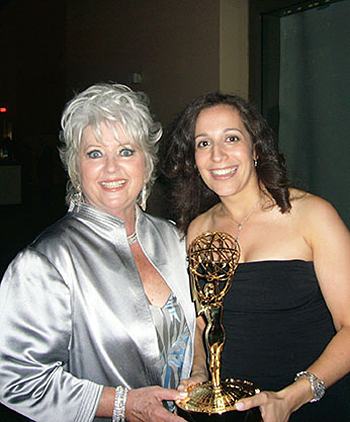 The television career of Jessica Shweky '99 (Take Five) has taken her to the Sydney Olympics, the ruins of Macchu Pichu, and to former president Jimmy Carter's kitchen. She has worked in the prestigious NBC page program and has had a successful freelance career as a producer. In 2007, Shweky won a Daytime Emmy Award as a producer of Paula's Home Cooking, the popular Food Network show featuring Georgia restaurateur and celebrity chef Paula Deen.
Deen's show, where Shweky worked for four years, is what brought her to the Carters' home. Among her many responsibilities, Shweky scouted the couple's kitchen in Plains, Ga., to see whether it was a suitable location for filming an episode of the show.
"I went there to take a look at the kitchen and was pleasantly surprised to see President Carter and his wife, Rosalynn, standing there," Shweky says. "As I photographed the kitchen, I asked the former president what his favorite foods were. It was a surreal experience that I will always remember. The Carters were gracious hosts, and we filmed them with Paula, cooking together in the kitchen."
Despite her lifetime love of fitness—Shweky played field hockey and lacrosse at Rochester and has nine marathons and two half-Ironman triathlons under her belt—Shweky never abstained from digging into the rich Southern food on Deen's set. "We would always devour the food Paula cooked for the show. It was too hard to resist," she says. "By the time I lost the weight I gained from each shoot, I'd be off to the next shoot, ready for more delicious food."
Although it can offer brushes with fame—especially for Shweky during her stint as a green-room page at NBC, where her responsibilities included shepherding guests on The Today Show—television production, especially in a freelance career, can be challenging, she says.
"It's very difficult to plan even just a few weeks ahead," she says. "Most of the time the schedule and the hours are demanding, but at the end of the day, when you see the final product, it's very rewarding and always worth it."
Although Shweky now works for a sports and event marketing and promotion company, she enjoyed freelancing for the variety it offered, the people she had the opportunity to meet, and the places to which she was able to travel. She worked as a producer on several different shows, such as Get Fresh with Sara Snow and The Next Food Network Star, including one episode that set a record as the most-watched episode in the Food Network's history, and she did casting for reality-show pilots.
"The ability to learn from so many different projects and people really keeps it exciting."