Features
Faces of the Nation
David Ward '74 helps give the Smithsonian National Portrait Gallery a modern face-lift.
By Karen McCally '02 (PhD)
For years, the Smithsonian National Portrait Gallery in Washington, D.C., suffered from something of an identity crisis. It was conceived as a history museum, but its collections were artworks. In its early years, it pleased neither art critics nor historians. As for the lay public, the gallery was often overshadowed by the older and larger National Museum of American History and National Gallery of Art.
But in the eyes of some observers, the portrait gallery has aged well. According to Philip Kennicott, the Pulitzer Prize–winning art and architecture critic for the Washington Post who has been following the museum beat for several years, today it's the portrait gallery whose star is shining most brightly.
He gives a lot of the credit to David Ward '74.
"There is good news out of the National Portrait Gallery, which has proven itself an exception to the often dispiriting conformity and timorousness of other Smithsonian museums," Kennicott wrote in the fall of 2013, upon the gallery's announcement of Ward's promotion to senior historian.
---
A Tour of the Gallery
David Ward '74, senior historian at the Smithsonian National Portrait Gallery, shares his thoughts on five of his favorite portraits from among the more than 21,000 works in the gallery's permanent collection.
Ward came to the gallery in 1981 as a research assistant. Later, as historian, he played a lead role in several special exhibitions exploring the themes of identity and self-fashioning in the context of ethnicity, sexuality, and professional and artistic roles. The exhibitions—"Face Value: Portraiture in the Age of Abstraction," "Poetic Likeness: Modern American Poets," and "Hide/Seek: Difference and Desire in American Portraiture," to name three—won positive attention in the art world, and in some cases coincided with noticeable upticks in a visitation rate that has averaged about one million visitors per year, according to Bethany Bentley, the gallery's head of communications and public affairs.
Without concurring with Kennicott's general assessment of the Smithsonian, Ward says the gallery has become, of late, used to surprising its critics. "We've gotten tired of being called the best secret in Washington," he confides.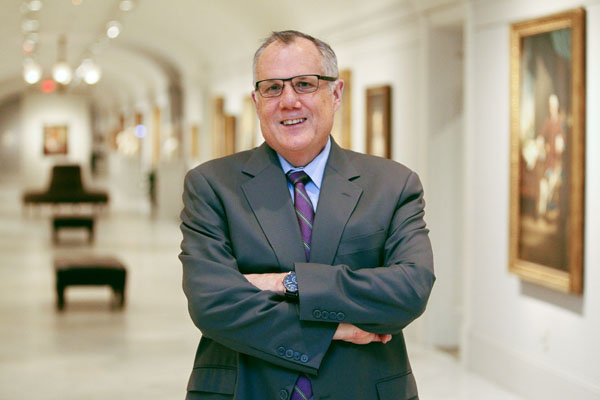 It's no mystery what the surprise is about. "Initially we were conceived almost like a hall of fame. It was very much the political nation," Ward says, noting that the gallery was envisioned in the mid-1960s as an American version of Britain's National Portrait Gallery in London. "We've struggled against that. And I think we've successfully struggled against that."
As a mode of artistic expression, portraiture fell almost entirely out of favor among artists by the mid-20th century. According to Jonathan Binstock, an art historian and the Mary W. and Donald R. Clark Director of the Memorial Art Gallery, portraiture often still gets a bad rap.
"If you were to walk around places like Chelsea in New York City, Hong Kong, Berlin, Los Angeles, wherever you might go where there's a high density of contemporary art, you wouldn't find much portraiture at all," says Binstock.
But he says there are unique virtues to portraiture, and this past summer he transformed the museum's opening gallery into a display of portraiture, a strength of the museum's permanent collection.
"It's a very welcoming way to invite people in. You come in and you're engaged with other people, as it were. With faces, you look at them, and they look back at you. And you can start your conversation with art there."
Viewers haven't always been encouraged to "converse" with portraits. Says Ward, "Portraits have had a hierarchical, authoritative role, and that goes back to the Renaissance. They're up on the wall. And you look up at them." And then there's the gaze, which Ward calls a "powerful laser beam of political and cultural control, this kind of magisterial, death-ray stare coming out of the subjects."
Modern viewers have come to see that stare in a different light.
"As we've become less comfortable with hierarchy, even in official portraiture, the gaze has been altered," Ward says. "For one thing, we're interrogating the portrait as well."
In the 2014 exhibit "Face Value," Ward and his colleagues turned the marginalization of portraiture in the post–World War II era to their advantage, displaying a mix of familiar artists and works to advance an alternative view of the period: that abstract artists were not abandoning portraiture, but reinventing it; that a time long assumed to be the nadir of portraiture might instead be seen as a rich period in its evolution.
Ward often draws from both the permanent collections of the gallery and works on loan. He's overseen exhibits that have been criticized for relying too much on familiar artists and works. But there's a reason for working with familiar material, which Ward demonstrated most forcefully in "Hide/Seek." He calls the exhibit, which he cocurated with Jonathan Katz, director of the visual studies doctoral program at the State University of New York at Buffalo, "my succès de scandale." It brought into the limelight what the curators say had long been hidden in full view. As Ward told one critic at the time, it was an exploration of the ways in which gay, lesbian, and bisexual artists and subjects had resisted the "forbiddenness" of their sexuality in mainstream culture "by developing new visual ways to code, disguise, and express" their identities in portraiture. It was well attended and attracted positive attention from critics from Washington to New York to London, and condemnation from some religious groups and members of Congress. G. Wayne Clough, then secretary of the Smithsonian, ordered the removal of one of the exhibit's works.
Ward says he's tired of talking about the controversy, but not about the art. "It was an incredibly rich artistic show," he says.
Ward arrived at the gallery in the early 1980s by what he calls "serendipity." He studied history at Rochester at a time when, he boasts, "it was probably the best American history department in the country." He took courses with several of the department's stars, notably Eugene Genovese, Christopher Lasch, and Herbert Gutman. He decided to pursue graduate study in labor history, traveling to England to earn a master's degree at the University of Warwick, and then to Yale for doctoral work. "This is where my life took a strange turn," he says.
Today he jokes that his early pursuit of labor history was "my big Oedipal rebellion." His father was John William Ward, who in the 1950s was among the founders of the emerging field of American studies. American studies was interdisciplinary, drawing heavily on literature and art, for example, to illuminate American culture and ideals as expressed in everyday life. The elder Ward's 1953 book, Andrew Jackson: Symbol for an Age, was a foundational text of the American studies movement. In the 1970s, labor history was a subdiscipline of social and economic history. "I didn't like it," Ward says. "I left Yale without finishing."
Needing a job, he landed one at the gallery, working as a research assistant on the papers of the early-American portrait artist Charles Willson Peale. Ward says he started "to refocus on history instead of feeling sorry for myself, which is kind of what I was doing when I was at Yale." Peale became the subject of Ward's first book, Charles Willson Peale: Art and Selfhood in the Early Republic (University of California Press). Working on the book was a personal journey during which Ward found that a study of American culture steeped in the arts was where he, too, could make a mark, his father's career notwithstanding.
"I'd become more and more interested in biography, and more interested in self-fashioning, and identity and individualism, within the context of American society," he says.
Ward is drawn to what he calls "the elusive and elliptical, a way of getting at a kind of deeper truth."
"When I was in my 20s, I was really certain about a lot of things. Now that I'm in my 60s, I'm completely uncertain about most things. There's nothing wrong with the kind of archival history that I started out doing. There are just other ways of doing it," he says. "It's like, let's think imaginatively about the past."