Features
Princes of the Palestra
Win a national championship? That was 'crazy talk' to the 1990 Yellowjackets. Until their attention to detail paid off.
By Jim Mandelaro
The impossible dream was casually mentioned after a preseason practice in 1989.
"You know," then Yellowjacket basketball coach Mike Neer '88W (MS) told his wide-eyed band of 14 young men, "national champions get rings made for them."
The players nearly laughed.
"We were so naive," says Chris Fite '92, the sophomore center from Latrobe, Pennsylvania, and the team's leading scorer. The team's annual early season test, the Chuck Resler Invitational at the Palestra, would be enough of a challenge.
"We weren't sure if we could win the Chuck Resler tournament, let alone a national championship," Fite says. "To be thinking that going into the season was crazy talk."
As junior guard Greg Krohner '91 told reporters at the time: "I thought I'd be on the moon before I got a ring."
On St. Patrick's Day, 1990, Krohner and Co. were over the moon with joy. A Rochester team built on defense and grit edged DePauw University of Indiana 43–42 in Springfield, Ohio, to win what remains the program's only NCAA Division III title.
The impossible dream had come true.
That milestone season remains the program's signature achievement, putting Rochester on the map among Division III perennial contenders. It's something that resonates strongly with student-athletes looking for more out of college athletics than just playing time.
Luke Flockerzi, the Yellowjackets' head coach for the past six seasons, says the 1990 national title is a touchstone for the program.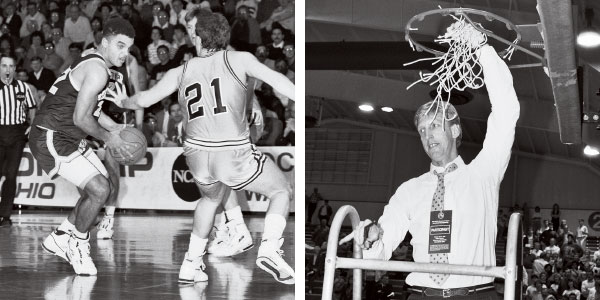 "Being able to point to 10 Sweet-16 appearances, four Final Fours, and a national championship gives validity to our program and motivates our team," Flockerzi says. "Each player wants to have those experiences for himself."
More than a quarter-century later, the special character of the 1989–90 season continues to offer many team members important lessons in teamwork, camaraderie, and friendship.
"Besides the birth of my children, winning the national championship with my amazing teammates has been the most memorable experience of my life," says former guard Lou Palkovics '91, a longtime history teacher and high school basketball coach in Doylestown, Pennsylvania.
"We just loved playing together," says starting guard Chris Johnson '90, a Seattle-based technology consultant for Microsoft. "No one ever complained about not getting the ball, not getting shots or not getting help on defense."
Going into the 1989–90 season, Rochester had not been in national contention for close to a decade. The Yellowjackets were coming off a 17–10 finish the year before. Four starters had graduated and only two seniors remained. But there was instant chemistry.
"We had different personalities and skill sets," says John Kelly '92, a reserve guard and a former federal prosecutor now in private practice in Washington, D.C. "But our coaches molded us into a close-knit group of friends."
The Yellowjackets continued to win, even after losing point guard Jimmy Jordan '93 to a knee injury in the sixth game. It was point-guard-by-committee after that.
They didn't realize how good they were.
"We got to be friendly with teams in our league because we'd eat with them after games," says Michael Coleman '92, a sophomore forward then and now a vice president of a national insurance company. "So many of them would say, 'You guys don't get it. Nobody can get a shot off against you!' "
The Yellowjackets were No. 1 in the country in field-goal percentage defense.
"Nobody shot 50 percent against us in a game," Neer says. "Nobody."
Rochester finished the season 21–5, then reeled off six wins in the NCAA tournament. That included a 62–57 second-round upset of Buffalo State, the fourth-ranked team in the nation but one that Rochester had beaten in a preseason scrimmage.
"This could be our destiny," Adam Petrosky '91 remembers thinking.
It was. The Yellowjackets won the lowest-scoring Division III final in history. Defense ruled, again.
They would knock on the championship door the next two years, losing a 1991 quarterfinal (in overtime) and the '92 final. There also would be appearances in the 2002 Final Four and 2005 national championship.
Neer retired in 2010 after 34 seasons and 563 wins. One year later, he took over at Hobart College in Geneva, New York, and went 66–20 in three seasons before retiring again.
The 1989–90 Yellowjackets left with rings, wristwatches—and life lessons.
"Coach Neer always stressed 'attention to detail,' " Coleman says. "It drove us nuts, and we'd imitate him behind his back: 'Attention to detail! Attention to detail!' "
Coleman now cringes when he hears himself say that phrase to his daughters, employees, and the girls basketball teams he coaches.
"I disliked it so much when Coach Neer said it," he says. "But it inspires me. It made me who I am today."
Petrosky—who once called himself the "most irresponsible person on the team in terms of being on time"—found a different inspiration. He's now a high school basketball coach, college counselor, and athletic director at an all-boys school in Pittsburgh.
Petrosky's father was a constant at his son's games, at home or on the road. He died in 2000, and the younger Petrosky sometimes watches the championship game just to see his dad celebrating on the court. "It's one of the few video clips I have of him," he says.
After his father died, Petrosky moved from Northern California to Pittsburgh to care for his ailing mother. The 1990 championship kept his spirits from sinking.
"During a period when I did not feel that great, the accomplishments reminded me that I was a national champion," he says. "Something only a relatively small group of people in this entire world can say."
During last October's Meliora Weekend, 10 members of that team reunited for a 25th anniversary dinner hosted by Neer. When the players walked into the restaurant, they saw the same blue banner that had hung for years in the Palestra. The one with all their names listed in white.
Only now it served as a tablecloth over a long wooden table.
Fite laughs at the memory—and the irony.
"Attention to detail," he says.
---
Jim Mandelaro writes about student affairs for University Communications.