Class Notes
TRIBUTE
Thomas Pryor '40: A Step-Grandparent and Alumnus who Embodied Meliora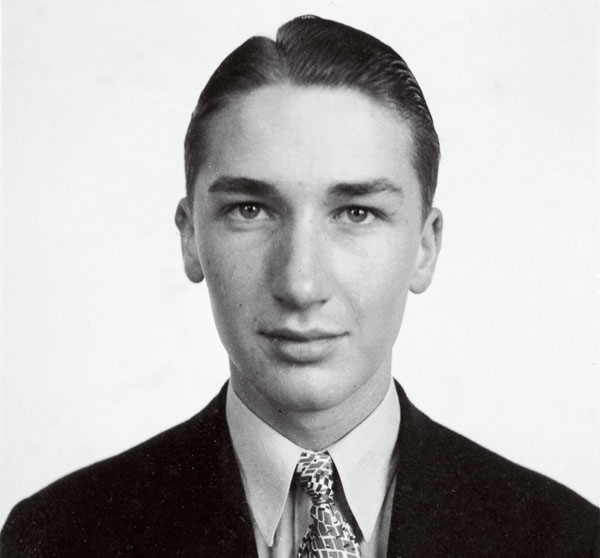 It was a typical wintery night in Rochester—bone-chillingly cold, and I was finishing up a game of squash when I remembered my stepgrandfather, Tom Pryor '40, telling me about a plaque with his name on it somewhere in the Goergen Athletic Center. I had been a Rochester student and member of the club squash team for nearly three years and had never noticed it. When I found it, it would be the first and last time I would be able to see his plaque before his death last December.
Tom was born and raised in Rochester, and after graduating from the University, went on to earn an MBA from Harvard. He always told me that he credited Rochester for not only offering him an exceptional education, but also building him up to be the man he would become in his professional career and personal life. As an alumnus, he felt obligated to give back to the school. He served on the Trustees' Council, and contributed toward the development of the Goergen Athletic Center.
He was not only a devoted alumnus; he was also a lovable, kind-hearted step-grandfather. As a kid, my family and I would travel down to Florida at least once a year to visit him and my biological grandmother in Key Biscayne. For hours, I would sit down and listen to Tom's stories of his life both in and out of college. Even as a hyperactive kid, I would never have trouble sitting down with Tom to listen to his life's experiences. He had many words of wisdom that he shared with me. There was one piece of advice that stuck with me the most: "Do the right thing if it fulfills yourself and feels like the right thing to do, not because you want to be acknowledged for it, or to impress others."
Years later, I realize that Tom embodied Meliora—"Ever Better." He gave back because he felt like it was the right thing to do. He didn't care about being acknowledged for his contributions to the University, although he was very appreciative of it.
Every time I pass his plaque on the squash courts, I think about his words of wisdom, the lives that he touched, and the legacy he left behind for me to continue. I'll love him always.
—Erik Chiodo '17
---
Chiodo is copy editor of the Campus Times. Adapted and reprinted, with permission, from the essay "A Letter to My Grandfather," which was published in the Campus Times, in print and online, on January 29, 2016.