Features
An Optical 'Family Tree'
Tracing the companies with connections to the Institute of Optics.
By Kevin Wesley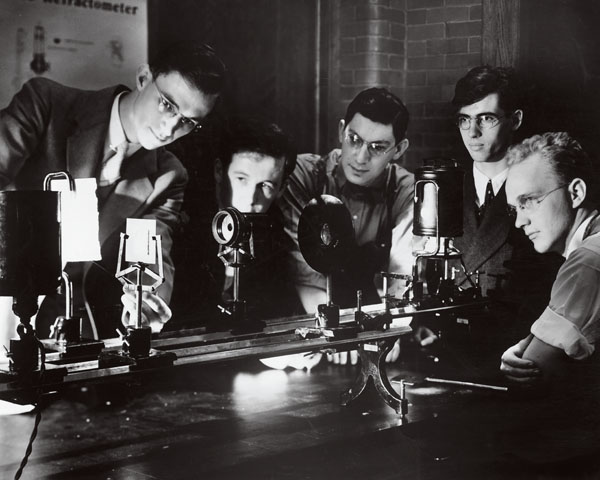 When Duncan Moore '74 (PhD), the Rudolf and Hilda Kingslake Professor in Optical Engineering Science, three years ago began doing some research for the 60th anniversary of the founding of the optics company Tropel, he made an intriguing discovery.
Tropel—now a division of Corning Inc., and one of the world's leaders in customized precision optical instruments—was formed by Robert Hopkins '45 (PhD), then a professor at the Institute of Optics. Moore's research indicated that former students of Hopkins went on to found 15 optics companies. He surmised that Hopkins, who later returned to the University's Laboratory of Laser Energetics and continued teaching at the institute after creating Tropel, had intentionally instructed students in the ins and outs of starting and running a company.
Moore was wrong.
Despite many interviews with Hopkins's former students, he "could not find one single instance" where Hopkins had talked explicitly with his students about launching their own businesses. Instead, alumni told Moore that it was seeing what faculty at the institute were doing that gave them the inspiration and tools to start their own companies.
A lot of the alumni, Moore remembers, said something like "I saw Bob doing something and thought, 'I could do that.' "
Apparently, they were right. More than 150 alumni and faculty members of the institute have started their own companies. And the University and the broader Rochester business community have long played a leading role in creating and maintaining some of the world's most successful optics firms. Along the way, they've created a tight-knit community within the sphere of optics.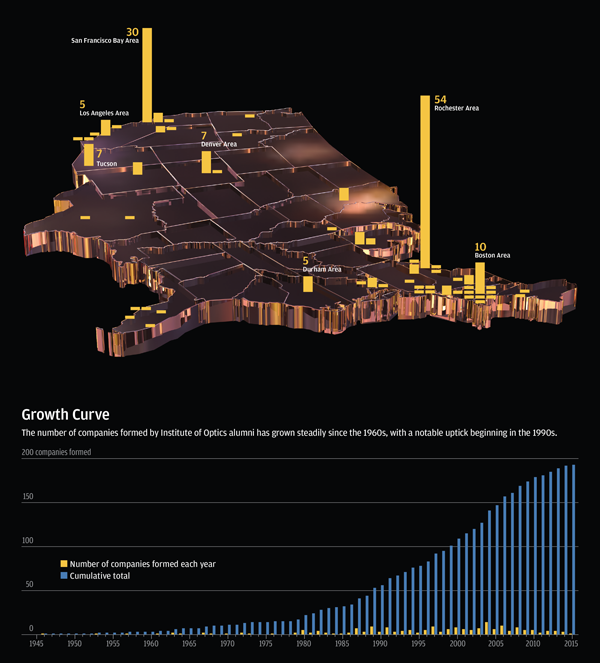 Founded in 1929, the institute was the first academic program focused on optics as a field. Since then, some 2,800 students have graduated, the largest group of optics degree–holders in the country.
"The people who leave Rochester never really leave Rochester," says Alan Willner, president of the Optical Society, known by the society's moniker, OSA. "Rochester people are famous for their camaraderie and loyalty to the institute. They're proud of being a product of the institute. They wear it as a badge of honor."
The Business of Invention
Even as a child, Stephen Fantone '79 (PhD) was fiddling with optics. He had a dark room and as a teen was grinding and polishing mirrors and building telescopes.
Today, he's the founder, president, and CEO of Optikos Corp., a company based in Wakefield, Massachusetts, that is the world's largest maker of equipment used to measure optical image quality. He has more than 65 patents to his name and serves on many corporate boards.
He says that the roots of his entrepreneurialism reach back to his graduate student years. He saw faculty members running their own businesses, and he himself took on consulting work while still a student. The combination of in-depth exposure to the local business community and the entrepreneurial success of faculty convinced Fantone that he, too, could venture into business.
He, along with other alumni, lectures to students when he is in Rochester.
"I've seen the skills of these students really blossom over the years," he says. "These kids are far better at presenting themselves."
And they present themselves so well that he has more than 15 institute alumni on his staff at Optikos.
"I have a lot of choices from where I can hire people," he says. "There's an intangible aspect to it. They're all smart and motivated—and they have a passion for optics." —Kevin Wesley
Moore agrees. "We tell potential students, 'Look, if you graduate from the Institute of Optics, you can call any alumnus, regardless of their station in life. They'll take the call.' "
Richard Pfisterer '79, '80 (MS) vouches for that. After graduating, he worked in the aerospace industry for several years, but grew to feel burned out. Eventually, he started his own company, Photon Engineering, in Tucson, Arizona. It's a leading optical software firm. As he was considering whether to start the business, he knew he had a safety net in the institute.
"I don't think any of us walk off the cliff without throwing a handful of dirt first to see if something is there," he says. For Pfisterer, meeting someone else from the institute means that "somehow we were related. You always knew there would be a classmate or professor who would help you solve your problem."
Ultimately, he says, it's in the culture of the place. "As a student, you see faculty come and go. You see them having businesses. I think it's about being in an environment where you see people doing this and coming back to talk about it. You think, 'He's teaching this, but he's also doing this.' "
Today, efforts to teach optics students about business are more intentional. Students are encouraged to take courses in business and entrepreneurship. Writing courses teach students how to communicate about technical knowledge with different audiences.
Moore's research indicates that 70 to 80 percent of institute alumni today are in industry, with 10 to 12 percent in research positions, and the remainder in academic posts.
"Only three people have ever retired from the institute," says Moore, noting that, in addition to creating companies, faculty are often recruited away. "That is amazing."
---
Kevin Wesley is a Rochester-based freelance writer.