In Review
LIVING HERE
Take a Bite Out of Rochester
Let a student foodie be your guide to eating well—but on the cheap—in Rochester.
By Rebecca Block '18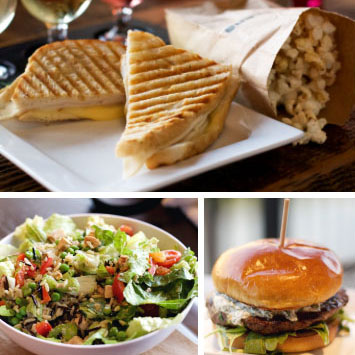 Whether you're an incoming freshman, a current student who hasn't explored much of Rochester lately, or a graduate coming back for a visit, here are 10 places that should be on your dining to-do list:
1. Bar 145 in College Town
71 Celebration Drive Rochester, NY 14642
(585) 360-2468
Go on Wednesdays for their $6 burgers and martini specials. You can create your own burger or order from their array of signature burgers, such as the balsamic bleu on a pretzel roll, or the Monte Cristo burger with ham, brie, fruit preserve, and red pepper garlic spread. Enjoy it with a refreshing "flirtini," made with Smirnoff vodka, triple sec, pineapple juice, and sparkling wine.
2. Swiftwater Brewing Co.
378 Mt. Hope Avenue Rochester, NY 14620
(585) 530-3471
Located just off campus, near the Ford Street Bridge, Swiftwater is a perfect short walk away on a nice fall day. Not only for beer lovers, the place also caters to those who enjoy cider, wine, and good food. The menu features their popular cheese board, stromboli, creamy brie and cheddar grilled cheese, and strawberry, blueberry, and rhubarb crumble with vanilla ice cream.
3. Jim's on Main
785 E. Main Street Rochester, NY 14605
(585) 442-4271
We all love a good brunch. Jim's offers a satisfying one that won't do a number on your suffering college-student bank account. Known for their 2-2-2: two eggs any style, two pancakes or French toast, and bacon, sausage, or ham for only $5.25. (Might as well buy another one for later!) They are also open for lunch, with options such as club, deli, and hot sandwiches, wraps, melts, super salads, charbroiled delights, and homemade specialties, all below $9.
4. Crepe N'Go
651 Monroe Avenue Rochester, NY 14607
(585) 417-5543
Yelp.com/biz/crepe-ngo-rochester
The Oldies Are Still Goodies
If you're feeling nostalgic for the oldies but goodies, don't worry—you can still get them. Whether you're a graduate or a student looking to experience the foodie scene that alumni had back in the day, here are some dishes you won't want to miss:
A. Garbage plates from Nick Tahou's
320 West Main Street Rochester, NY 14608
(585) 436-0184
B. Genesee cream ale from Genesee Brew House
25 Cataract Street Rochester, NY 14605
(585) 263-9200
C. Ribs, wings, or a chicken and biscuit dinner at Country Sweet
1691 Mt. Hope Avenue Rochester, NY
(585) 244-3200
D. All-day breakfast (especially after midnight) at Jay's Diner
2612 West Henrietta Road Rochester, NY 14623
(585) 424-3710
Looking for some more good grub that won't hurt your wallet? Try out this new northern Chinese street-style creperie, serving crepes with your choice of savory fillings, including fried tofu, spicy chicken, bulgogi beef, cumin lamb, coconut shrimp, pork belly, and more. Crepes range from $4 to $9.
5. Brown Hound Downtown
500 University Avenue Rochester, NY 14607
(585) 506-9725
Serving lunch and dinner during the week at the Memorial Art Gallery, Brown Hound is known for a weekend brunch that includes ricotta pancakes, a country bistro eggs Benedict, strawberry cheesecake French toast, New Orleans–inspired Cajun shrimp, and a croque-madame.
6. California Rollin' II
695 Park Avenue Rochester, NY 14607
(585) 355-4066
Get the freshest, most delicious sushi to go. You can customize a traditional sushi roll, or spice things up with a bowl or even a burrito. Yes—a sushi burrito. Go for lunch before 3 p.m. and get the special deal of three rolls for $15.
7. Pizzeria Favo
3400 Monroe Avenue Rochester, NY 14618
(585) 310-7383
Customize your pizza, starting with the choice of traditional, ancient grain, or gluten-free crust, and unlimited fresh toppings. Don't stop there—get some gelato to finish off the meal. Go for Monday Pazzia (Madness), for specials such as $4 beer and wine, and BYO wine with no corkage fee.
8. Muller's Cider House
1344 University Avenue #180 Rochester, NY 14607
(585) 287-5875
With more than 100 different types of ciders from Scotland, Spain, Germany, Canada, England, France, Ireland, and the United States, you'll find a cider that speaks to your taste buds. Enjoy your cider with a side of homemade sweet and salty kettle corn, or if you're more hungry, choose from an array of soups, salads, small plates, and sandwiches. Try the Elvis: creamy peanut butter, fresh sliced banana, crispy bacon, and a touch of honey between sourdough bread, and served with a lemon and dill cucumber salad or a side of—there it is again—kettle corn.
9. I-Square Market
400 Bakers Park Irondequoit, NY, 14617
(585) 266-1001
The new "food hall" includes the Market Grill, Pasta Cucina, Stir Coffee, the Reserve Wine Bar, I-Scream Ice Cream, and Hong Kong One Chinese. This is a place that will literally please anyone.
10. Core Life Eatery
2373 W. Ridge Road Rochester, NY 14626
(585) 484-8558
Stop at Core Life to get a nutritious meal without skimping on taste. Their menu offers green bowls, grain bowls, and bone broth bowls, all customizable. Try the Thai chicken and rice noodle bowl with Napa cabbage, almonds, broccoli, cucumbers, cilantro, and Thai cashew dressing. Or, if you're a Caesar salad fan, get their kale Caesar chicken salad for a healthy comfort-food alternative.
---
A Rochester native, Rebecca Block '18, is pursuing a degree in public health with concentrations in studio art and environmental science. She is a writer for the University of Rochester section of Spoon University, UR.spoonuniversity.com/chapter/ur/, where her posts can be found at UR.spoonuniversity.com/author/rblock/.