In Review
DISCOVERY TO HEALTH
Rochester to Lead National Translational Sciences Network
The Medical Center will coordinate NIH effort to turn discoveries to health benefits.
By Susanne Pallo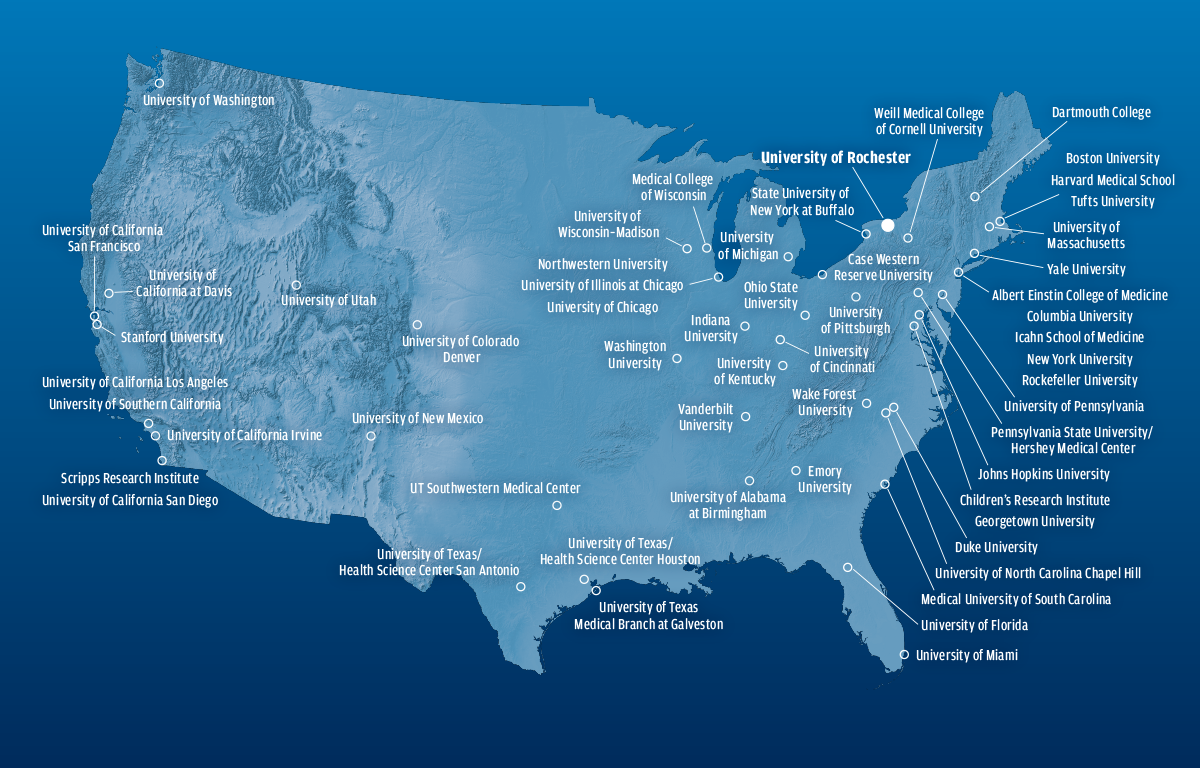 The Medical Center will coordinate the work of more than 50 institutions to help researchers turn scientific discoveries into health benefits faster as the hub of a National Institutes of Health network.
Funded with a $19 million grant from the NIH's National Center for Advancing Translational Sciences, Rochester will become home to the Center for Leading Innovation and Coordination. The center will create virtual and in-person platforms for institutions to share data and educational materials, track success, communicate with one another, and develop collaborations.
The center, led by Martin Zand, a professor of medicine and codirector of Rochester's Clinical and Translational Science Institute, and Deborah Ossip, a professor of public health sciences and director of the institute's Population Health Research Postdoctoral Program, will help member institutions benchmark their progress in comparison to the network as a whole and identify areas where improvement may be needed or where efforts could be reduced.
Announced this summer, the funding is the latest in a decade-long recognition of Rochester's national leadership in clinical and translational science. In 2006, the Medical Center received one of the first NIH grants designed to accelerate the application of discoveries in medical science. Since then, Rochester's Clinical and Translational Science Institute has received nearly $105 million in NIH funding and has supported nearly 100 trainees and funded close to 200 projects for a total of nearly $15 million at the University. Researchers and trainees supported by the center have secured $102 million in external funding.
Since 2011, the institute has been housed in the Saunders Research Building at the Medical Center.
Nancy Bennett, codirector of the institute and director of the Center for Community Health, says the goal of the NIH's translational sciences program is to speed medical and population health interventions to people who need them.
"No single institution can do this alone, and we don't want to reinvent the wheel at each institution, so we must create ways to easily access and leverage each other's resources, tools, and expertise," Bennett says.
Early in the national program's history, member institutions worked largely independently and best practices or resources developed at one institution were not easily transferred to the others as was originally intended. The National Center for Advancing Translational Sciences established funding for a coordinating center to facilitate collaboration among awarded institutions.
The center will also help communicate the importance of the program to government stakeholders and US taxpayers.