In Review
Meet Rochester's 100th Academic All-American
Nik Angyal '19, a defender for the Yellowjackets men's soccer team, marks a milestone.
Interview by Jennifer Hennig '18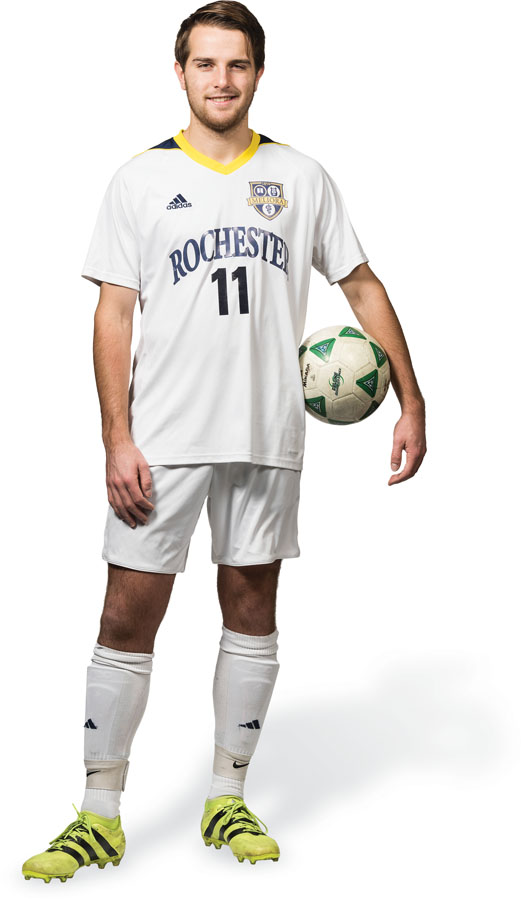 With his cumulative 4.0 grade point average and his role leading his team to an Elite 8 appearance in the 2017 season, defender Nik Angyal '19 was named to the 2017 Second Team CoSIDA Academic All-American in men's soccer.
Angyal's selection marks the 100th Academic All-America honor for the University.
The College Sports Information Directors of America established the national award program to recognize distinguished scholar-athletes in 1952.
Rochester's first Academic All-America honor went to Michael Corp '78—a running back on the football team and a double major in history and psychology—in 1976.
Angyal, a chemical engineering major from the Hudson Valley hamlet of Stormville, started in 20 of the 21 games in the 2017 season and was a crucial part of the back line that led the team to nine shutouts and held eight teams to just one goal.
Biggest accomplishment as a Yellowjacket: The progress I made. I tried to walk on my freshman year and didn't make it. When I tried again in the spring, I made the team, but didn't play that much my sophomore year. To be a starter my junior year was a big accomplishment.
Best thing about soccer: The team aspect of it. I ran track in high school and it was all right. But it feels more satisfying to win as a team than as an individual. The feeling of being a part of something that is bigger than myself is very rewarding.
Favorite class at Rochester: Fluid Dynamics. I took it during sophomore spring, and it was the first real technical engineering class I took. Everything up to that point had been a fundamental or prerequisite course. I was finally able to see how everything applied to chemical engineering.
Most memorable moment on the field: This whole year. We went as far as we've ever gone. This was only second time in school history that we reached the Elite 8. We won in overtime in the first game, scored late in the second game, and came back again in the Sweet 16. The entire experience was pretty special to be a part of.
Biggest sacrifice as a scholar-athlete: Down time, because it almost never exists. When I do get some free time, I usually spend it catching up on sleep. I always try my best to get eight hours a night, because if you're trying to play a game on four hours of sleep, it's going to be a pretty rough experience.
Greatest benefit of being a scholar- athlete: It's been good in terms of balancing and juggling everything. Soccer is a huge time commitment and that gave me the incentive to always be on top of my work and forced me to be a good time manager.
Favorite thing about campus: I love the quad, with the ivy-covered buildings and oak trees. There's just something picturesque about the place.
Future plans: I hope to get a job that allows me to work toward improving the environment. Last summer I worked for New York State in the Department of Environmental Conservation helping to mitigate petroleum leaks and preventing them from reaching drinking water sources. That was a rewarding experience, but ultimately, I hope to contribute to making renewable energy the dominant source of energy generation.