Alumni Gazette
ENTREPRENEURSHIP
Up Close with Christina Seid '02
An alumna mixes it up—ice cream, entrepreneurship, and deep roots in Manhattan's Chinatown.
Interview by Kristine Thompson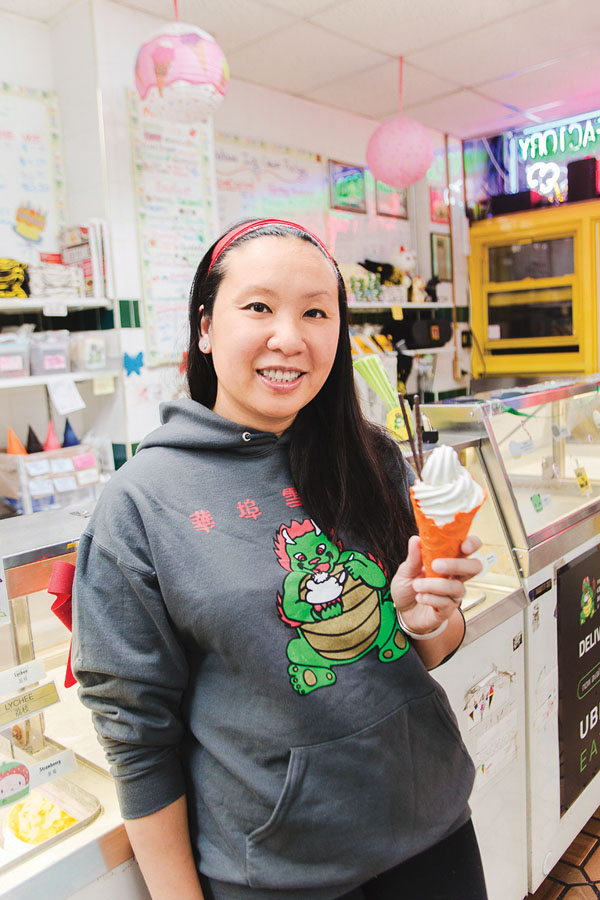 On the Menu
In addition to flavors from ginger to pumpkin pie, Chinatown Ice Cream Factory offers innovative blends and ice creams based on ingredients native to China and other Asian nations.
Almond Cookie: Chinese almond cookies soaked and blended into ice cream
Black Sesame: Ice cream spiked with black sesame seeds
Coconut Fudge: Chocolate fudge swirled in coconut ice cream
Don Tot: Light, creamy Chinese egg custard
Lychee: Ice cream blended with lychee, a tropical fruit native to China
Pandan: Ice cream flavored with Malaysian leaf
Red Bean: Ice cream featuring a sweet Chinese bean paste
Taro/Ube: Ice cream blended with purple tuber
Thai Iced Tea: Ice cream featuring this classic Thai beverage
Zen Butter: Peanut butter ice cream with toasted sesame seeds
Christina Seid '02 co-owns the Chinatown Ice Cream Factory, or CICF, an unofficial New York City landmark that has made the pages of several Big Apple guidebooks. People come from near and far to enjoy scoopfuls of the factory's homemade red bean, lychee, and green-tea ice creams.
Running a business is in her genes. Her grandfather was a merchant in China and her father started CICF more than 40 years ago. She grew up within CICF's small yet familial 500 square feet, where she saw how ice cream could make people happy.
Seid says she's completing a circle—a symbol for unity and fulfillment—around her family business. Although her father has yet to put down his ice cream scoop completely, he is in the process of passing it on to her. And, just as she spent much of her childhood there, her two young daughters now do the same.
What do you love about the ice cream business?
Ice cream is fantastic—in fact, we consider it a major food group in our family. It's all about giving people a delicious, great experience and making them happy. It's also about community, and we've been part of Chinatown for decades.
What are your favorite memories at CICF?
So many things! Coming to work with my dad, having my first birthday cake here, and remembering how much my grandma loved it here. And being a part of some very important occasions for people, including engagements and family get-togethers.
Did you always know you'd be part of the family business?
No. After graduating with my psychology degree from Rochester, I went on to get my master's in teaching. I taught for a few years while continuing to work at CICF on weekends, vacations, and during the summers. But the business took off, and it made sense for me to play a bigger role. I couldn't be happier with that decision.
What's next for the business?
We recently opened a location in Flushing and are opening another one in the new Lower East Side development Essex Crossing this spring. Our mission at each location is consistent: to offer great tasting ice cream based on flavors that feel like home to our customers. Our new Lower East Side Ice Cream Factory features flavors that resonate with the Jewish, Polish, Italian, and Hispanic communities there. Think horchata, tiramisu, and even pickle.
What's your most unusual flavor?
I'll say Durian. In Asia, Durian is known as the king of fruits. It's also known for its strong, complicated flavor. We were the first to offer Durian ice cream in New York City, and now others do. Andrew Zimmerman—the host of the Travel Channel's Bizarre Foods—did a short segment here a few years ago. Up until then, he never liked Durian. He really liked our ice cream, which felt like a big win to me!
How did your time at Rochester prepare you for your life and career?
I transferred to Rochester as a sophomore and fell in love with it right away. I thrived on being around a lot of very smart people. My fondest memory is of Dean Paul Burgett and an inspiring talk he gave to transfer students. He made me and everyone else feel special, confident, and capable of doing anything. I'll never forget that. He helped infuse the spirit of Meliora in me, of always wanting to do more and do it better.
---
Learn more about Seid and CICF at Chinatownicecreamfactory.com.