Incoming First-Year Students
Housing Options
All first-year students live in one of the following first-year resident halls:
Students can also indicate an interest to live in affinity housing as a first-year student.
All first-year halls have been renovated in recent years and offer unique living opportunities for our first-year students. Most first-year students will share a double room with another first-year student; however, there also are a limited number of single rooms and triple rooms.
---
Nonsmoking Housing
All University housing is smoke-free. If you or your roommate chooses to smoke, it must be 30 feet from any building. We still ask you to indicate your smoking status and preference for a smoking or nonsmoking pairing on the housing application.
---
Susan B. Anthony Hall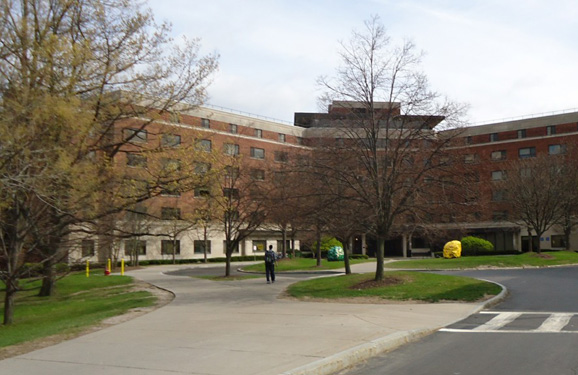 Named for the famous local suffragette, this hall contains four interconnecting wings: Gannett, Gates, Morgan, and Hollister. All floors are coed, some with male and female corridors; others alternate men's and women's rooms on the same corridor. There are lounges with kitchenettes on each floor. Susan B. Anthony Halls features a rooftop solarium, several large meeting and programming areas, and a beautiful formal lounge overlooking Fauver Stadium and the river.
The hall also contain one of the two major student dining centers (Danforth Dining Center) and Hillside Market. The Customer Service/ID Office (ID cards, dining services, etc.) is also located on the first floor, while the Office for Residential Life and Housing Services is located in the basement office suites.
For more information, see the First-Year Hill Handbook and floor plan.
---
Genesee Hall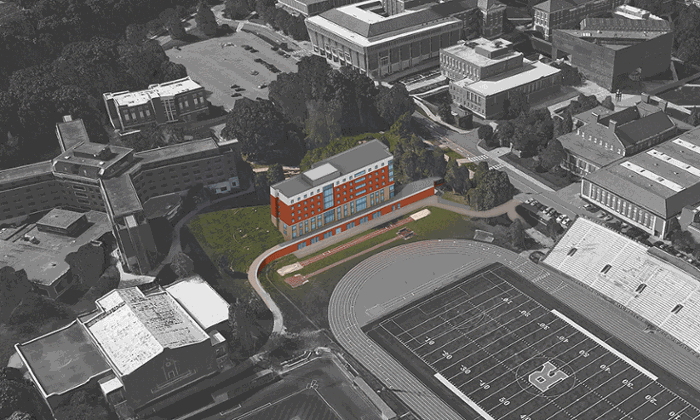 Genesee Hall, which overlooks its namesake the Genesee River, features four residential floors housing approximately 150 freshman students. The hall has both single and double bedrooms, and each floor has six individual bathrooms—each containing a private shower, sink, and toilet behind a lockable door. There are also three single bedrooms with attached handicapped-accessible bathrooms.
The Varsity House is located in the first two floors of the building and, includes locker rooms for the men's and women's outdoor teams, as well as sports medicine and team equipment rooms. The main level will be dedicated to academic and student life services with meeting rooms and offices.
Genesee Hall was built with a commitment to sustainable design, construction, and operational practice.
---
Gilbert Hall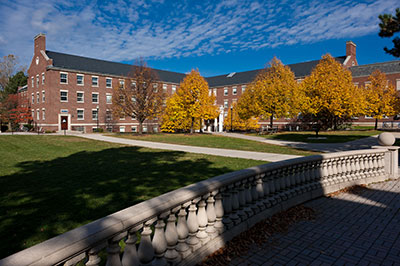 Gilbert Hall is the largest residence on the First-Year Quad. It houses approximately 300 students, primarily in double rooms. Gilbert Hall has:
Our largest programming area
An ample kitchen to support large activities and a connected outdoor patio area to extend programs
Study rooms on every floor and in the laundry room areas
Two floor lounges and kitchenettes on every floor
A seminar room
Ample vending area
For more information, see the First-Year Quad Handbook and the Gilbert Hall floor plans.
---
Hoeing and Tiernan Halls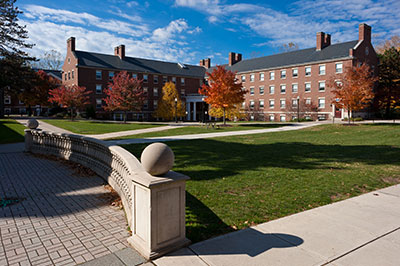 Hoeing Hall and Tiernan Hall all house first-year students. The halls feature floor lounges and kitchenettes to support floor activities. The main floor of Hoeing features a seminar room, and the main floor of Tiernan features a large group lounge. Both offer large laundry/vending areas and study areas as well.
For more information, see the First-Year Quad Handbook, the Hoeing floor plan and the Tiernan floor plan
---
Affinity Housing
Affinity housing is a popular housing option at Rochester for first-year students. Affinity housing options center on lifestyle themes that participants agree to follow in order to remain in the living area. Typical affinity themes include:
Quiet-study
Substance-free
Coed by random room (male and female rooms on the same corridor with separate bathrooms)
The available options are indicated in the housing application packet. Not all options are offered in every building.
---
Special Interest Housing Affiliations
Special interest housing (SIH) is popular at Rochester. While SIH is not a direct part of the first-year housing program, first-year students can participate in SIH programs and can join them as first-year associate members.
At Rochester, special interest housing (theme and Greek) is space set aside in the upper-class residence halls where a group of upperclassmen, sharing common interests and seeking to integrate these interests with their residential life, live together.
Over time, new programs are created and older ones are disbanded. Programs we anticipate for next year include the:
Tiernan Project (community service)
Douglass Leadership House
Music Interest Floor
Computer Interest Floor
Interclass Living Community
Film Interest Floor
Anime Floor
Drama House
There are 15 residential fraternity and sorority groups in residence halls and Greek houses. Other programs may develop prior to school in the fall.