Incoming First-Year Students
Upperclass Mentors
D'Lions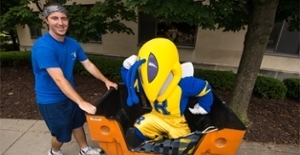 The D'Lions are a student group that helps first-year students adjust to campus life and also organizes events for River Campus.
Working with residence halls and staff, they provide a comfortable living atmosphere in their halls and promote community spirit within the residence halls and the University as a whole.
The D'Lion organization sponsors multiple blood drives, participates in many community service projects, and plans programs that the entire campus can take part in.
Visit them on Facebook or on Twitter!
---
First-Year Fellows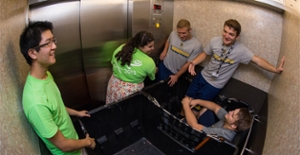 First-Year Fellows are upper-class students who live among first-year students in the residence halls. Like the rest of the first-year team, Fellows are trained to help ensure that the first-year experience is a safe and rewarding one for students, with their primary focus being academic support.
First-Year Fellows bring academic resources into the residence halls through assisting students with course registration, connecting them with their personal librarians, and offering advice in general about academics at the University of Rochester. Additionally, they participate in orientation activities and provide academic programming for their respective areas.
Applications for the First-Year Fellows happen before the annual room drawing process in the early spring semester. For more information, see your Fellow or RA or contact freshmanquad@reslife.rochester.edu