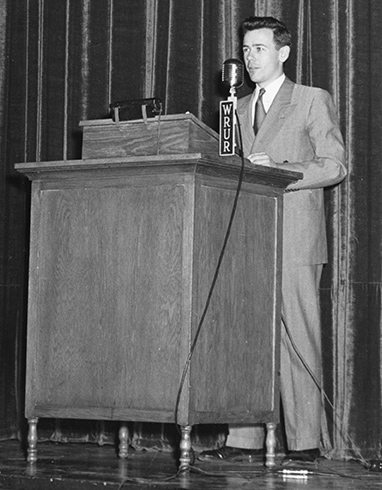 They were, the Campus reported in January 1948, a "busy little group of men." George McKelvey '50, '58 (MA), the World War II radio officer who first proposed a campus radio station and led the work to bring it to fruition. Glenn Bassett '48, who helped on the business side. Daryl (Hugh) Albee '50E, '56E (MM) and Charles Adler '50 who lined up the DJ's, musical groups, live broadcasts, and theatrical performers who would keep the entertainment going each evening from 7 p.m. to midnight at 640 on campus radio dials.
WRUR was student initiated and student run from the beginning. But the leaders of the University took note, as did those at the local station WHAM.
Originating on the River Campus at the College for Men, the station enlisted students at the College for Women as well. Dean Janet Clark of the College for Women joined in celebrating the station, comparing radio to aviation—rapidly advancing technologies that "belong to your generation." Dean J. Edward Hoffmeister of the College of Arts and Sciences observed that commercial radio broadcasting had already become tired. "Radio needs new blood," he declared. College students would provide it.
On the evening of February 10, 1948, a crowd gathered in Strong Auditorium. At 8 p.m., the station was formally launched with an announcement by a sophomore English major from Buffalo named George Toms '50, '51 (MA):
"WRUR is on the air."
The 90 minutes that followed were a mix of celebratory addresses and performances by some of the University's most beloved musical and dramatic ensembles. The 40-piece Eastman Orchestra, with Dorothy Merriam '48E as soloist, performed the exuberant last movement of Mendelsohn's Violin Concerto. "Sax-man" Kenn Hubel '50 led a jazz quartet in a series of standards. The Women's Glee Club sang, and the men's dramatic ensemble, the Quilting Club, performed a satirical sketch.
Hubel still treasures the photograph of him and his band taken that evening. "The actual details of that opening night, I recall very few of," he concedes. But he remembers McKelvey in particular as an extraordinary leader who brought something of lasting value to the University. "It was an operation of love that got off to a start that was originally shaky," he says. "That's the nature of any major achievement."
Building a Network, Battling 'the Hum'
Otto Muller-Girard '51, '52 (MS)
Chief engineer, 1950–51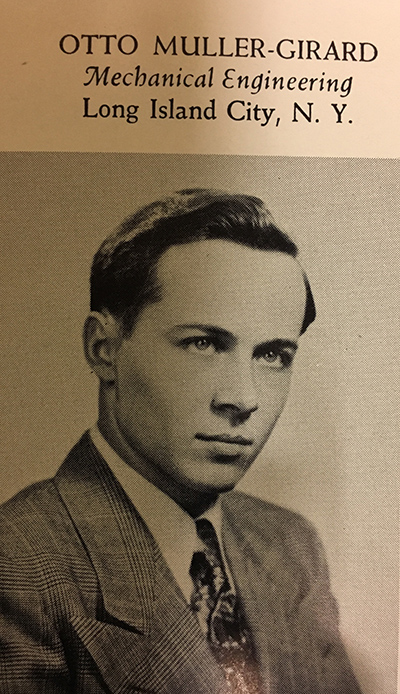 In its earliest days, WRUR was much more impressive as an outlet for cultural programming than it was as a technical feat. Otto Muller-Girard '51, '52 (MS) was a sophomore mechanical engineering major when he first tuned into WRUR.
"Terrible," he says, recalling the reception.
He was no armchair critic. The station was located right inside his dorm, Burton Hall. He went downstairs to pay a visit. "I said, 'Maybe I can help.'"
Muller-Girard had made a hobby of tinkering with radio as a high school student. Before he got to Rochester, he'd had a job installing and repairing television sets in New York City.
"It wasn't like it is today, where you go into a store, you buy a TV, you move it up to the cable plug in the wall, and you're ready to go," he says. "You had to have an antenna out the roof or out the window pointing in the direction of the antenna of the station you wanted to receive. All the televisions in New York City at the time had different locations for their antennas. So really, it was a challenge. Which kind of station do you like? Because you can't point at all of them—if you can point at any of them." Customers were often frustrated. "People said, 'I can't get anything. Why buy the set?'"
When he joined WRUR, he saw it as an outlet for "pent-up design ideas" for transmitters. Among the problems he addressed was what WRUR station manager Ray Ettington '51 still recalls as "the hum." "The hum was a problem," Muller-Girard concedes. "In our early transmitters, it was very prominent. When I came along, I could improve it, but I couldn't really get rid of it. Operating on a frequency of 640 kilocycles—and transmitting over power lines in each building rather than over the air—were the roots of the problem."
The students at the College for Women were growing frustrated as early as the fall of 1948 with the quality of the reception. Yet, "solving their weak reception and 'hum' problem was more challenging still, as access of male students to the basement transmitters was viewed with great suspicion and tightly controlled," Muller-Girard recalls.
As chief engineer, Muller-Girard either built or rebuilt transmitters in four buildings: Burton and Crosby at the College for Men, and Monroe and Cutler Union at the College for Women.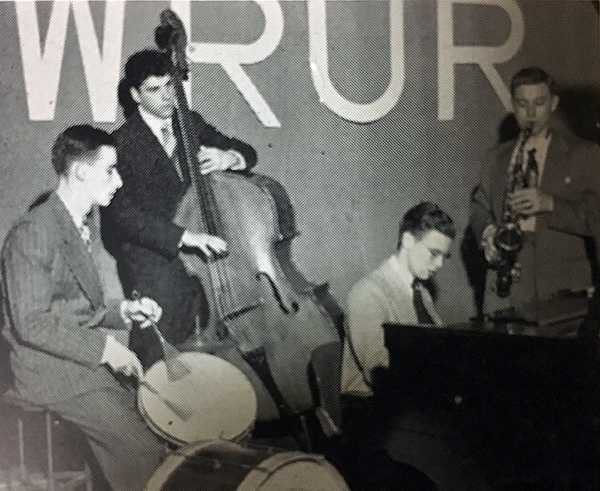 A turning point for college radio
WRUR's arrival came not at the beginning of college radio, but at a turning point.
"College radio actually goes back all the way to the 1910s," says Scott Fybush, an industry analyst and editor and publisher of NorthEast Radio Watch. The first stations came out of Midwestern land-grant universities, which launched them as a way to bring up-to-date market information to farmers.
But as Harold McCarty wrote in the Phi Delta Kappan in the spring of 1939, college radio was by that time a shadow of its former self. McCarty was the director of WHA—a public radio precursor based in Madison, Wisconsin—and his article, "The Role of the College Radio Station," was a rallying cry. In 1921, 168 educational institutions—mostly colleges and universities—had broadcast licenses. In 1939, the number was 25, "survivors of a severe trial period," striving to be heard amidst a nationwide expansion of commercial radio.
The story, as McCarty told it, was that early college stations had arisen out of the intellectual curiosity of electrical engineering students. Once they had answered their questions to their satisfaction, the stations faded away.
The time had arrived for a new type of college radio station—one that would focus less on technology and more on programming.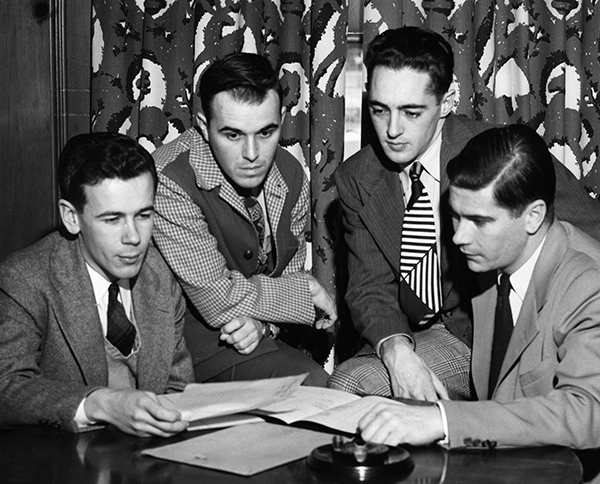 Fits and starts
At Rochester, a Radio Club met in the 1940s, and in the spring of 1946 declared a campus station as its aim.
As it turned out, however, the Radio Club's broadcasts never achieved a wide audience, most likely because that was never the goal. The club served the purpose of "instructing interested members in the science of radio technology." Headquartered in the engineering building (present day Gavett Hall, named in 1949), the club was mainly equipped to prepare students to pass the Federal Communications Commission examinations in radio code. In the spring of 1946, two years before WRUR emerged out of a series of electrical wires strung through the underbellies of campus buildings, students in the Radio Club were already schooling themselves in the relatively new technology of FM.
A veteran with a mission
There is wide agreement—both in contemporary accounts and in present-day recollections—that WRUR came about due to the initiative of a single student: George McKelvey '50, '58 (MA).
Born in Glen Ridge, New Jersey, McKelvey was drafted by the Navy following his graduation from high school in 1943. He served briefly as an aviation cadet, then as a radio officer at sea.
Just weeks before his death in 1998, McKelvey recalled that, "I had been reading a story in the New York Herald-Tribune about college radio stations. And it just seemed as though Rochester needed one."
He was regarded as a skillful leader, remarkably effective at harnessing and focusing the enthusiasm of fellow students toward a singular goal. He was "an impressive guy," says Hubel. WRUR was "really his endeavor, and he was able to find the people who could assist him."
McKelvey majored in history and went on to earn a master's degree in political science. During the semester of WRUR's launch, McKelvey was elected to a leadership position in the national umbrella organization for college radio stations, the Intercollegiate Broadcasting System. He also headed the Empire Network, a partnership of New York state college radio stations that also included the stations at Cornell, Sampson College, Union College, Rensselaer Polytechnic Institute, and St. Lawrence University.
Finding His Voice on Radio
Ray Ettington '51
Program manager, 1949–50
Station manager, 1950–51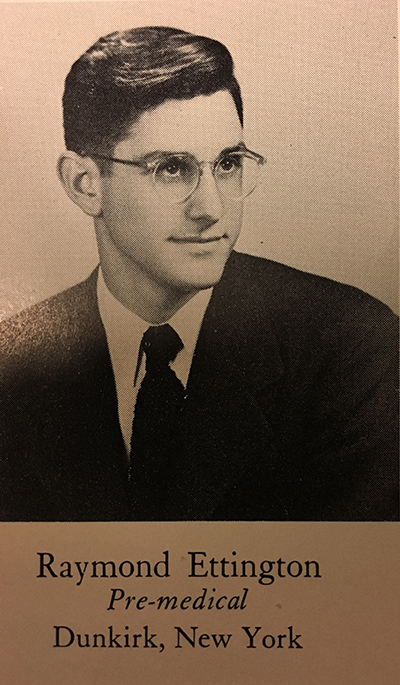 Seventy years later, Ray Ettington '51 still remembers sitting in the Todd Union lounge during his freshman year as the founders of WRUR were holding the first auditions for students who wanted to become announcers on the brand new station.
"They assigned them to read some scripts, but also to ad lib as though they were at a house fire," he says. Ettington was already itching to be an announcer. But he would wait another year. "I thought, 'I could never do that.' Ad lib a whole thing like this? So I sat there listening."
During his sophomore year, he applied for—and got—a role as a news reader. Every night at six o'clock, he read the news. "We would get two to three sheets in telegram form, all these strips, from the AP. And I would read five minutes of news," he recalls.
It took a while for him to get comfortable in the role.
"When I started that, I was visibly shaking, I had such mike fright. It scared the hell out of me. Night after night, I'd go through this trauma. But after a year of that, if the AP [strips] didn't arrive on time, I could ad lib five minutes. I completely lost my stage fright."
From news reader, he became a public address announcer for football and basketball games, and a master of ceremonies for college banquets. A member of the dramatics group, the Quilting Club, he also participated in the role of radio actor on student performances broadcast over WRUR.
In his junior year, he was named program manager, and as a senior, he rose to the top role of station manager. There, he continued to pick up new skills. He found he excelled at selling advertising. To this day, he says, "I attribute my successful 36-year career in IBM sales and marketing to the selling and public speaking skills I learned at WRUR."
In the spring of 1950, then station manager Tenney Johnson '51, "reported that a drive will begin shortly to increase the quality and coverage of reception on the Prince Street Campus, as well as to enlarge the opportunities for feminine participation in the radio station's activities," according to the Campus. Ettington, along with program manager Tom Coyle '52, "will help facilitate that move."
Ettington still recalls his role in ensuring, for the first time, that the women students were not only heard as performers, but granted their own airtime, which they used to launch their first program, "Co-ed Corner," in November 1950.
"This doesn't sound like much today, but this was long before women were welcomed by the broadcast industry," he says. "I'm very proud of that."
Joseph Platt '37, a professor of physics at Rochester during McKelvey's years there, noted years later that establishing the station was largely a political task—and one at which McKelvey excelled. He "knew his radios," wrote Platt following McKelvey's death. "He also knew how to recruit and organize a group of undergraduates who wanted to help put Station WRUR on the air and keep it there."
Recognizing McKelvey's talents, the University called upon McKelvey to help develop networks of alumni, and with the merging of the Colleges for Men and Women in 1955, appointed him as the very first director of alumni relations. Two years later, Platt, having then moved onto become the first president at the brand new Harvey Mudd College, recruited McKelvey to become its director of development.
Building the network
The earliest college radio stations, including WRUR, were carrier current networks, meaning that signals were transmitted through electrical wires—in many places strung through pipes—rather than antennae. Carrier current was a relatively low-cost approach, suitable to stations that broadcasted exclusively to a small geographic area—a school, campus, or hospital, for example. WRUR's network would be somewhat more complicated, however, because the main transmitter in Burton Hall needed to connect to the College for Women's Prince Street Campus, located about two miles away. It did so through a leased telephone line running to a booster transmitter installed on the women's campus.
The network was designed to reach any radio within 200 feet of any electrical line in the system. But women on the Prince Street Campus complained of poor and uneven reception, with some buildings receiving no signal at all.
The complaints stung, given that the station was widely viewed as having the potential to foster unity between the two campuses. A series of articles in the Campus and the Tower Times throughout the fall 1948 semester traces the efforts of the station's technical personnel to install new lines at the College for Women—and of the business and programming staffs to contend with the station's first public relations challenge.
"The members of the staff of WRUR pledge their continued effort in the entertainment of the students of the University of Rochester and its colleges," program manager Charles Adler '50 announced in the semester's opening broadcast on September 27. The women's newspaper, the Tower Times, reported that business manager Dick Williams '50 "announced that the aim of the technicians is perfection in reception and urges all WRUR fans to have faith until final adjustments are made."
The voice of the University of Rochester
In spite of the ongoing technical challenges with the network, judging from the foreword of the 1949 Interpres yearbook, many students could barely contain their glee—or their expectations—regarding the significance of WRUR.
"Here is a new thought pushing aside stagnated thinking," it read. "Here is a glimpse of the social progress we as individuals must stimulate. WRUR is a symbol of foresight and planning. It is probably a small step, but it is none the less great in its achievement, for it was born of a single student idea."
The station seemed to be fulfilling one its core missions, to discover and help develop hidden talents among the student body.
"It is hoped by the leaders of the station that much latent talent among University of Rochester students may be found," wrote a reporter in the Campus in January 1948. "Tryouts and auditions for programs may well discover many new voices and personalities on campus." In April 1948 the dramatics group the Dandelion Players formed with the expressed purpose of broadcasting over WRUR. Meanwhile, the founders created a training program to take, as reported in the Campus, "the raw material (in the form of the student) and successively introduce him to the operations of all of the various departments and phases of radio station work."
Yet, to the extent that WRUR was the voice of the University, it was, in its first several years, a male one. The growing staff of the station included women students, and all-women performance groups such as the Women's Glee Club graced the station's airwaves. But there were no live broadcasts on the Prince Street Campus. Instead, student broadcasters cut vinyl discs while on air in the Burton studio, making a recording that could be subsequently aired on the women's campus.
In the fall of 1950, the College for Women won the first broadcasting spot of their own: a 30-minute show, aired every Tuesday evening at 9:30, called "Coed Corner." Featuring five minutes of campus news and 25 minutes "filled by dramatic or musical sketches, featuring talented Prince Streeters," the show was "written, directed, acted, and produced by the Women of the University," a Times-Union reporter boasted.
The show, directed by Charlotte Allen '51 (whom the Times-Union identified as a promotional director of WRUR), was an outgrowth of a concerted effort by station leaders to increase the participation of women students. By the time WRUR celebrated its fourth birthday in February 1952, the Prince Street Campus had its "own studio and console." Three years later, with the merger of the two campuses, women would take the helm.