The Rochester Review, University of Rochester, Rochester, New York, USA




Rochester in Review
Ronald Dow, New Dean of River Campus Libraries

What do scholars look for in libraries? They look for what isn't there.
That was the view of French historian Michel Foucault--and it's shared by Ronald Dow, the new dean of River Campus libraries.
"Given that a library has a good collection, Foucault said, scholars will look for a hole, to see what knowledge other scholars have not yet garnered. You trust the library to have enough breadth and depth to reveal that."
One of the great strengths of our University libraries, says Dow, is that "for an institution of this size, we do have a wonderful collection, of the strength to reveal the holes in the world's knowledge. And," he adds, "a library staff that is second to none."
In his new job, Dow is looking to see "what isn't there" in positioning the libraries to best meet the future needs of students and faculty. As he sees it, one of his immediate tasks is to focus staff energy on supporting the Rochester Renaissance Plan--a key part of which is the dissemination of information. "We need to develop a curriculum of service, in a sense," he says. "Librarians are really instructors who provide a service to the academic community."
Dow succeeds James Wyatt, who retired in June after a span of 16 years, during which he is credited with skillfully moving the River Campus libraries into the electronic era.
The new dean comes to the University with a wide range of experience in both academic and corporate libraries, most recently at Penn State, where he was responsible for strategic and facilities planning and for administrative services for the University Park campus and for the 18 libraries of the statewide Commonwealth Education System.
Holder of a library science degree from Syracuse, he's currently pursuing a doctorate in higher education and public administration at Penn State. His focus, in his words, is "academic disciplines and how they work as social systems"--which reflects on his work as a librarian, certainly.
For him, hanging around libraries is an avocation as well. "Just the other day, I was wandering around the stacks and I found this tremendous collection of mystery novels. Right now, I'm reading a Dorothy Sayers."

---
Crossover at Eastman
From Bach to Rock: Re-Orchestrating the Canon
Player's perspective: Bass guitarist Tony Levin '68E sharing his expertise in shifting between classical and pop genres.

In September, with the busts of Bach and Beethoven flanking the stage, the venerable Eastman Theatre rocked with the music of Frank Zappa--for the first time ever, and probably not the last.

"It was certainly the first time we've had a rock band playing with a student orchestra--in front of a house full of head bangers and townies and retirees and Eastman students and faculty and all kinds of people," says David Headlam, associate professor of music theory and organizer of the event.

The concert was the culmination of a four-day Eastman School of Music symposium on "Popular Music and the Canon: Old Boundaries Reconsidered," a gathering that was part rock concert, part scholarly forum, and part media event, with a technology fair on the side. With an eye--and an ear--toward rethinking the curriculum at Eastman (see Fulfilling Eastman's Dream), the conference focused on the "crossover" trend in music today, which draws on both classical and popular genres.

"If we ignore what's good in popular music," says Headlam, "we're cutting our art off from its life blood, which has always come from the street. Some people feel that if we could just recreate the Vienna of 1820, we'd be much better off --but that's like putting classical music in a big jar of formaldehyde and watching it die as you celebrate its purity."

He feels that "there's a contempt for popular music based on the fear that it's mindless. But The Magic Flute was immensely popular when it was written. And Beethoven's 'Ode to Joy' was set to the tune of a Turkish march at a time when the East was regarded as a lascivious place. It was like taking the words for 'Rock of Ages' and putting them to the tune of 'Jailhouse Rock.'"

Hear, hear, agreed music scholars, who came from as far away as the University of Copenhagen and McGill in Montreal for a series of sessions on "Crossover Relations" organized by Eastman faculty members Robert Fink and Dan Harrison. Among the canon-blasting topics they discussed were "Complex Tonalities in the Music of Joni Mitchell," "Jimi Hendrix as Composer," "Kurt Cobain and Meaning in the Pop Song," "The Metric Makings of a Country Hit," "Fallen Woman Redeemed: Eliot, Victorianism, and Opera in Andrew Lloyd Weber's Cats," "The Learned vs. the Vernacular in the Songs of Billy Joel," and--in an entire panel discussion devoted to the works of Frank Zappa--"Zappa's Orchestral Transcriptions and the Idea of the Art Work."

The symposium served as a mini-reunion of some of Eastman's most successful alumni, including Nashville legend Jim Fogelsong '50E and music critic Michael Walsh '71E. (He came to address "The Death of the Repertoire-- Just in Time?" and got right to the point, dealing with, in his own words, "how the so-called standard repertoire has destroyed creativity in the classical- music world and how an expansion of what constitutes art music can save it.") Composer and recording artist Jeff Beal '85E traveled from the West Coast to speak with authority on the value of cross-cultural understanding in creativity and innovation. William Cahn '68E, a member of the internationally acclaimed percussion ensemble, Nexus, declared that "all music is popular music"--an idea that is "radical only to those who are insulated from the marketplace."

Celebrating Zappa: Grammy winner Steve Vai and the Kilbourn Orchestra

Classical and popular worlds merged at Saturday night's concert, when the Eastman School's Kilbourn Orchestra shared the stage with Steve Vai--composer, Grammy Award winner, and rock icon who served as "stunt guitarist" for Zappa in the mid-1980s. Conducted by Joel Thome '60E, another Grammy winner and Zappa colleague, the musicians performed a series of works--ear-splitting and groundbreaking--by Vai, Zappa, and Thome. (The last was a world premiere, "Vaibrations," composed in honor of the guitarist and of the Eastman School's 75th anniversary.) The audience went wild, bringing the musicians back twice for encores.

What will Headlam himself do for an encore? The symposium was just a first step, he says. "What I really tried to do was bring alumni back and show that we need to acknowledge their accomplishments, to learn from them, and to incorporate the music of our own time into our curriculum. My goal is not to ghettoize popular music by creating a popular music department, so that everyone takes one course in rock. Instead, I want faculty members and students here at Eastman to make a place in their lives for the music of their own time."

Denise Bolger Kovnat
---
In Brief
Search for College dean under way: A committee is now engaged in a national search for a permanent vice provost and dean of the College faculty, with the goal of having the successful candidate in place by July 1. Richard Aslin-- who became dean of the former College of Arts and Science in 1991 and then vice provost in 1994--has returned to full-time teaching and research in the Department of Brain and Cognitive Science, where he studies the development of vision and language perception in infants (Rochester Review, Spring-Summer 1996). Thomas LeBlanc, professor of computer science, is filling the post on an interim basis during the current academic year.

$12.3 million contract to fund optical research: A project to design and manufacture an entirely new class of precision optics that conform to the contours of unusually shaped objects such as air- plane wings or fuselages has received a shot in the arm with a $12.3 million contract from the U.S. Department of Defense. A consortium that includes four businesses and the University's Center for Optics Manufacturing will develop technology for creating the first generation of these optical elements over the next four years.

Sony head conducts Eastman Philharmonia: An international leader in music and music technology, Norio Ohga, chairman and CEO of Sony Corporation, visited the Eastman School in early October to conduct the Eastman Philharmonia in a concert of works by Mozart and Dvorak and to receive an honorary doctorate from the University.

A distinguished performer and conductor, Ohga in 1959 was persuaded by Sony's founder to give up his musical career for a job at the company, using his music background to improve the state of its recording technology. In the succeeding years, he has led Sony in a number of revolutionary innovations in digitally recorded music, including introduction of the CD format. At age 60 he returned to his first love--conducting--and has since received critical acclaim for leading such foremost orchestras as the Boston Symphony, the Metropolitan Opera Orchestra, and the Israel Philharmonic.

Debate on standardized testing is focus of education conference: Are standardized tests the best way to measure student performance, or are alternative methods better? If both have a place, how can school officials make the best use of these tools for gauging strengths, weaknesses, and mastery? Educators heard some assessments last fall when leading national authorities on both sides of the question aired their views at a conference sponsored by the Warner School. This year's conference was the latest in an annual series of such sessions exploring better ways to track student performance.

Residence halls slated for Internet access: ResNet (short for Residential Computing Network) is currently threading its way across campus. Once completed, ResNet will give every undergraduate personal access to the Internet from his or her dorm room. Some will be online sooner than others, but all students in residence on the River Campus and at Eastman are expected to have an Internet connection by the end of 1997.

New degree programs in biomedical engineering offered: The University has received approval from New York State to offer a master's and a Ph.D. degree in biomedical engineering and will begin enrolling students in these programs as early as next fall. "The pressure to reduce rising health care costs has steadily increased demand nationwide for biomedical engineers who can develop new technologies that improve care while lowering costs," says Richard Waugh, director of graduate studies for new programs. "This field is also the fastest growing engineering discipline in U.S. higher education," he adds.

Rochester is ideally positioned to offer advanced training in this field, Waugh notes, given the expertise in engineering analysis and design among faculty at the School of Engineering and Applied Sciences, and the biological expertise and clinical knowledge among faculty at the School of Medicine and Dentistry.

Fine Professorship created, six others filled at Medical Center: A number of new appointments to endowed professorships at the Medical Center have been made in recent months. Among them is the appointment of Richard T. Moxley III, professor of neurology and head of the neurology unit, to the newly created Helen Aresty Fine and Irving Fine Professorship in Neurology. The gift of Joseph Aresty and his family, the professorship honors Joseph Aresty's sister and her husband.

Other appointments to previously established professorships are: M. W. Anders, Lewis Pratt Ross Professor of Pharmacology and Physiology; Robert S. Freeman, Paul Stark Professor of Pharmacology and Physiology; Alice Pentland, James H. Sterner Professor of Dermatology; Peter G. Szilagyi, George Washington Goler Associate Professor of Pediatrics; Joseph D. Rosenblatt, Samuel E. Durand Professor of Medicine; and James R. Woods, Jr., Dean's Professor of Obstetrics and Gynecology.
---
| | |
| --- | --- |
| | Hair-raiser: Studying physics can just blow your mind. That's what the younger female set found out during a River Campus program encouraging young women from local high schools to explore the sciences. Here Kathryn Kubera demonstrates the electrifying powers of a Van de Graaff generator, to the bemusement of Kathryn Holland (left). |
---
RESEARCH NOTES
'Salvage Gene' at the Root of Mutations, Scientists Find
In a discovery that may eventually open a major new avenue of cancer prevention, a trio of Rochester researchers has found that most mutations in yeast are caused by the activity of an obscure enzyme that acts to salvage irreparably damaged DNA. The enzyme, REV1, helps a cell evade its own stringent quality control and opens the door to mutations.
The scientists, who admit they were surprised at their finding, had set out to learn more about a family of enzymes whose function it is to repair faulty DNA in yeast. When the researchers damaged the yeast's DNA and then studied its coping mechanisms, they made a startling discovery: One of the repair enzymes, REV1, turns out to be responsible for almost all of the mutations that occur in DNA.
"We found something that we weren't at all looking for," says David Hinkle, associate professor of biology. "This was really a bombshell." Also working on the project, funded by the National Institutes of Health, are postdoctoral fellow John Nelson and Christopher Lawrence, professor of biophysics.
The vast majority of mutations come not from such much touted sources as asbestos and pesticides or other environmental factors, but from normal chemistry that goes on within our bodies, the researchers note. "DNA is not a stainless steel molecule," Lawrence points out. "It is susceptible to damage as a natural part of its existence."
The most common form of DNA damage is sporadic loss of individual molecules of adenine and guanine--two of the four bases that encode genetic information along a strand of DNA. Such losses result in genetic gaps known as "abasic" sites.
"Formation of these abasic sites," says Hinkle, "is, in fact, one of the most common occurrences in our cells," taking place every day in about 10,000 to 20,000 of the three trillion DNA bases in each cell. Uncorrected abasic sites can be lethal to cells because they act as vast potholes, halting the polymerase enzymes that usually zip along a strand of DNA during replication. If a cell is unable to replicate its DNA, it will eventually die.
Cells usually avoid this fate--as well as mutations--by accurately repairing abasic sites in a variety of ways. But very rarely these cellular efforts at quality control fail, and it's at this desperate stage that REV1, the enzyme discovered by Nelson, Hinkle, and Lawrence, causes a mutagenic bypass.
"There's every reason to believe that mutagenesis in humans will prove to be very similar to that in yeast," says Lawrence, noting that Rochester scientists have already identified similar gene sequences in human DNA. "And mutagenesis is at the heart of cancer, which is thought to occur because mutations permit precancerous cells to overcome the genetic defenses against unlimited cell proliferation and migration." People with a genetic predisposition to cancer could be given drugs to knock out the REV1 enzyme, stopping mutations before they arise.
Says Lawrence, a longtime professor of biophysics, the discovery "was one of those wonderful pieces of serendipity that crop up in science and make it so enjoyable."

Simon Professor Advises on 'The Success Principle'
In a world of corporate downsizing and reengineering, professional employees must learn to manage their own careers and not depend on their companies to take care of them.

This was one of the messages that more than 250 Simon School alumni sent in response to a comprehensive survey of successful businesspeople conducted by Ronald Yeaple, executive professor of business administration. As part of his research, Yeaple also surveyed more than 200 graduates of the University's Department of Electrical Engineering to learn how professionals without M.B.A. degrees manage their careers.
By taking the initiative to invest in their own portfolios of critical skills throughout their careers, Yeaple says that employees improve their personal market value and their job security-- and in the process also help their employers compete more effectively in the new world of work, where organizational learning is becoming increasingly important to a company's continuing success.
Yeaple's research is being published this fall in a new book, The Success Principle: The 10 Essential Strategies for Personal Success (Macmillan). In it, he urges readers to take charge of their careers and to think of themselves as the CEO of a "company of one"--themselves, using the same strategic planning concepts that major corporations use.

Depression in the Elderly Is Often Mismanaged, Researcher Says
Depression is not a natural physiological aspect of human aging, experts believe. Personal loss, however--of spouse, friends, career--often comes with age, and loss can trigger depression.
So says Dr. Eric Caine, professor of psychiatry and neuropsychiatry, who, in an appearance in July before the Senate Special Committee on Aging, testified about suicide in older people.
(The University's Laboratory for Suicide Studies, headed by Dr. Yeates Conwell, puts Rochester in the forefront of suicide research, Caine says. "We are rather unique in the country," he notes.)
At the hearing, Caine testified that depression in older people, a leading cause of suicide, is often missed or inadequately treated. (White men older than 80 are six times more likely than any other segment of the population to take their own lives, Caine says.) A Rochester study of 51 suicides in those over age 50 found that 45 had definable psychiatric problems. Results of the study showed that doctors in 16 of the cases missed diagnosing depression. In 23 others, depression was diagnosed but was then inadequately treated.
"In some cases, people were put on medications, when it would have been better just to talk with them about their problems," Caine told the committee. "Suicide in later life is a tragedy. It occurs most often in the context of late-onset depressive episodes and is, generally speaking, not related to terminal illness or unendurable pain."
Caine says that the committee became interested in the subject of aging and suicide because one of its members had lost a parent to suicide. The committee invited 12 witnesses to testify, including relatives of suicides, and people who had survived depression with correct treatment.
"We had five senators in that room," he says, "all from different parts of the country, and they began talking about their own experiences with aging parents or other relatives." Aging is one experience most of us have in common, Caine notes. Yet many experts believe that society discriminates against older citizens, which they feel can lead to undiagnosed or misdiagnosed depression.
"It's important," Caine concludes, "that we continue to talk about this."

Study Finds Romantic Outlook Predicts Length of Relationship
Love may make the world go 'round, but how long love lasts has been devilishly hard to predict. Now, a new Rochester study--by C. Raymond Knee '96 (PhD), who published it as his doctoral dissertation--finds that our attitudes about romance have a lot to do with how long our relationships last.
Some people believe that partners are "destined" to be right or wrong for each other; others feel that good relationships are mostly a matter of being willing to work out problems.
So which view keeps the love fires burning? The answer could go either way, it turns out. The determining factor--Knee's study of 255 college students finds--is how close and happy you are at the start of a relationship.
If you believe in romantic "destiny," but you and your mate seem to have problems, even at the beginning, you'll probably break up sooner than couples who think good relationships are built with time and effort.
But if your early relationship is the picture of happiness, and you're also one of those romantics who believe in ideal matches, then your romance will probably last longer than that of couples who focus on working out problems.
Why? It may be that romantics can't let go of the idea that a good match--like those made in heaven--is meant to last.

---
Braving the Arctic Tundra
Geology Is Where You Find It, Students Say
Near the top of the world: Lundgren, Libman, Scher (kneeling), Cottrell

At the end of a bone-chilling winter, college students in the American Northeast tend to start thinking about lazy afternoons on sunny beaches. But a hardy group of Rochester students last spring found themselves instead looking forward, with wary anticipation, to a summer of frostbitten days and nights--and yet more snow.

The team--Howard Scher '99, Olga Libman '98, Robin Lundgren '97, and grad student Rory Cottrell--are budding field geologists, you see. And if you're a field geologist, you go where the rocks are: in this case an isolated area in the Canadian High Arctic, a mere 10 degrees south of the North Pole and hundreds of miles from the fringes of human habitation. Their objective: a thousand-foot-thick sequence of lava rocks deposited by a series of volcanoes 90 million years ago.

Researchers studying "flood basalts" like these usually head for islands in the Pacific or Indian oceans. But, says John Tarduno, assistant professor of earth and environmental sciences who accompanied the expedition, the Arctic offers excellent--if less balmy--sites to sample the basalts. The layers of rock are exposed at a series of fjords, and there is so little weathering of the earth's surface in the arid Arctic that the ancient volcanic rocks are well preserved.

Working from two different base sites during their 39-day expedition, the Rochester team gathered rock samples from lava flows laid down during a million-year period of intense volcanism. The lava left by just a single eruption during that period is 200 feet thick--50 times thicker than that put forth by a typical Hawaiian volcano.

Hot rocks: This lava flow was deposited by volcanoes 90 million years ago.

Now back on campus, the students are analyzing their samples in Rochester's Paleomagnetic Laboratory, a study that may offer insights into questions about the origins of volcanic rocks in the Arctic, periodic reversals of the earth's magnetic field, and the climatic evolution of the Arctic from a lush, temperate region of an ancient "greenhouse" earth to its current status as a frozen wasteland.

The team is also working to pinpoint the age and duration of the unusually intense period of volcanism, as well as investigating possible links between this volcanism and global extinctions. Among their more surprising findings on the trip was a small deposit of bone fossils from reptiles that inhabited the area long ago when it enjoyed a moderate, ice-free climate.

Moderate it certainly wasn't last summer.

"I think this was probably the worst summer weather in the Canadian Arctic in recent times," Tarduno says. Temperatures got up to around 40 degrees but often dipped into the 20s. Half the time it either rained or snowed. Once, they woke up to a five-inch snowfall covering their tents. "Great material for awesome snowballs," reports Cottrell, who also notes they sighted icebergs "about the height of Hutchison Hall."

Arctic summer: One morning they found five inches of snow covering their tents.

"We were in some very remote spots," Tarduno says, "in places it's likely no human had ever been. When you found a bone on the ground, you didn't know if it got there last year or 300 years ago."

The team faced some daunting challenges in collecting their rocks. Reaching them was often treacherous. (Some of their "Arctic Olympic events," Cottrell jokes, were "shale skiing, rock rolling, talus dash, and swamp hurdles.")

In spite of the long treks from campsite to "Potty Hill," close encounters with wildlife ("When you see a polar bear, look big"), and blistered ears when the sun did shine, they all say they'd do it again.

"This was a great opportunity to get started in the field," declares Scher. "And it gave us a chance to really use what we've learned in class."

The only really hard part, he adds, was "the 30 seconds I spent every morning working up the courage to crawl out of my sleeping bag."

Steve Bradt '96
---
Rochester Quotes
London Daily Telegraph: "Instead of creating all the DNA at the beginning and then identifying the ones we want, we build the strands gradually, continually eliminating the strands we cannot use. That way we cut down dramatically on the amount of DNA needed"--Rochester computer scientist Mitsu Ogihara, explaining a new method of overcoming a major hurdle blocking the development of a revolutionary kind of computer: one that takes advantage of the formidable ability of DNA to encode and store vast quantities of information.

"A test tube full of DNA, which carries our genetic blueprint, could process more information than all of today's supercomputers combined," reports the Telegraph. Up till now, however, scientists had thought the volume of DNA needed would "demand a mass of DNA the size of the sun to carry out."

The Chronicle of Higher Education: "We do film, we do Rembrandt, we do Leonardo, we do medieval icons"--art historian Michael Ann Holly, chair of the Department of Art and Art History, pointing out the blurred boundaries in the new field of "visual culture" that crosses numerous interdisciplinary lines in examining the history and meaning of what we see. The Chronicle reports that Rochester is the only university offering a Ph.D. program in the new study.

Christian Science Monitor: "Today valedictorians don't go into teaching"--Rochester economist Eric Hanushek, noting that teaching in elementary and secondary schools has steadily lost status as a profession.

One remedy he suggests: Hire fewer teachers at a more competitive salary level, letting them teach larger classes than is currently the norm. Though students may get more individual attention in smaller classes, the article notes, Hanushek finds "no consistent evidence" that a drop in the number of students per classroom in the 15- to 40-pupil range results in better student performance.

Time: "Anything involved with meditation and controlling the state of mind that alters hormone activity has the potential to have an impact on the immune system" --David Felten, chair of the department of neurobiology and medicine and a pioneer in the field of mind-body medicine, quoted in a Time cover story exploring the efficacy of faith healing. One recent finding, the article notes, is that stress hormones, which can be affected by prayer and other forms of meditation, have a direct effect on the body's immunological defenses against disease.

The New York Times: "The study showed that with inplantable defibrillators, there was a more than 50 percent difference in the risk of dying--and that is dramatic" --a Federal Drug Administration officer, explaining why the F.D.A. moved with unusual speed in giving approval to widening the use of an electrical device that regulates ailing hearts. Dr. Arthur Moss, a professor of medicine at Rochester, led the testing of the new applications at 32 hospitals in the United States and Europe.

Chicago Tribune: "Younger students are wary that the experience of older students will put them at a disadvantage, and older people worry about the ability of younger students to study their heads off every night"--Harold Wechsler, professor of education, speaking--in an article on the growing numbers of "adult students" in college classrooms--of potential tensions between differing age groups. "But," the article concludes, "each has something to learn from the other, and there is even a fair amount of cross-mentoring."
---
SPORTS
Going Forward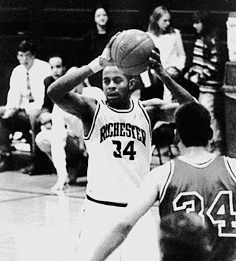 Two-year top scorer: Jamar Milsap '98
"We're going to do a lot of damage this season," promises basketball forward Jamar Milsap '98.
At six feet, six inches, Milsap has led the men's basketball team in scoring for the past two years. Among other distinctions, he was named most valued player following the Yellowjacket win in the Chase Scholarship Tournament last January and earned Second Team All-America honors from the National Association of Basketball Coaches.
At press time Coach Mike Neer said he expected Milsap to be named to at least three pre-season All-America teams this year. "The word on Jamar is out," says Neer. "Our PR department has already had calls about him from three different magazines."
Milsap, who hails from Chester, Pennsylvania, came to regulation basketball a little later than most. "Until I was in the 10th grade," he says, "I just played around with friends, not on any school team. Then the high school coach saw how tall I was and asked me to be on the team. But I was nowhere as a player then. I didn't even start for the varsity team until 12th grade."
Late beginning aside, his senior year in high school was actually his "big year," he says. "But the coach told me I had to work harder. So I did. I played every day for weeks, in six or seven different leagues. I played every chance I could get. And I fell in love with the game."
After a disappointing experience with basketball at Millersville University, Milsap transferred to Rochester in the second semester of his freshman year, on his uncle's advice.
Eventually, he has his sights set on attending the National Basketball Association tryouts. If professional basketball turns out not to be feasible, however, Milsap, who is majoring in health and society, has his eye on a career in the work-site safety field.
In the meantime, he says, "Basketball here at Rochester is great."

1996 Hall of Famers Inducted
Homecoming Weekend this year once again brought some of the University's most noted athletes back to school to be honored for their contributions to Rochester athletics in particular and the larger world in general.
This year's 14 inductees include an Olympic bobsledder turned veterinarian, John Cogar '71; a fast-on-his-feet medical director, Lawrence Handlesman '66; and the Hall of Fame's personal emcee, Jon Hunter '72, '78 (PhD), who has been leading the Hall's induction ceremonies since its inception in 1992.
Some brief (too brief for this stellar crew!) bios:
Eliza Bates '79N--Played field hockey and competed on the swimming and diving teams in all four years; co-captained both teams. Now a home-care nurse in New York City, she has traveled to a number of other countries to study their health care practices and has taught at UMass and Holyoke Community College.
Gorman (Hamp) Burnett '47--A football and track letter-holder who debuted with the 1944 gridiron team, the first coached by Elmer Burnham. Was football captain as a senior. Arrived on campus in the Navy V-12 unit after active duty in the Atlantic Coast anti-submarine patrol. Later went on to a successful career in dentistry.
Maureen Hopke Christmas '79--Lettered in women's swimming and diving (co-captain) and qualified for the national championships. Set individual and relay records. With a master's in physical therapy from Boston University, she now works in an outpatient satellite of New England Rehabilitation Hospital.
John Cogar '71--Letter-holder in football as well as track and field, setting school records in both. Ran on a 440-yard relay team that was undefeated over four years in dual-meet competition and won N.Y.S. and Eastern U.S. College Championships titles. He later competed on four U.S. World Bobsled Championship teams and in three Olympic trials. Now a veterinarian.
Lawrence Handlesman '66--Record-setting middle-distance runner in track and field and winner of numerous honors. Was the first Rochester runner to represent the U.S. at the Maccabiah Games in Tel Aviv. With his M.D. from SUNY Upstate Medical Center, he is medical director for rehabilitation services and v.p. for medical affairs at Chelsea Community Hospital in Michigan.
Jack Herlan '77--Four-year letter winner in basketball; captain as a junior and senior. Led in scoring for three seasons and rebounding twice. Graduated as the all-time scoring leader in 1977 with 1,446 points. Coached high school and college basketball; still active as referee. Has been teaching remedial math and computers in Buffalo since 1987.
Harvey (Pete) Humphrey '41 (posthumous)--Lettered in football and track and field. Received his M.D. degree in 1944 from Yale and served as a captain in the U.S. Army Medical Corps 1945-1947. Was chief radiologist at a number of California hospitals before his death in 1992.
Jon Hunter '72, '78 (PhD)--Three-year football letter-holder and member of the 1970 Lambert Cup-winning club. Also lettered in baseball for two seasons with a cumulative average of .369. Has served as the principal of Bethlehem Central High School since 1988 and has been the master of ceremonies for the Rochester Hall of Fame ceremonies since 1992.
Frank Okey '42--Lettered in tennis for three seasons and entered military service in 1943. Enjoyed a highly successful career on the local tennis level and played in the U.S. Championships in 1952, the first native Rochesterian to play in this event. Twice won Canadian National Senior Singles titles.
Michael Roulan '72--Lettered in football, baseball, and wrestling. Was football team's leading tackler for three years and led in interceptions twice. Was a Little All-American and named to All-New York State. Played third base and catcher in baseball and hit over .300 for his three-year career. He practices law in Geneva, New York.
William Sandow '42--Three-year letter-holder in football and baseball, and also competed in intercollegiate sailing. Later was skipper of Air-Sea Rescue Crash Boats and a war crimes investigating officer. With a Harvard M.B.A., he is now CEO of Blue Cross-Blue Shield of South Carolina and founder and chair of the Companion Life Insurance Company.
Timothy Schum '60--A three-sport letter-holder in soccer, basketball, and baseball who played for the only undefeated soccer team in school history. Won All-N.Y.S. honors for three consecutive years in soccer and once hit four home runs in a single baseball game. With a master's from Harpur, he coached golf, baseball, and soccer at SUNY Binghamton, retiring in 1992 with a career mark of 259-126-43. Still serves as professor of physical education and associate director of campus recreation at Binghamton.
Don Smith--Retired from the University in December 1995 after a 40-year career as both coach and administrator. Coached golf for 27 seasons and reached unparalleled success, with 14 consecutive appearances in the NCAA Division III National Championships and a ranking in the Top 20 every year from 1982 to 1995. Was NCAA Division III District II Coach of the Year three times and University Athletic Association Coach of the Year six times.
Gordon Turner '74--Three-year letter-holder in basketball, ranked in numerous statistical categories. Ranked fourth in career scoring at the time of graduation with 1,045 points, he scored 602 points in 24 games in his senior year, an achievement that stood as the school record for 15 years and now is fifth highest.

Eighth Invitational Regatta Enjoys Perfect Racing Conditions
On a golden October Sunday, top collegiate crews from the Ivies and other Northeastern schools in this country and Canada came once again to scull on the Genesee.
Honoring a new sponsor, the eighth such annual event sported a new name this year--the Stonehurst Capital Invitational Regatta.
In what might have been termed a "delayed instant replay" of last year's races, Yale's men's heavyweight eight again took the George M. Angle Cup, and the University of Wisconsin's women's heavyweight eight once again copped the Elaine P. Wilson Cup. In other competition, Rochester came in second in the women's heavyweight fours, and fifth in the collegiate division of the men's heavyweight eight.
Joining the University and Stonehurst Capital Management, LIC in sponsorship of the regatta were RIT and the Rochester Chamber of Commerce. An estimated 15,000 spectators turned up to cheer, munch, stroll, and bask during the daylong event.

---
ReView Point
An occasional column of faculty opinion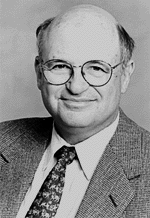 Preserving Academic Medical Centers as the Keystone of America's Health Care System
By Jay H. Stein, M.D.
These are turbulent times for America's academic medical centers. It's hard to pick up a major newspaper without finding a story about medical school mergers, sales of university teaching hospitals to private corporations, and other maneuvers by which academic medical centers are trying to cope with shrinking revenues.
Not since the Great Depression have so many academic medical centers faced such serious threats to their survival.
The reasons? The health care industry is facing growing pressure from businesses that are demanding lower health care costs for their employees. Federal and state governments, faced with budget deficits and mounting debt, continue to reduce funding to the Medicare and Medicaid programs.
This leaves hospitals competing against one another almost exclusively on the basis of price. Hospitals that can contract with managed care plans to provide care at lower prices will maintain a steady flow of patients. Hospitals whose costs are higher will watch their patients--and their revenues--disappear. The challenge to hospitals is clear: Cut your costs or you will be out of business.
This challenge is especially troublesome to academic medical centers, which rely on clinical revenue to help support their teaching and research missions. A university teaching hospital can discount its costs enough to stay in business-- but a sharp decline in clinical revenue will mean that the medical center will have less money available to fund its teaching and research activities.
What is so remarkable about the plight of academic medical centers is that it imperils them in an era when they have done so many things right. Academic medicine is the enterprise that has eradicated smallpox and polio from the Earth. It has developed the treatments that today permit more than half of all patients diagnosed with cancer to survive their disease. It has made organ transplants a routine occurrence in most major cities. And it is successfully decoding the human genome, a feat which will unlock the secrets to hundreds of diseases in the next decade and which will eclipse all of medicine's previous achievements.
Academic medical centers, not managed care plans, have provided our society with the most advanced, highest quality health care in the world. They've done it not only by caring for patients at the bedside, but by pursuing answers in laboratories and by producing the world's most highly skilled physicians and medical scientists.
Nonetheless, academic medicine is under siege. Many experts believe that under the current and anticipated economic conditions, one-third of the nation's 126 academic medical centers will not survive in their present form. Not only has their demise already begun, for some it has progressed beyond the point of reversibility.
This leaves academic medical centers--including the University of Rochester Medical Center--looking aggressively for ways to reduce the price of our clinical services, and simultaneously find ways to preserve our research and education missions.
To succeed, we must change. The strategy we've adopted at Rochester includes steps to improve efficiency and reduce costs in our clinical services so that we can price our services competitively. We're building an integrated health care delivery system--one that will include other hospitals, long term care facilities, and a home care provider--that will have the capacity to meet the health care needs of 600,000 people, roughly half the population of the Greater Rochester area.
We're strengthening our network of primary care physicians who admit their patients to our hospital and refer patients for outpatient treatment by our faculty physicians.
We've developed our own managed care plan, called StrongCare, so that we can offer our clinical services in the managed care market. The profits of most other managed care plans go to their share holders; any profits from our StrongCare plan will be reinvested in our research and education activities.
We are also making changes in our research program, under a strategy developed by a task force of faculty members representing nearly every academic department in the Medical Center. They proceeded under the premise that during a period of limited financial resources it will be advantageous to focus our available resources on a few select research areas that show the greatest potential to achieve national eminence in their fields. The task force identified three "areas of emphasis" in which the Medical Center will invest in the years ahead, with the intent of elevating these areas into the top 10 among American academic medical centers. These areas are Aging, Growth, and Development; Cancer; and Immunology and Vaccine Biology.
While our education programs continue to be excellent by a variety of measures, we are working to make sure our curricula in the School of Medicine and Dentistry and the School of Nursing reflect the skills our graduates will need in the future.
It all involves change. The University of Rochester Medical Center and the rest of the nation's academic medical centers must adapt if we are to continue to fulfill our role as the keystone of the health care system that is the envy of the world. Rochester's Medical Center is well positioned to succeed in this new era if we move promptly and decisively to manage the changes in our environment.
Jay Stein is senior vice president and vice provost for health affairs at the University.
| UR Home | Review Contents | Mail |


Copyright 1996, University of Rochester
Maintained by University Public Relations
Last updated 12-19-1996 (jc)