The Rochester Review, University of Rochester, Rochester, New York, USA




Research Notes
Man Was Blind; Man Can See
Partial vision has been restored to four legally blind persons as the result of a procedure developed by Manuel del Cerro, a professor of ophthalmology at the Medical Center.
By taking human fetal-nerve cells and injecting them under the retina during surgery, del Cerro has reported reversing the blindness of retinitis pigmentosa. (Retinitis pigmentosa, also called tunnel vision, is a genetic condition of the retina that gradually shrinks the field of vision, eventually closing it completely. The disease affects about one in every 3,500 people.)
Using techniques and equipment developed at Rochester, the first surgeries were performed in India. The announcement of the results of the procedure on the first eight patients in November resulted in an avalanche of calls from the press.
The procedure takes about 90 minutes to perform and it can take up to six months to evaluate. The surgeon makes three tiny holes in the cornea in which to insert instruments and fiber-optic light, then injects a saline solution with the cells between the retina and the next layer of tissue.
Perfect vision doesn't result, del Cerro cautions. One patient went from seeing only hazy light to being able to walk unaided and recognize faces. Others have progressed to being able to detect hand motions. "It's still very poor vision," he says. "But 'very poor' to some people may be a gift from God."
Still considered controversial among some scientists, the transplant procedure represents the world's first surgical attempt to assist patients with retinitis pigmentosa. "It is possible," del Cerro says, "that treatment for a wide range of other eye diseases, including macular degeneration, may benefit from this work."
---
Student Juggler Discovers Low-Cost, Fascinating Form of Therapy
Juggling can be much more than a trick to wow dates, James Goldman '97 will testify.

A neuroscience major on his way to the School of Medicine and Dentistry this fall, Goldman has shown that this addictive form of play also has a powerful therapeutic dimension: He teaches brain-damaged people to juggle and has watched them break through physical limitations as they concentrate on the magic of keeping unlikely objects zooming through the air.

Goldman discovered the fascination of juggling at about the same time he entered his teens. Addicted, he practiced, practiced, practiced until he was good enough, at 14, to join a vaudeville-style troupe that played for nursing homes and other community agencies--essentially, for anybody who would sit still for them.

Later, he went out on his own, doing 30-minute acts with balls, rings, clubs, and, eventually, showier items like knives, flaming torches, and hatchets. He put on about 200 shows in high school. It was good pocket money for a kid.

As part of his application to the University, he wrote an essay imagining what he'd be doing in his 40s--fantasizing that he'd like to be accepting an award for launching a therapeutic juggling program for people with physical limitations.

It was a fantasy that kept recurring once he got to campus, and he decided to make it a reality. He took his idea to the Ray Hickok Center in Rochester.

"My background as a performer and my interest in neuroscience were enough to persuade them to let me try," Goldman says. So one morning a week, he works at the center as a "personal trainer" to Hickok patients. Some are in wheelchairs, some can use only one hand. No matter. He designs juggling routines they can do within their physical limitations.

After some practice, he finds, hope and determination begin to blossom. His students improve concentration and flexibility, develop a sturdier sense of personal achievement--and see juggling as so much fun that they practice in their spare time.

For the more than 700,000 people in the United States who have neurological damage from accidents, birth defects, strokes, heart attacks, or radiation, juggling can be a life-improving skill, Goldman now believes.

He thinks it's just a matter of time before the medical establishment catches on to this low-cost, fascinating form of therapy, and begins to make juggling a standard part of physical therapy.

"The thing about juggling is that it's infectious," he says. "Back in my dorm I just taught three or four students to juggle. They taught others. And it spread like wildfire."
---
How Women's Activism Helped Mideast Peace
A new book about women peace activists in Israel by Ayala Emmett, associate professor of anthropology, brings timely analysis to the ongoing struggle for peace in the Middle East.

Our Sisters' Promised Land (University of Michigan Press) looks at the long campaign of women activists in support of Israeli recognition of Palestinian self-government, and on their effort to change official policy from one of conflict to one of peaceful co-existence. The book is the first to examine Israeli politics by focusing on the women's claim that they represent the silent majority that supports peace in their country.

While Emmett acknowledges the role played by global events such as the collapse of the Soviet Union and emergence of the United States in creating a climate for peace, she argues that these were grassroots peace accords, which developed out of local movements in Israel and in the Occupied Territories.
---
Physicist Recounts Dating the Shroud of Turin
Harry Gove, a physicist who took his quest to determine the age of the famed Shroud of Turin all the way to the pope, has published a book recounting the experience. Relic, Icon or Hoax? (published by the Institute of Physics) offers a behind-the-scenes look at the remarkable clash between science and religion during the decade-long struggle to subject Jesus' purported burial cloth to the rigors of modern carbon dating.

Gove, now a professor emeritus, was one of three researchers who in 1977 developed accelerator mass spectrometry for carbon dating. This was the technology that definitively disproved the authenticity of the Turin Shroud, revealing that the flax from which it was made had been harvested within three decades of the year 1325.

The lull in the debate prompted by this finding has recently given way to new speculation. Some scientists, who continue to insist on the shroud's authenticity, have suggested that the carbon dating was skewed by contaminants on the fabric.

Gove questions these claims. "The shroud would have to be 70 percent contaminants for the dating to be so far off," he declares.
---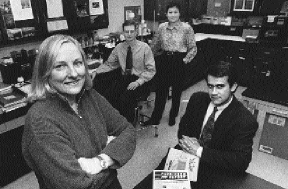 Parkinson's researchers: A team of scientists headed by lead investigator Martha Bohn, associate professor of neurobiology and anatomy (left, above), has reported a significant advance in the fight against Parkinson's disease. They have successfully used gene therapy to protect nerve cells in the brain by boosting the production of a key protein messenger that staves off symptoms of the disorder.

"While this work is a long way from clinical application in humans, it is a prime example of the potential of in-vivo gene therapy in the brain," says graduate student Derek Choi-Lundberg (second from left), who presented this work at the Society for Neuroscience meeting in November. Using gene therapy to spur the brain to produce vital substances suggests a promising, less invasive route for a variety of neurological disorders, including Parkinson's. Other members of Bohn's team are Qing Lin (third from left) and Hasan Mohajeri (right). Investigators at Genetic Therapy, Inc., in Gaithersburg, Maryland, and at the University of Iowa, also collaborated on the project.

---
Advice to Banks: Get Online
"If the banking industry fails to meet the demand for new products, there are many industries that are both willing and able to fill the void," say Ravi Kalakota and Frances Frei, professors at the Simon School.

"How bankers respond to this challenge and others like it will have a big impact on what the industry will look like in the next decade."

In a recent paper, "Simon Report on Online Retail Banking: A Survey of Strategy, Technology and Management Issues," the authors say that, unless traditional banks adapt quickly to new technologies, they could soon find themselves replaced by the likes of Microsoft, Intuit, Charles Schwab, IBM, and AT&T.

Currently, Intuit and Microsoft are developing and marketing home-banking software that makes many banking services readily accessible 24 hours a day. Customers can check account balances, transfer funds, find out whether transactions have cleared, and reconcile various accounts.

| In Review | In Brief | Rochester Quotes | Sports | ReView Point |

| UR Home | Review Contents | Mail |



Copyright 1997, University of Rochester
Maintained by University Public Relations
Last updated 3-24-1997 (jc)