The Cyber University
This spring, the University was named one of the country's Top 25 Most Wired Schools: When it comes to student access and exposure to the World Wide Web, Yahoo Internet Life says, Rochester goes out of its way to make the Web an integral part of student life--for one reason, because the University's ResNet project, begun last year, has made Internet access standard equipment in every Rochester dorm room.
The tip of the hat from Yahoo is most definitely a feather in the institution's cyber cap. But Rochester networking geeks know there is more to access than a monitor, mouse, and LAN connection. The University's Web site--www.rochester.edu--is full of news-you-can-use information and growing larger every day.
Students have online access to their grades and other personal information (with a PIN number, of course, to protect privacy). Students turn to the Web site for dining menus, bus schedules, events information, and social networking. News groups are the Internet's neighborhood tavern, covering topics from campus rumors to want ads and acting also as official and unofficial study groups.
And many students now routinely do homework assignments in cyberspace. Calculus students, for instance, have access to WeBWork, a recently developed software package created collaboratively by faculty and students that gives personalized assignments and immediate feedback on answers to problems.
Rochester's Web site isn't just for students, of course. Faculty, staff, alumni, researchers, and the-just-plain-curious can and do turn to the Web for Rochester information, in growing numbers.
The University's online information has been roughly organized by potential audience. Thus, you'll find buttons that say Welcome, Academic and Research, Admissions, Alumni, Libraries, News and Publications, Student Life, and For the University Community.
For the surfing set, just hitting a button on www.rochester.edu and following a trail deep into the University Web is a joy. Some prefer a little guidance.
So, with mouse in hand, and clicking finger warmed up, a Rochester Web site visitor can find:
Enough news and publications to keep a person reading about the University more or less forever--or at least until the next Review comes out--at www.rochester.edu/pr/News/. This site, with its own search engine, offers the latest University news via announcements, press releases, Currents, Rochester Review, Campus Times, and Medical Center publications, not to mention the most recent Undergraduate Bulletin, Graduate Bulletin, and Faculty Handbook. (You can use the search engine, for instance, to see if any of your friends have been mentioned in Class Notes in any of the issues now up on the Web.)

The names, campus e-mail and snail-mail addresses, and phone numbers of all faculty, staff, and students currently at the University, at www.rochester.edu/FindPeople/. This peoplesearch mechanism is repeated at the bottom of most of the top-level pages on the University Web.

Part One of the undergraduate application form, at www.rochester.edu/admissions/RC. Once that form has been completed and e-mailed, prospective students can then track the status of their applications online (ending the need for long distance phone calls to check on receipt of recommendations, financial information, etc.).

Looking for work at the University? The Office of Human Resources publishes the full text of its job board, along with instructions on how to apply, on the University Web, at www.rochester.edu/JobOpp/. (The site can also be found through the jobs link in each online issue of Currents.)

An events calendar (still in the growing stages) that automatically lists events on the River Campus by date, time, and location, using data from various sources. (Eventually the calendar will include all online events data at the University.)

Ah, the libraries. Click on rodent.lib.rochester.edu and find the University Libraries' latest acquisition, Voyager, the online library catalog. Voyager replaces the old Chester, and users can use their clicker fingers to search for specific volumes. The site also offers access to other regional and national online search resources, and sources for general information.

And especially for alumni? The Alumni Association of the College maintains an online reunion at http://listener.uis.rochester.edu/alumni/. "Reconnect with Rochester" provides a cyber method of reacquaintance with long-lost Rochester friends, via a growing directory of alumni e-mail and Web addresses. (Visit and add your own.) The alumni site also offers info on local and regional events, lists of services for alumni, and suggested ways of staying involved with the University community.

There's much more. Academic departments have pages and pages of information on faculty and students and their research projects. Administrative departments use the University Web, too, to publish information they might once have included in memos or newsletters. The Facilities Department, for example, has an online application form to use for requesting services. The Office of Research and Project Administration supplies all kinds of grant information for researchers. Human Resources publishes personnel policies and procedures online, for all employees of the University.
So, yahoo for the pat on the back from Yahoo. But Rochester isn't stopping there. Grab a mouse, dial up a service provider, and come to the University Web for a visit.
---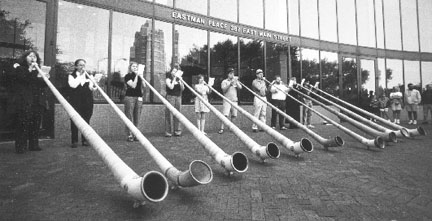 Longhorns: Downtown Rochester echoed to the sound of music as this group of alpenhorn players did their thing in an open-air recital outside Eastman Place. It was one of the novel events--another was a performance by a "monster choir" of more than 400 French horn players--that took place in June during the 29th annual International Horn Workshop, held this year at the Eastman School of Music. The week of lectures, workshops, and solo recitals by world-renowned French horn players drew some 500 participants from as far away as Japan, Malaysia, and New Zealand.
---
New Trustees Elected
Five alumni have been elected to the University's Board of Trustees. They are:

Joel Beckman '76, Scarsdale, New York, partner, Goldman Sachs & Co.

Launcelot Drummond '85S (MBA), Cooper City, Florida, general manager and vice president, Professional and Printing Imaging, Eastman Kodak Company, Latin American Region.

Roger Friedlander '56, Rochester, president, Staples Business Advantage.

Louis Lange III '70, Menlo Park, California, chairman and CEO, CV Therapeutics.

Gail Lione '71, Bethesda, Maryland, general counsel and secretary, U.S. News and World Report, L.P., Applied Graphics Technologies, L.P., and The Atlantic Monthly Company.
---
The New York Times: "It was like taking a postcard and writing a haiku on it. Just a little thing that I sent back in thanks"--Eastman School composer Augusta Read Thomas, speaking of an 11-minute cello concerto she composed for Mstislav Rostropovich after he had conducted two of her previous works.

According to the Times, the famed cellist/conductor was planning to perform the new piece in concert with the Boston Symphony--along with a concerto written by Thomas's husband, Harvard composer Bernard Rand and yet a third work also featuring the cello. "He's a maniac," Rand said. "But a wonderful one."

Fort Meyers News Press: "You can go on vacation and not feel guilty about having fun"--David Lee '99, explaining why he and 14 fellow Rochester students were enjoying their eco-friendly spring break devoted to clearing Florida nature trails --rather than basking and boozing.

"The University of Rochester has a big alternative spring program all over the United States," tour organizer Sandra Hoffman '99 told the Fort Meyers reporter. "We even received a donation from our alumni for the van we used to get here."

Newsweek: "Children don't need good teachers to master language"--cognitive scientist Elissa Newport, one of the experts in human development quoted in a Newsweek special issue on babies. All on their own, said Newport, "they pick up whatever [grammatical] rules they can find and sharpen and extend them."

Language learning is easier in childhood because the human brain is primed for it at that stage of development, Newport says. From studies of a 9-year-old deaf boy who had learned American Sign Language exclusively from his incorrectly signing parents--but who signed grammatically himself--she has found new evidence suggesting that children have innate language ability that they draw on.

Investor's Business Daily: "The most frequent mistake teachers make is not knowing their audiences. You must connect with them. Market your ideas. And know your product"--Clifford Smith, finance professor at the William E. Simon Graduate School of Business, speaking about his teaching philosophy to the editor of the paper's "Leaders and Success" column. (He compared Smith to "the best teacher you ever had.")

Smith's advice to teachers ("whether in the classroom or the boardroom"): "Convey to your audience your desire for them to learn. If they feel it's important to you, they'll put more effort in it." The article also cited Smith for his "scores of research and teaching awards," noting that he "is one of the most oft-cited scholars among his fellow academics."

London Daily Telegraph: "There is absolutely nothing fancy in what we have done"--biologist Animesh Ray, explaining how he and colleagues used traditional laboratory techniques to create some of the first DNA computer "hardware" ever--short sequences of DNA
to mimic the logic gates of conventional computers (see Conceiving a DNA Computer).

"The dream of creating the world's largest and most powerful supercomputer concentrated in a single drop of water has come a step closer," the Telegraph declared.

Associated Press: "Strokes cost a lot of money"-- neurologist Robert Holloway, estimating the total lifetime cost of first-time strokes in the United States as $40 billion.

"Strokes, the No. 3 killer after heart disease and cancer, are an economic disaster as well as a medical one, costing an average of $103,576 [in medical bills and lost earnings] over the lifetime of each victim," the AP article noted.
---
Runner
On his own two feet, Andy Evans '98 seemingly can do no wrong. The junior track and cross-country star won this spring's UAA indoor championships in the 1,500, 3,000, and 5,000 meters, setting a record of 8:31 in the 3,000. The following weekend at Nationals, he raced to second place in the 5,000, earning him All-American status.

Just don't put him on a little red saucer down a steep, snowy slope near the St. Lawrence River. The Massena, New York, native tried that his sophomore year, caught a little air, and landed on his head, breaking his collarbone and earning time on the sidelines to cool his heels.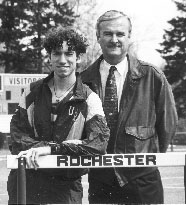 Andy Evans and Coach Tim Hale

It could have been a lot worse. When he landed, his head was turned sideways; he might have broken his neck if his head had been straight.

To recover, Evans wore a brace and stayed off the track. But nothing could keep his eye off the upcoming season. To maintain racing form, he put in three hours a day on a stationary bike that allowed him to exercise his legs without jostling his upper body. After a month and a half, he advanced to walking. And by the end of the spring semester, he had come roaring back to win States in the 1,500 and the 5,000, and to qualify for Nationals..

"Andy is a very focused young man who wants to succeed academically and has also found out how well he can do as an athlete," says Coach Tim Hale, who this year nominated Evans as a Garnish Scholar, an honor given to the top male and female scholar-athletes in the junior class. (He won, as did fellow runner Rachel Feinberg.)

"He's one of those special kids," Hale notes. "I think Rochester has more than its share of them, but ones like Andy still come along rarely."

Evans says at least one good thing came out of the accident: Accustomed to logging a time-consuming 70 miles a week on Rochester's streets and bike trails, he had more time for studies while he was laid up and earned the best grades of his college career. A biochemistry major and medical anthropology minor with a 3.5 GPA, Evans is aiming for medical school.

He confirmed his desire to go into medicine after spending the summer of '96 in a custom-fitted "shadow" internship he devised for himself--observing the medical profession at work in a variety of departments at Massena Memorial Hospital, from emergency and pediatrics to orthopedics and surgery.

He looked over the shoulder of nearly every doctor in the place, he says. "I wanted to see if it was something I really wanted to do. I asked a lot of questions and kept a long journal (minus names) on each patient. And I documented the surgeries; I'd get the surgery schedule and pick out which one I'd want to observe that day. "

This summer, Evans has stayed in Rochester to take part in the prestigious De Kiewiet Fellowship program. Working with biochemist Eric Phizicky, Evans has been studying protein interactions in yeast. He hopes to continue the research through his senior year and then publish the results.

The champion runner is also an accomplished pianist. First plopped onto a piano bench at age 3, he takes lessons at the Eastman School.

But running is never far from his mind, even while considering where to apply for medical school. When he gets there, Evans wants to train with a nearby high-caliber track club or collegiate team.

And someday he'd like to coach--running, that is. No snow sports, please.
Winter Wrap-Up
Men's Indoor Track and Field: Andy Evans capped off one of the finest track-and-field seasons in school history by finishing second in the 5,000-meter run at NCAAs.

Women's Indoor Track and Field: The 'Jackets were 4-0 in dual meets and finished sixth at the UAA Championships and seventh at States.

Men's Basketball: Winding up with a 15-11 record, the team competed in the first round of the NCAA Championships.

Women's Basketball: A 13­13 finish this season included Rochester's first appearance in the ECAC Upstate New York Championships in three seasons.

Women's Swimming and Diving: The women's team turned in strong finishes at both the UCAA Championships and the UAA Championships--fourth at UCAAs and sixth at UAAs.

Men's Swimming and Diving: Finishing 5­4 in dual meets, the Yellowjackets were fourth at the UCAA Championships and sixth at the UAAs.

Squash: The squash team maintained its national ranking and topped the season by winning the National Intercollegiate Squash Racquets Association team championship.
Spring Wrap-Up
Lacrosse: It's back as a varsity sport for just its third season, and this one turned out to be the best in school history. The Yellowjackets ended 9­7, competed in the States for the first time, and set a River Campus record for wins in a season.

Golf: Rochester maintained its ranking among the nation's top 25 teams and was second at both the UCAAs and UAAs.

Women's Outdoor Track and Field: Fashioning a 5­3 record, the 'Jackets won the 10-team Alumni Invitational and finished sixth at UAAs and ninth at States.

Men's Outdoor Track and Field: Outdoors, the Yellowjackets were 4­4 and second at the Alumni Invitational. They also finished fourth at UAAs and sixth at States.

Baseball: The team finished 19­17, the finest record in the last three years.

Women's Tennis: Matching their best-ever dual-meet record at 15­4, the 'Jackets also finished second at the State championships.

Men's Tennis: The Yellowjackets received their third team bid in the last five seasons, marking their 22nd year at NCAAs on either a team or individual basis, the longest streak in New York State.
---
An occasional column of faculty opinion
The Church of Baseball
By George Grella

As the opening credits of Bull Durham roll and a leisurely montage of still photographs of famous moments and people in baseball history marches across the screen, Annie Savoy (Susan Sarandon) intones the perhaps too frequently quoted line, "I believe in the Church of Baseball." She continues with some absolutely specious statements (which, apparently, have always been accepted as gospel) about the connection between the Roman Catholic rosary and the stitches on a baseball, as the camera shows the altar she has constructed to the game.

Whatever the accuracy of her reading of some of the iconography of baseball and religion, and the orthodoxy of her belief in both practices, however, Annie speaks for countless passionate disciples of baseball, who understand or at least sense the complicated relationships between sport and faith, and who, like Annie, worship in the Church of Baseball.

Numerous fans, students of games, ball games, and especially stick-and-ball games--as well as archaeologists, anthropologists, and Egyptologists who may not know a catcher's mitt from a fungo bat--have discussed the ritual origins of such contests. Mingling the sacred and secular, the ceremonial practices of faith with public festivals, religious fervor with the joy of athletic performance, early games united a great many strands of civic and communal life into a celebratory activity. Many documents, paintings, sculptures, and bas reliefs testify to the importance of the games throughout the history of the Egyptian Empire. As all fans have reason to celebrate, long after the end of the Egyptian, the Greek, and the Roman empires, those ancient games of stick and ball traveled through space and time, enduring even when many other institutions of those great civilizations crumbled into the dust of history. Their survival, in fact, testifies to the durability, devotion, perhaps even the divinity of the Church of Baseball and its immense and faithful congregation.

One of the most important elements in the persistence of those stick-and-ball games must be the overpowering presence of the medieval Christian Church, which adopted and apparently maintained the practice of playing ball in some of its own ceremonies. One version of those games, tennis, actually became a monastic pastime, played within the precincts of the cloisters before it moved to the royal courts, then to the green lawns of the aristocracy, and ultimately to the country clubs of the affluent bourgeoisie.

As some of the many available ecclesiastical representations in the stained glass windows of European cathedrals show, moreover, early versions of baseball not only appear to constitute part of daily life, but also to benefit from the blessings of official, organized religion, demonstrating quite clearly the sanctions of the established church. The continued representation of the sport within the hallowed space of actual churches even in our time and place suggests the fruitful and even inspirational results of those blessings. Some form of baseball entered the church at an early stage of development in both institutions, and the connection remains vital and meaningful.

Like the Church itself, as the Ur stick-and-ball game evolved and spread across the earth, it separated into a variety of coexisting and sometimes competing manifestations, in some places merging with existing native practices. It resulted in such different but allied activities as golf, cricket, hurling, field hockey, polo, and so forth, but retained its rich and complex relationship with faith. Incarnated in relatively modern times in America as baseball, it retains the mixture of the pagan and the Christian that accompany its development in the ancient past.

From the other side of the aisle, so to speak, a considerable crowd of baseball fans, students, and scholars who may not otherwise attend church or synagogue regard the sport with attitudes closely related to religious feeling. These true believers resemble Annie Savoy in their acceptance of the Church of Baseball and in fact often refer to the great temples of their faith as green cathedrals. Devout adherents of the Church of Baseball frequently suffer the scorn of heretics, agnostics, atheists, or apostates, who mockingly employ the "green cathedrals" tag to torment the faithful for their exaggerated and mawkish religiosity; certainly plenty of hyperbolic sportswriter prose, a drab hymnology of secondhand insights and elegant variations, surrounds such annual ceremonies as Opening Day and the World Series, providing fuel for any persecutor of the faith.

Anyone who understands the game at all, even a sportswriter, however, must recognize its inherently transcendent and spiritual nature. Although the special qualities of baseball may derive from its origin and heritage, like any game it participates to some degree in a religious experience. The Green Cathedral crowd, therefore, can cite not only their own passionate response to the baseball stadium, but the arguments of history and theory to justify the religious nature of the sport and the emotions it evokes. Certainly the green and spacious vista of a ball field, that lovely, consecrated spot, should excite pleasure and even inspire awe in the cold heart and sterile imagination of the most relentless baseball atheist.

In his long, rich, wildly satiric novel about baseball, The Great American Novel (1973), Philip Roth calls the sacred center of the American game "the town that is to baseball fans the Lourdes, the Canterbury, the Kyoto of America." For true believers in the Church of Baseball, Cooperstown is more appropriately its Vatican City, and the Hall of Fame its St. Peter's Cathedral. Anyone who views the Hall of Fame itself from the balcony at one end must perceive its many close correspondences with a religious shrine: the Romanesque arches, the sepia twilight from the decorated windows, the hushed tones of the visitors, and, of course, the bas reliefs of the game's immortals arrayed like images of saints on the walls. Judging by recent selections, by the way, it appears far more easy to be beatified in the Roman Catholic Church than to win a plaque in that hallowed place.
---
Grella is associate professor of English. This essay was excerpted from a presentation at the eighth annual symposium on baseball and American culture at the Baseball Hall of Fame in Cooperstown.

| In Brief | Research Notes | Rochester Quotes | Sports | ReView Point |

| UR Home | Review Contents | Mail |



Copyright 1997, University of Rochester
Maintained by University Public Relations
Last updated 7-16-1997 (jc)