The Rochester Review, University of Rochester, Rochester, New York, USA




---
SATCHER OK'D AS SURGEON GENERAL
In the last issue of Rochester Review, we announced that one of our own, Dr. David Satcher '72M (Res), had been nominated for the post of U.S. Surgeon General. The nomination was confirmed by the Senate on February 10. Satcher was a resident at Strong Memorial Hospital, where he received training in internal medicine and pediatrics. Before assuming the Surgeon General post, he had been director of the Centers for Disease Control and Prevention in Atlanta.
---
HOLY MACKERAL! AN OSCAR NOMINATION
And speaking of nominations: As Rochester Review was going to press, word reached us that Robert Forster '64 had received an Oscar nomination for his work as a supporting actor in the Quentin Tarantino film, Jackie Brown. Although other Rochester alums have preceded him as Oscar nominees (and some as winners, too), those Oscars have honored behind-the-scenes work. This is believed to be the first time a University grad has been nominated for on-screen work.

By the time you read this, you will know whether or not Forster won, but as he told a local reporter, even the nomination "surpasses my wildest dreams." As has been well recounted in the press, Forster's casting as the film's genial bail bondsman revived a 25-year career slump following starring roles in such '60s films as Reflections in a Golden Eye and Medium Cool. When asked how he felt about the Oscar nod, Forster had a two-word reply: "Holy Mackeral!"
---
YES, MR. PRESIDENT: IT'S IN THE BAG
The U.S. Senate unanimously confirmed Duncan Moore '74 (PhD), former dean of the School of Engineering and Applied Sciences, as associate director for technology of the White House Office of Science and Technology Policy. Moore, nominated by President Clinton, took his White House seat full time January 1. In that post, he advises the President on advanced technology matters concerning NASA and the Internet. He will serve a two-year term before returning to Rochester.

Moore, who was named Rudolf and Hilda Kingslake Professor of Optical Engineering in 1989, served as Congressional Science Fellow in 1993­1994 and was president and fellow of the Optical Society of America and fellow of the International Society of Optical Engineering. He is recognized internationally for his research in lens design, holds 11 patents, and founded his own company, Gradient Lens Corp., in 1980.
---
A RENAISSANCE MAN FOR RENAISSANCE PLAN
DAVID MACK '69 ON CHOOSING A DEAN

The following are excerpts from remarks by David Mack '69, president of the Trustees' Council of the College at the inauguration of Dean Thomas J. LeBlanc, on November 6, 1997. LeBlanc was named the College's dean of the faculty of arts, sciences, and engineering, following a stint as interim College dean during 1996­97. (See Rochester In Review.)

I am honored to come before you on the occasion of the inauguration of Thomas J. LeBlanc as dean of the faculty of arts, sciences, and engineering.

That strong sense of honor is mixed with several other equally potent emotions:
Pride--as an alumnus and Council president;
Joy--as Tom LeBlanc's inauguration fills the College's loyal supporters with hope and enthusiasm;
And humility--as the middle-aged owner of a very ordinary undergraduate record who stands before you on this extraordinary day--in this extraordinary robe!
As a member of the Trustees' Council of the College for the past seven years, I've had ample opportunity to observe and consider the relationship of students and alumni to their alma mater, and to its faculty, staff, and administration.

To me, as an undergraduate, the dean was the keeper of the golden door. He rewarded high-performance students with placement on the special list that is named for his office.

Underperformers found themselves on altogether another list, but for those at both ends of the curve and in the giant middle, the dean was an august figure with absolute power over the relationship of student to college.

In the years right after graduation--as a recent alumnus striving to succeed in the world of work--I came to see and appreciate the practical value of the diploma that had been conferred upon me. Life proved that my degree was, indeed, the ticket to success, and I saw the dean as the issuer of that ticket, the College's personification in blessing my going forth.

Today, 28 years after graduation, I understand the enormous challenge that is faced by those who are charged with stewardship of the College's precious resources. That challenge grows greater each year as tomorrow's alumni arrive as freshmen, eager to avail themselves of all that the undergraduate experience has to offer.

I have met no one with greater dual capacity for global vision and for discerning attention to detail than Tom LeBlanc. Tom clearly is a man of passionate dedication and an unquenchable desire to make the College excel. It has been clear to me from the beginning that the University's Renaissance Plan calls for a Renaissance man as dean. On behalf of the College's 66,000 alumni, I thank President Jackson and the search committee for having chosen such a man.
---
FENNO AND HIS PEOPLE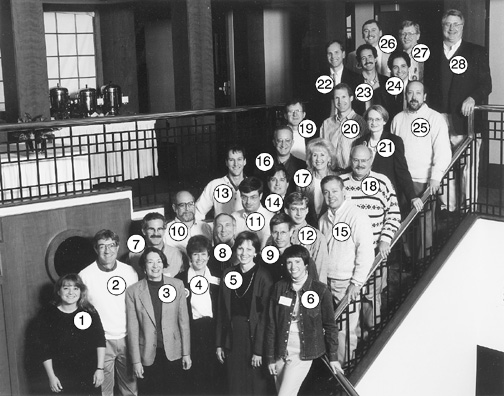 Rochester In Review details a conference last October honoring Richard Fenno, William R. Kenan, Jr. Professor of Political Science, on the occasion of his 40 years at the University. The conference brought together 27 of Fenno's 28 former graduate students, who posed for a "class picture" with their mentor.

Listed with their current affiliations, they are: 1) Wendy Schiller '94 (PhD), Brown; 2) Morris Fiorina '72 (PhD), Harvard; 3) Christine DeGregorio '87 (PhD), American University; 4) Linda Fowler '77 (PhD), Dartmouth; 5) Diana Evans '80 (PhD), Trinity College; 6) Lynn Vavreck '97, Princeton; 7) Jack Wright '83 (PhD), George Washington; 8) Fenno; 9) Keith Krehbiel '83 (PhD), Stanford; 10) Theodore Anagnoson '77 (PhD), Cal State at Los Angeles; 11) William Kubik '95 (PhD), Hanover College; 12) Jay Goodliffe '96 (MA), Brigham Young; 13) Richard Forgette '92 (PhD), Miami University; 14) Paul Gehman '90 (PhD), Washington consultant; 15) Lawrence Evans '88 (PhD), William and Mary; 16) Kenneth Shepsle '70 (PhD), Harvard; 17) Barbara Deckard Sinclair '70 (PhD), UCLA; 18) Roman Hedges '77 (PhD), Ways and Means staff, NYS Assembly; 19) Robert Weber '75 (PhD), St. Johns University; 20) John Wilkerson '92 (PhD), University of Washington; 21) Lynda Powell '74 (PhD), Rochester; 22) Richard Smith '81 (PhD), Millsaps; 23) Jeffrey Hill '87 (PhD), Northeastern Illinois University; 24) William Bianco '87 (PhD), Penn State; 25) Paul Montebello '85 (PhD), in finance, Birmingham, Ala.; 26) John Aldrich '75 (PhD), Duke; 27) David Rohde '71 (PhD), Michigan State; 28) James Murphy '70 (PhD), St. John's University, Minn.; (not pictured) David Castle '85 (PhD), Lamar University.
---
THE LEGACY OF DON NUNES
The late Don Nunes '61 (PhD) founded a unique study abroad program in the mid 1980s called Advanced Studies in England (ASE.) The program has attracted among the best of Rochester students majoring in the humanities. Nunes died of cancer last fall; he was 64.

Nunes's program has been highly successful. According to Jacqueline Levine '80, '84 (Mas), senior associate director in the College's Center for Academic Support, "The average G.P.A. of these students is the highest of all our study abroad programs and many of them have gone on to graduate schools in academic fields. In one semester, the program really trains the students to think on their feet."

ASE, based in the city of Bath, offers courses in the humanities and residencies at both the University College of Oxford University and Stratford Upon Avon. Students are immersed in British history, culture, geography, and social life. The program continues under the directorship of Nunes's wife, Ann Nunes. Donations in Don Nunes's memory may be made to the Don Nunes Memorial Scholarship Fund, c/o Advanced Studies in England, 2 Pierrepont Street, Bath, BA1, 1LB, England.
---
ACHIEVEMENT BY, AND FOR, WOMEN
Dr. Ruth Lawrence '49M (MD), an internationally recognized neonatal specialist, was presented in February with a Lifetime Achievement Award from the University's Susan B. Anthony University Center. Lawrence is a professor of pediatrics and a professor of obstetrics and gynecology at the University's School of Medicine and Dentistry. A national leader in the establishment of poison-control center services and clinical toxicology, she is an internationally known researcher in the area of human lactation and the author of the textbook Breastfeeding.

Lawrence received the award at a luncheon to celebrate the birthday of Susan B. Anthony and to acknowledge the achievements of women. The suffragist, as Rochester alums should know, pledged her own insurance policy to raise the final dollars stipulated by University trustees to finance the admission of women to the school in 1900.

Three outstanding female students were also cited for their accomplishments: Anastasia Hubbard '99 received the Susan B. Anthony Prize; Kristin Dowell '99 was presented with the Susan B. Anthony Scholarship; and Hadijatou Jarra '99 received the Fannie R. Bigelow Scholarship.
---
AND YET ANOTHER WINNER
From across the Atlantic comes word that Eugene Kurtz '47 has won the "Nicolo" award in music composition from the French Académie des Beaux-Arts. The award ceremony at the Institut de France, Kurtz says, was "very impressive." He had earlier received a similar honor from the American Academy and Institute of Arts and Letters. And, he wants us to know, he continues writing and working with his students: "As I often say, 'Composers never retire!' "

| UR Home | Review Contents | Mail |



Rochester Review--Volume 60 Number 3--Spring-Summer 1998
Copyright 1998, University of Rochester
Maintained by University Public Relations (jc)