The Rochester Review, University of Rochester, Rochester, New York, USA





Digital Imaging Expert Named Engineering Dean
Kevin Parker, professor of electrical engineering and radiology, has been named dean of the School of Engineering and Applied Sciences. He succeeds optics faculty member Duncan Moore, who resigned as dean to become associate director for technology of the White House Office of Science and Technology Policy (see Class Acts).
A member of the University faculty since 1981, Parker is an expert in ultrasound and digital imaging whose teaching has earned him plaudits from undergraduates and whose research has been cited as among the world's best by his peers. Former chair of the Department of Electrical Engineering, he has also headed the Rochester Center for Biomedical Ultrasound, where some 50 scientists, physicians, and engineers from more than a dozen departments throughout the Medical Center and the River Campus join in basic research.
In his own research, Parker has developed formulas that simplify the calculations that digital devices use to compose images--making possible fax machines and printers that produce high-quality images faster than ever before. More than a dozen companies have licensed several of the 10 patents he holds for this and other work.
In the field of ultrasound, one form of digital imaging, Parker and colleagues have developed a new system aimed at detecting minute tumors of the liver, prostate, and spleen. The report describing the system was cited as the best paper of 1990 by the World Federation of Ultrasound in Medicine and Biology.
Parker's other ultrasound-related work covers a wide range: Creating a technology to standardize ultrasound machines and boost the reliability of scans, developing methods to compress images, and inventing contrast agents to boost the quality of ultrasound scans of the liver.
Parker is a fellow of the American Institute of Ultrasound in Medicine (AIUM) and the Institute of Electrical and Electronics Engineers. He is also a member of the AIUM Board of Governors and of the Acoustical Society of America. He has received Eastman Kodak's Outstanding Innovation Award in Manufacturing Research and Engineering, and undergraduates have named him outstanding engineering professor.
Parker holds a bachelor's degree in engineering science from the State University of New York at Buffalo, and master's and Ph.D. degrees in electrical engineering from Massachusetts Institute of Technology.
---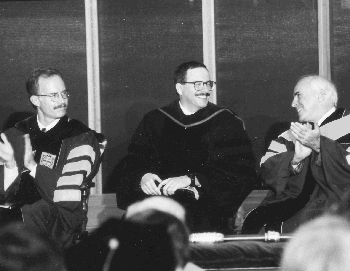 Inaugural applause: President Jackson and honorary-degree recipient Jerome Feldman '60 (right) congratulate Thomas LeBlanc on his inauguration last fall as dean of the faculty of arts, sciences, and engineering.

In that role, LeBlanc is chief executive officer of the College, responsible for its academic, administrative, and research activities. Former head of the Department of Computer Science, he has been a Rochester faculty member since 1983.

Feldman, an innovator in the field of computer science whose opinions have influenced governmental science policy for decades, received an honorary Doctor of Science degree during the inaugural ceremonies. Now professor of electrical engineering and computer science at Berkeley, he was founding chair of the University's computer science department during his tenure as a Rochester faculty member and is credited with helping build its artificial intelligence program into one of the best in the nation.

For more on LeBlanc's inauguration, see the Dean's Message for excerpts from his remarks on that occasion and Class Acts for those of Trustees' Council president David Mack '69.
---
Two Appointed to Named Chairs
Zvi Zeitlin, internationally known violinist who is recognized as one of the leading violin professors in this country, has been named Distinguished Professor of Violin at the Eastman School of Music, where he has been teaching since 1967.

Zeitlin is the first Eastman faculty member to receive the title. Earlier, in 1974, he was the first to be named Kilbourn Professor at the school. His students, who have won numerous competitions, hold positions in top orchestral and chamber groups throughout the world and are teachers at many institutions. During his long concert career, he has become known as a champion of 20th-century music.

At the School of Nursing, Madeline Schmitt '65N, '70 (MA), has been named to the Independence Chair in Nursing and Interprofessional Education. Funded by the Independence Foundation of Philadelphia, this is the first endowed chair at the school.

Schmitt, who received her Ph.D. from SUNY Buffalo, is author or co-author of nearly 90 publications, many of which are focused on interprofessional collaboration. She is also a frequent presenter at national and international meetings. She has been a member of the American Academy of Nursing since 1977.
---
Weill Archives Come to Eastman
An important collection of original manuscripts by composer Kurt Weill has been deposited in the Eastman School's Sibley Music Library. Known as the Universal Edition­Kurt Weill Archives, the collection contains all of the original Weill manuscripts owned by the Viennese music publisher Universal Edition, A.G.--including The Three Penny Opera (with its memorable "Mack the Knife") and The Rise and Fall of Mahagonny.

The Eastman School has in recent years become a significant center for Weill research: Three faculty members are editing volumes of the Kurt Weill Edition, a critical collection of the complete works of the composer; several dissertations have been completed or are under way by doctoral students; and the school has already mounted a number of performances of Weill's stage works.

Says Kim Kowalke, professor of musicology and a prominent Weill scholar who is president of the Kurt Weill Foundation for Music in New York City: "These manuscripts are not just vanity items with a composer's autograph. You can learn a lot about first and second thoughts of a composer. You can unravel a whole performance history from the notes on the manuscripts."
---
Graduate Programs Among the Best, Says U.S. News
Several Rochester programs have placed in U.S. News & World Report's 1998 magazine listing of top graduate schools in the country.

The School of Medicine and Dentistry placed third on the list of top primary-care schools.

The William E. Simon Graduate School of Business Administration, which has been among the top 25 business schools since U.S. News began its survey in 1990, again ranked 20th.

The School of Nursing ranked 18th for top nursing programs overall, while the adult and geriatric nurse practitioner programs were ranked among the top 10. Also at the Medical Center, the geriatrics program was ranked 10th.

In the magazine's first-ever ranking of public affairs programs, the University's master's degree in public administration and public policy placed 30th; the health policy and management program ranked 10th as a specialty.

The University's doctoral program in political science ranked 10th, with American politics ranked 6th as a specialty; and the doctoral program in economics ranked 14th in the nation. The School of Engineering and Applied Sciences' programs ranked 50th in the country.

(If, as an alum, you're wondering where your own "home" department placed, you should know that the magazine ranks only selected graduate programs at any one time. Not all disciplines were represented in the 1998 magazine listings.)
---
Engineers Can Now Study Abroad
The University has joined the ranks of fewer than a dozen schools nationwide offering programs that allow engineering students to take technical courses abroad. This spring two pioneering students are spending a semester at ORT-Braude, an engineering college about 30 miles north of Tel Aviv in Israel.

Rochester is one of only two American universities (the other is the University of Pittsburgh) to offer engineering courses through study-abroad programs in Israel. The University hopes to quickly expand the program for its own students, as well as those from other schools.

"Study-abroad programs have traditionally catered to students in the humanities and social sciences, but there are also advantages for engineers in studying abroad," says John Lambropoulos, chair of the Department of Mechanical Engineering. "With large companies becoming increasingly multi-national, engineers working for those firms will be working with--or competing against--fellow engineers all over the world. Seeing how engineers work in other parts of the world is a major opportunity."
---
Innovative Lab to Boost Students' Science Know-How
"Unveiling," so to speak, the physics department's new computer lab, Professor Frank Wolfs (seated, left, in the photo above) and College Dean of the Faculty Thomas LeBlanc revved their engines and prepared to collide in the first official experiment to be conducted in the new facility earlier this year.

The unusual computer classroom is intended to boost students' appreciation and understanding of science--especially for those whose primary field of study lies outside the sciences. The facility links 20 computers with such equipment as light sensors, motion detectors, video-analysis software, temperature sensors, and, as above, a track for simulated accidents between small carts.
---
M.B.A. Recruitment Increases
The robust economy that created 2.3 million new jobs over the past year is sending corporate recruiters to business school campuses with a vigor, reports the William E. Simon Graduate School of Business Administration. The continued strong demand for M.B.A. graduates lifted recruitment activity at Simon by 65 percent over last year. The dramatic rise--more than triple the previous year's increase--compares with estimated increases of 20 to 40 percent at other business schools across the country, reports Lee Junkans, assistant director for career services.

The school's growing popularity with corporate recruiters, he notes, is being fueled by increased interest in M.B.A. graduates with both critical management skills and a global view. "Recruiters are realizing that we have a larger international student body than other leading M.B.A. programs, coupled with a curriculum that incorporates leadership skills and a unique and intense teamwork experience," he says.
---
Ancient Greek Politics to Aid in Character Education
Educators concerned about their role in resolving social conflict may someday be able to call on Aristotle for help.

Randall Curren, who holds dual appointments in the philosophy department and the Margaret Warner Graduate School of Education and Human Development, has received a grant from the National Endowment for the Humanities to conduct a seminar this summer for high school teachers who want a better understanding of conflict resolution.

Participants will devote five weeks to an intensive study of Aristotle's Nicomachean Ethics and Politics, paying particular attention to how these works respond to the conflict that was pervasive in ancient Greece. Curren expects teachers to take away not only a much better understanding of ancient Greek politics and values, but a framework for understanding moral and political life and the place of education in the community.
---
NOTES ON RESEARCH
Psychologists Track Urban Teens to See How Many Adjust and Why
When urban stress is a way of life, who suffers? Two Rochester psychologists, Peter Wyman and Emory Cowen, are studying youths from poor urban areas to find out what enables some of them to come away competent and well-adjusted, while others do not.

In earlier work, Wyman and Cowen identified children who are resilient to multiple stressful conditions in their lives, including poverty, exposure to violence, and the break-up of their families. They compared those resilient children to children exposed to comparable adversity who are maladjusted.

They and researchers elsewhere have been able to identify key resources and assets that distinguish resilient from "stress-affected" children.

"Twenty years ago resilient children were called invulnerable or invincible, and thus unlike other children," says Wyman, senior research associate and associate professor of psychology and psychiatry. "Today we view resilience as a capacity all children have that propels them to strive and master challenges. But that capacity can be overpowered by adversity if it is too great, or if key resources are lacking. Our challenge is to identify those key resources and determine how children and families can acquire them in timely, effective ways."
---
Researchers Investigate Drug Therapy for Stutterers
Medical Center neurologist Roger Kurlan is leading a pilot research study to see if medication--specifically use of the drug olanzapine--is an effective treatment for people who stutter. At present, treatment for people who stutter often begins and ends with speech therapy. The new study is based on the observation by Kurlan, an expert on Tourette's syndrome, and speech therapist Enid Hymes that there are many similarities between people who stutter and those who have Tourette's.

"The groups looked exactly the same. We were looking at the same symptoms from two different viewpoints," says Kurlan.
---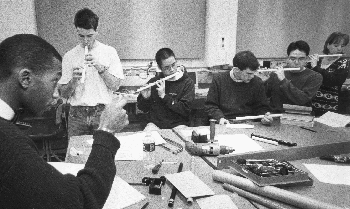 Flauting the laws of physics: Students from David Douglass's "Physics of Music" course concertize, using flutes they have fashioned in the class. The ad hoc "Physics of Music Flute Choir" played an original composition by classmate Henry Johnson '98 (left). The students used common PVC piping and wine-bottle corks to make the instruments. Despite the unorthodox materials, the flutes were painstakingly crafted: Students used sophisticated analysis to determine exactly where to hand-drill the holes, ensuring tonal precision.
---
Nurses Are Invisible in the Media, Study Finds
How to escape media attention? Be a nurse. That's the conclusion reached through a study conducted by a team of graduate and undergraduate nursing students directed by Sheila Ryan, dean of the School of Nursing.

In a survey of articles on health care in 16 different newspapers, magazines, and trade publications, the team found that nurses and the nursing profession were mentioned in less than 5 percent of the stories. The omission of nursing from media stories is "unfortunate," says Ryan. Referring to media coverage of an E. coli outbreak, for instance, she notes that "nurses can add so much to a story like that with advice on the precautions you can take, things you can do at home. Those are parts of the story that are never included."

One of the benefits of the study is that the nursing students have learned how the media work, Ryan says, and they have concluded that the invisibility of nursing is not entirely the media's fault.

"When nurses see a problem coming up, they need to be assertive about calling the local paper and saying the public needs to be educated about it," says Therese Frank, one of the participants in the study. "Both sides need to be aware of what the other can do for them."
---
Research Shows Cholesterol Treatment Often Fails
Cholesterol levels are high above recommended levels despite widespread education efforts and wider availability of cholesterol-lowering drugs, reports Thomas Pearson, Albert D. Kaiser Professor and chair of the Department of Community and Preventive Medicine.

In a nationwide study of patients being treated for high cholesterol by primary care physicians, Pearson found, nearly two-thirds didn't reach recommended targets. "Doctors need to be more aggressive about treating high cholesterol," Pearson says. "These are patients who are under a doctor's care, yet the numbers are dismal."

Pearson adds: "Many patients don't change their diet or get more exercise even when prompted by their physicians. Sometimes it's not clear whether the primary care doctor or a specialist should be responsible for bringing down cholesterol. And sometimes doctors start a medication and then call the patient 'treated,' even though the first dose may not be enough. In short, there are missed opportunities all along the line."
---
Study Sheds Light on Banking Efficiency
In comparison to other industries, banking has "much to learn" when it comes to achieving and maintaining a high level of performance efficiency.

That's what a study co-authored by the Simon School's Frances Frei has revealed. In a paper, "What Makes a Bank Efficient," Frei and two professors from the Wharton School take an in-depth look at the efficiencies within banking management's control and which of those practices lead to better overall performance.

The first study of its kind, the research shows that "it's not any one thing and will never be any one thing" that drives a bank's efficiency and its success or failure, report the authors. Rather, it is the relationship focusing on consistency among three key areas: human resources, information technology, and processes.

"For example," Frei says, "we found that you could spend money just on your technology and not do well, or you could spend money just on human resources and not do well, but when you spent money on both, you did much better.

"Banks need to ensure that these areas interact with each other. If you have a high level of technology, but don't train people to use it, it doesn't work. Or, if you train and empower employees to do a lot of different things, but they can't access all of a customer's accounts, that's not going to work either."

Frei is Xerox Assistant Professor of Operations Management at the Simon School.
---
Honoring a political scientist's 40 years
'Soaking and Poking' Congressional Scholar Dick Fenno
Ken Shepsle '70 (PhD) took just 10 minutes to respond to his e-mailed invitation to attend a salute to Richard F. Fenno, Jr., the University's William R. Kenan Professor of Political Science, widely considered to be the nation's preeminent congressional scholar.

"Done!" wrote Shepsle, chair of the Department of Government at Harvard. Two days later, almost all the invitees to the two-day, late-October conference had already accepted--including all but one of the honoree's 28 former graduate students.

The gathering, planned by Dick Fenno's faculty colleagues in the Department of Political Science, appropriately examined the theme "Studying Congress."

In his 40 years at the University, Fenno has written more than a dozen books about Congress and the American system of government. He has shadowed

politicians on the campaign trail and has watched them at close range in Washington. He calls the process "soaking and poking," and it has distinguished his work and earned him recognition and respect as the leading scholar of Congress.

(The required adornment for the sessions was an oversized "Fenno '97" campaign button, with the professor's smiling face framed by the motto.)

Fenno, who continues to supervise the University's Washington internship program, which he founded, is an elected member of the National Academy
of Sciences, the American Academy of Arts and Sciences, and the American Philosophical Society. He is also, among many other distinctions, the eponym of a prize named in his honor by the American Political Science Association's Legislative Studies section. Further, he is one of only three people at the University currently to hold the title of Distinguished University Professor.

Following two days of analysis of current congressional politics, conference participants turned to reminiscence at a closing banquet. Speakers recounted how Fenno's penetrating observations and exhaustive research methods--coupled with the political theories espoused by his colleague the late William H. Riker--had transformed the department in the 1960s and '70s and continues to bring it recognition.

"You drop those two into a hyper-saturated solution, and 'bang,' things start happening," remarked Provost Charles Phelps, who said he considered Fenno and Riker "seed crystals" that exploded with intellectual excitement. "The department has crystallized like that," Phelps said, "and it turned into something that is a spectacular national and worldwide asset."

The flip side of the coin of scholarship is teaching. And Fenno's former students were eager to talk about that, too. Almost all of them now hold positions at U.S. universities with affiliations that reach from Duke to Stanford, and then back to Dartmouth by way of a dozen other universities and think tanks.

At dinner, Wendy Schiller '93 (PhD), now teaching at Brown and a guest scholar at the Brookings Institution, observed that Fenno "is what the Rochester program is all about: rigor, originality, loyalty, and most of all, straightforwardness. At all times, he lets the work speak for itself, whether it is his own or that of his students."

Reflecting on his years at Rochester, and, as usual, attempting to dodge the spotlight, Fenno responded: "For about 30 years, I worked with Bill Riker, and we had as mutually supportive a relationship as I could imagine two academics having. It was one of total cooperation and total dedication to the same set of propositions and the same great adventure. Bill was the engineer. I was the caboose, fireman, whatever.

"I think," he added, "that it was just luck that I came to Rochester. I remember getting off the train in 1957, having paid my own way, spending my first night here in the department chairman's attic (there were none of the amenities then that we're all used to now). My wife says that we were just passing through, and I guess then we thought we were.

"But tonight makes me realize why I stayed."

Sharon Dickman
---
Ana Hubbard's Extended Family
Anastasia Hubbard '99 can claim a small but unique bit of history at the University of Rochester--and in male-female relationships.

The 20-year-old political science major is finishing her first semester as the only woman on a residence-hall floor for men. She not only lived with 27 men, she was their resident advisor, the first woman at the University to serve as dorm counselor to men only.

"To people who are used to the traditional, this setting probably seems unusual," Hubbard says. "At the beginning, I was nervous. Could I relate to them enough? What if there's a guy issue I don't know about? But it's worked really well. We're all comfortable with it."

Director of Residential Life Logan Hazen describes a female resident advisor on a male floor as "not a common occurrence anywhere." Hubbard probably is the first in the Rochester area, local college officials say.

"We had to approach it carefully," Hazen says. "We didn't want to fail with it the first time. We had to have the right person. It could have been a bad experience for the students and the RA."

If there is one lesson learned from the first semester, it is that students can deal with some gender issues surprisingly well.

No one even minds that Hubbard sneaks into the bathroom when it's unoccupied, sometimes at 4 a.m., to post notes and announcements for the men to read.

"Students take this in stride," Hazen says. "It's all part of the process to them. There is still sexism in the world, but the students don't get hung up about that. There just are not many gender exclusive things that go on anymore. Today's student probably would be surprised if we had single-gender housing."

Resident advisors are the front-line representatives of the University. They serve as counselors, social directors, crisis managers, mediators, and sometimes rule enforcers.

The resident advisor's job pays about $5,500 a year, one of the highest-paying on-campus jobs. The amount is deducted from room and board costs.

About 160 people applied for the positions this year. About 80 were selected. More than 60 percent were women.

"She was picked for her energy, enthusiasm, and her positive attitude toward the world," Hazen says. "Ana can take on an incredible amount of responsibility."

Hubbard, who grew up in Brown Deer, Wisconsin, plans to become a high school social science teacher. So she has enjoyed putting together study groups on nights before major exams and tacking signs of encouragement on the doors of the students facing the tests.

She likes to organize. Her trips to concerts, Sonnenberg Gardens in Canandaigua, and ice skating parties have been well received by the men on Gates 5.

Hubbard lives in a single room on the fifth floor of Susan B. Anthony Halls. The men live in a wing called Gates 5 that begins just feet from her door.

Her room has become a favorite gathering place for the coffee she makes and for talk at all hours.

"You can go to her room at 2 a.m. and guys will be there talking," says Brandon Freeman, an 18-year-old freshman from Albany.

"She's very trustworthy," he says. "You can talk to her about personal things. I tell her about my life. I talk to her about my girlfriend back home. She knows a lot about the school. She gives good advice. I'd talk to her before talking to a lot of my guy friends."

Hubbard also helped Freeman negotiate an awkward switch of roommates. She accompanied Vincent Nalbone to the hospital when he cut his finger badly in October.

"She stayed with me for hours," says Nalbone, an 18-year-old from Monroe, New York. "She was there when they stitched me up. She makes an effort to be friends. I can talk to her about more personal things that I wouldn't otherwise talk to anyone about."

The communication on relationships works both ways, says Ahmet Guler, a 20-year-old junior from Greece, New York. "We can ask her anything we want about women," he says. "But she asks about guys, too. A couple of years ago, I'm not sure this would have been acceptable. Now it's normal."

The semester has passed with no embarrassing moments, Hubbard says. Her

guys have behaved well so there have been no enforcement problems.

"I've learned a lot about the way guys think," she says. "I've learned you can be comfortable and open with each other. And I've realized the different ways males and females communicate.

"My closest friends since high school have been guys," Hubbard says. "I've always had pretty high respect for guys."

Michael Wentzel

Michael Wentzel is a staff writer for the Rochester Democrat and Chronicle, from which this article is reprinted.
---
ROCHESTER
QUOTES
Dallas Morning News: "It's not hubris to possess great power; hubris is using it in unacceptable ways"--Philosophy professor Deborah Modrak, on modern-day behavior by some well-known personalities.

The ancient Greeks coined 'hubris,' the Morning News writes, to explain the arrogance that leads "big shots--the rich, the famous, the powerful--to do the inexplicable things they sometimes do, and often destroy themselves doing them. Three thousand years later, it's still as good an explanation as any." To the ancient Greeks, Modrak adds, "to be guilty of hubris means going over the top in a way that oversteps moral bounds. It's the inappropriate use of wealth and power."

Charlotte Observer: "The computer revolution will likely follow the pattern of previous industrial revolutions. In the long run, everybody will gain"--Economics professor Jeremy Greenwood, in a report on his remarks at an American Enterprise Institute seminar.

Greenwood explains that a learning curve often accompanies major industrial changes and causes an initial productivity lag. "Everybody today is better off due to the British industrial revolution," he writes. "That was not true, however, in 1760."

The Daily Telegraph, London: "Our society has produced a selfish culture in which we seek quick and easy solutions and have short attention spans"--Rafael Klorman, professor of psychology, on the newly official condition, Adult Attention Deficit Disorder, now listed in the American Psychiatric Association's Diagnostic and Statistical Manual of Mental Disorders.

ADD in children is marked by fidgeting and disruptive behavior. When applied to adults, critics argue, the condition is a fad and an excuse for bad behavior. Klorman says there is some logic in giving it a label, however: "We know that there are kids with ADD, and that ADD does not go away, so it is reasonable to assume that such children grow up to be adults with ADD."

Stockton (California) Record--"For musicians who start making it very young, it seems to me that the business runs the risk of turning them into little bonsai trees. . . . The plus of being a late-bloomer, at least career-wise, is that you end up knowing who you are"--Alan Feinberg, pianist and associate professor at the Eastman School, on musicians who become specialized early in their careers.

Feinberg says he savors the 20 years he freelanced his skills in a wide variety of venues, from cabarets to concert halls. "The years I spent freelancing before I became a soloist had their effect on me. I find it very stimulating to do all sorts of things. I look at the music world differently."

Discover: "I grew up thinking about bees"--Barbara Shipman, assistant professor of mathematics, who studies the mathematical roots of the dance language of bees.

"Honeybees don't have much in the way of brains. Their inch-long bodies hold at most a few million neurons," Discover writes. "Yet with such meager mental machinery honeybees sustain one of the most intricate and explicit languages in the animal kingdom. In the darkness of the hive, bees manage to communicate the precise direction and distance of a newfound food source, and they do it all in the choreography of a dance." How do they encode so much detailed information in such a varied language? Shipman hypothesizes that bees use quarks to create the complex and peculiar structure of their dance.

Fort Worth Star-Telegram: "Those who know and love baseball like to think of baseball as a peaceful game. Much has been written of the beauty of the field and the essential lyricism of the game. Sadly, baseball also shares ties with warfare"--Film studies professor George Grella, on the traditional leisure-time activity of off-duty soldiers.

Grella regularly presents papers at the annual Cooperstown Symposium on Baseball and American Culture. His most recent, "Uniform and Uniforms: Baseball in War Movies," describes how the game pops up time and again in classic Hollywood war films. Baseball's presence, he says, carries symbolic value. "Invariably, scenes exist to be interrupted: Soldiers on horseback come over the horizon, foretelling doom; soldiers play ball while awaiting the return of bomber crews," the Star-Telegram reports.
---
SPORTS
Kreydt '88 to Lead 'Jacket Football
Mark Kreydt '88, offensive coordinator for Columbia University and a former Rochester player and coach, is the new Yellowjacket head football coach.

An economics major as a student, Kreydt was a three-time football letter-winner who competed in the Division III NCAA championships his senior year. He joined Rochester's staff as a graduate assistant coach after his graduation, coaching the running backs.

When Ray Tellier resigned as 'Jacket head coach in 1989 to take over as Columbia's head coach, Kreydt joined him, eventually becoming offensive coordinator and quarterback coach. Columbia's football program has in recent years achieved numerous honors, many for players Kreydt has coached.

"We are pleased to have Mark take over our football program," says Jeffrey Vennell, director of sports and recreation. "We are impressed with his leadership abilities, which are evident in his advancement through the Columbia football coaching ranks."

Rochester has amassed a record of 453-422-40 since its football program began in 1889. Kreydt becomes the 30th football coach at the University, taking over from nine-season coach Rich Parrinello '72.
Basketball Teams Celebrate Major Milestones
For Yellowjacket basketball teams, opening night this year gave fans something to cheer about.

On the same night, the men's team registered its 1,000th win, in a game against Cazenovia College, while the women defeated SUNY College at Cortland to earn the 300th career victory for head coach Joyce Wong.

The win capped a 19-year career for Wong, who earned 249 of her 300 victories with the Yellowjackets. A former Brooklyn College coach, she came to Rochester in 1978, drawn by dual coaching and administration opportunities. In addition to coaching, she serves as associate director of athletics.

Much has changed in women's basketball during the past two decades. "The competition is tougher, and the women's game is faster and more physical than ever before," Wong says. "The quality of women's basketball in the States will continue to get better and better."

Wong has enjoyed some stand-out moments during her coaching career. Her 'Jackets made four bids to the national championship regional tournament, played in six state championship Final Fours and won the state title in 1984-85. That year and the year before, Wong was declared Regional Coach of the Year by numerous publications and associations.

The men's game also has changed markedly since the team's first win, a 22-to-9 routing of Hobart College in 1901. Head coach Mike Neer is the 15th coach to preside over the team, but only the third coach in the past 67 years. He has led the Yellowjackets to more than 300 of their 1,000 victories since his arrival in 1976.

A mere 28 of more than 325 Division III schools with basketball programs have achieved 1,000 wins, placing Rochester in "pretty select company," Neer says. "It is a good indicator of consistent winning."

Among historic highlights is the 1941-42 team, guided by Lou Alexander. The Yellowjackets finished 16-0 that season and remain Rochester's only unbeaten team in 97 years. Neer's own highlights include a five-overtime victory over Union College that was the longest Division III game in NCAA history, and an impressive three-year run in the NCAA tournament at the start of this decade. Rochester won the Division III National Championship in 1990, reached the quarterfinals in 1991, and played in the championship game in 1992.

Among Rochester's former opponents are such Division I powerhouses as Syracuse, Ohio State, and the University of North Carolina.

Stories about legends of the game who have crossed the Palestra court still circulate today. Some of them are Yellowjacket Hall of Fame members: Robert Place '54 captained the 1951-52 team that went 12-3, best of the decade, and shot 88 percent from the foul line as a senior, setting a school record that stood for 30 years. William Yantz '60 was the team's MVP for three consecutive seasons and earned All-America small college honors in 1960. When he graduated, John Herlan '77 was the all-time scoring leader with 1,446 points. Three-year letter winner Gordon Turner '74 ranked in numerous statistical categories, including 602 points scored in 24 games, which stood as the school record for 15 years.

Younger alumni might not realize that some of basketball's biggest celebrities have paced the Palestra sidelines. Before his Indiana University days, Bobby Knight ranted and raved as his Army team barely edged Rochester. Current Duke coach Mike Krzyzewski played in the Palestra with Army and then sat alongside Knight as an assistant coach years later. Even the Boston Celtics and their legendary forward Larry Bird practiced here on occasion.

On opening night this season, hundreds of Yellowjacket fans celebrated all those wins. Some even remembered the old stories. And the cheers from years past bounced and echoed off the walls of the Palestra.
Fall Wrap-Up
Yellowjacket athletes from a variety of sports received major athletic/academic honors following the conclusion of the fall intercollegiate seasons.

Two of the biggest:

Tanya Klebe '98, a middle blocker for the women's volleyball team, was named the GTE/CoSIDA Academic All-America of the Year in her sport. And Kirk Dietrich '98, a forward for the men's soccer team, was named an NSCAA/UMBRO First Team All-America.

It was the second straight year that Klebe, who carries a 4.00 GPA in mechanical engineering, had earned GTE Academic All-America. She was a Second Team honoree in 1996. Klebe is a member of Tau Beta Pi, Keidaeans, and the Golden Key honor societies, and was elected to Phi Beta Kappa as a junior. Eleven of the 20 GTE/CoSIDA Academic All-America honorees this year earned GPAs of 4.00.

The Yuba City, California, native holds all of Rochester's blocking records in volleyball. This year, she had 133 blocks, an average of 1.04 per game. Klebe also holds the match record with 14 blocks (against Case Western Reserve as a sophomore), the single-season record of 174 (also as a sophomore), and the career record of 556. She was named All-UCAA for two straight years and All-UAA for one. Rochester competed in the NCAA Division III Championships for the third time in the last five years.

Dietrich's honor capped off a sensational season. He was also named the UAA Men's Soccer Player of the Year, First Team All-UAA, and First Team All-Northeast Region. A native of Cleveland Heights, Ohio, Dietrich scored four goals and had five assists. Rochester competed in the NCAA Division III Championships for the sixth time in the last eight seasons.

Among other honors:

Jodie Lippman '98, a defender with the women's soccer team, was named an NSCAA/UMBRO Third Team All-America. A starter on defense for three years, Lippman peaked in her senior season with All-America, All-Region, and All-UAA honors.

Andy Evans '98 repeated as the UAA Men's Cross Country Athlete of the Year. Evans won the UAA's individual championship and became the first male runner in association history to accomplish the feat.
Fall Season Records
Men's Cross Country: 0-0

Women's Cross Country: 1-0

Field Hockey: 6-12

Football: 1-8

Golf: 0-0

Men's Soccer: 12-1-4 (UAA Champion)

Women's Soccer 15-2-2 (UAA Champion)

Men's Tennis: 1-0

Women's Tennis: 9-1

Women's Volleyball 26-17 (UCAA Champion)
'Jackets Place 25th in Sears Cup
Rochester stands in a seven-way tie for 25th place among Division III athletic programs in the fall sports rankings of the Sears Director's Cup, which is administered by the National Association of Collegiate Directors of Athletics.

The Yellowjackets totaled 60 points--earned for a third-round appearance by the women's soccer team, and first-round appearances in men's soccer and women's volleyball. Points are awarded based on the size of the field and how far the team advances.
Sports Scores Online
Yellowjacket fans can chart the progress of their favorite teams on the University Web, via the Yellowjacket Scoreboard. Scores are updated frequently; two weeks' worth of results are archived on the site at a time.

To get to the Yellowjacket Scoreboard: Visit www.cc.rochester.edu:80/student-srvcs/sports/. At that site, click on Intercollegiate Sports, and then on Yellowjacket Scoreboard.
---
ReVIEW POINT
An occasional column of faculty opinion
Democracy: Poland's Present and Future
By Ewa Hauser

Since 1989, Poland has been in transition from communism to a market-driven economy and democracy. Some even claim that the transition is now complete.

When I was in Poland last summer, at a University of Rochester-Jagiellonian University conference on democracy in the making, I felt surrounded by people beginning anew.

More than ever, people are hopeful about the future and motivated to embrace freedom while keeping their own cultural distinctiveness.

Not only the economy but also the geography seems to have changed: Travel, movement across borders, and entrepreneurial advances are among the marks of democracy that we discussed at the conference.

One evening in a Krakow restaurant, we listened to a Ukrainian group singing "romantic" songs about Gypsies. I tried to translate some verses into English for my colleagues.

Suddenly, I saw a youngish man in a steel-colored suit standing over the far end of my table, gesticulating. I caught his last sarcastic phrase, "Amer-r-r-ican culture." To him, I was the ugly American--loud, rude, pushy.

Later, I had a chance to explain what I had been doing, and he and I chatted. He used to be an economics professor at the University of Warsaw, but six years ago he quit and started a pharmaceutical manufacturing business.

"And we are doing very well indeed," his wife said.

Now, they meet every year at the Krakow restaurant with their business partners from Vienna. (Krakow is halfway between Vienna and Warsaw.)

According to the old value system, this man had descended the social scale, from professor to businessman. But it does not seem to bother him. Academy's loss is his gain, he figures, with the potential for much greater personal income. And he hopes his son will study in the United States.

Eastern Europe was such a terra incognita before the fall of communism in 1989 that it may be hard for Americans to understand such changes in Poland's value system.

With the rapid collapse of communism and the equally rapid pace of economic reform, however, Poland has begun to attract more visitors.

Since 1994, I have directed the University's Center for Polish and Central European Studies, established with a generous gift from the Louis Skalny

Foundation. One of our center's missions is to develop a close and collaborative relationship between the University of Rochester and Jagiellonian University. (Our home cities, Rochester and Krakow, have already enjoyed a more than 20-year tradition as Sister Cities.)

Such collaboration is urgently needed; before 1989 American colleges and universities only sporadically taught Eastern Europe separately from the Soviet Union.

I was born in Sandomierz, Poland, and was raised after the Yalta accord divided Europe into two opposing ideological and economic camps--democracy and communism. In my work as a teacher and administrator, I try to tell the truth about "Big Brother," the Soviet Union.

Now, most of the monuments to the unhappy relationship between Poland and the Soviet Union are gone from Polish cities. No Lenin statues are to be found anywhere.

Our conference culminated in plans to produce a book based on the exciting analyses of this emerging democracy, presented and fiercely discussed by eight Rochester political science professors and their Jagiellonian peers. Although the book will be a true representation of the transition, it can't tell the complete story.

Rochester professor Richard Niemi, who traveled with us to Poland, summed up his impressions: "Perhaps most encouraging from my Western point of view is that in many respects things didn't seem that much different from what I'm used to at home.

"I imagine that 15 years ago it was like stepping into another world. Now it all seems quite normal to my way of thinking."

All Poles would wish Americans to say that.

Under communism, the abnormal became a way of life. The secret police monitored people's contacts and eavesdropped constantly. There was a severe shortage of consumer goods; stores were empty, and there were very few restaurants.

Every day there were two rates of exchange: the official rate and the black market rate, which was seven to 10 times higher.

Now, things that Americans take for granted--trouble-free communication and readily available consumer goods selling at consistent prices--are also daily fare in Poland.

The shackles from the communist era are gone. Democracy is Poland's present and future.

Hauser is director of the University's Center for Polish and Central European Studies and adjunct associate professor of political science.

| UR Home | Review Contents | Mail |



Copyright 1998, University of Rochester
Maintained by University Public Relations