THE BIG 1*5*0*
CELEBRATION COMMITTEES ANNOUNCE LEADERSHIP, EARLY PLANS
Looking ahead to the biggest Rochester celebration ever--the University's 150th anniversary--a trustee chair, staff director, and committee leaders have been appointed to head up planning for the sesquicentennial year, January 2000 through June 2001.
October 13 through 15, 2000, will see a weekend full of revelry, and everyone--alumni, faculty, staff, students, and the greater Rochester community--will be invited to take part in the weekend's on-campus events.
Regional alumni "Birthday Parties" will begin in February 2000, along with lectures, concerts, and other events.
The Board of Trustees has appointed Joseph P. Mack '55, a trustee and retired president and CEO of Saatchi & Saatchi Advertising, as overall sesquicentennial chair.
In related appointments, David Mack '69, outgoing president of the Trustees' Council of the College and senior vice president for corporate relations at Finger Lakes Blue Cross/ Blue Shield, chairs the Greater Rochester committee. Gwen Meltzer Greene '65, president of the Trustees' Council and associate director at Bear Stearns & Co. Inc., chairs a sesquicentennial committee of the council.
Mary Jo Ferr, associate director of development in the College, has been named sesquicentennial director. She reports to Vice President for Development Holli Budd and will work closely with a steering committee including Budd, Provost Charles Phelps, Associate Vice Provost Lesley Curtis, Vice President Emeritus Roger Lathan '54, and Associate Vice President for Public Relations Robert Kraus '71.
A 50th reunion committee, which will plan reunion events to coincide with the October 2000 weekend, is chaired by David T. Kearns '52, former CEO of Xerox.
Anyone with ideas for celebrating the sesquicentennial should contact Mary Jo Ferr at the Fairbank Alumni House, 685 Mt. Hope Ave., Rochester, NY 14620. Telephone (800) 333-0175. In Rochester, call (716) 273-5888. E-mail info@alumni.rochester.edu
---
ALUMNI RELATIONS GETS NEW DIRECTOR
Robert Bartlett, associate dean for external affairs at the University of Chicago's Harris Graduate School of Public Policy Studies, has been named associate dean for development and alumni relations of the College.

Bartlett has held a variety of development positions at Chicago, University of Maine, Cornell, and Yale, after receiving his B.S. from Stetson University, and his M.S. and Ph.D. degrees in public administration from Cornell.

"We held a national search, and Bob really stood out as someone with terrific credentials, and with the ability to work extraordinarily well with alumni, parents, and supporters, as well as with faculty within the College," said Thomas LeBlanc, dean of the faculty of arts, sciences, and engineering.

LeBlanc noted that the Office of Development and Alumni Relations is now an administrative department within the College (it previously had been a part of the central administration, with some University-wide functions). "Bob will have the crucial task of bringing a strategic focus that reflects this new relationship."
---
ALUMNA MARY-FRANCES WINTERS IS THIS YEAR'S HUTCHISON MEDALIST
President and founder of the Winters Group, a respected marketing research organization, Mary-Frances Winters '73, '82S (MBA) has used the circumstances of her life and her role as a business leader to aid in the business, cultural, and educational growth of the Rochester community. For these reasons she received the Hutchison Medal at the University's 148th Commencement on Sunday, May 17.

Her professional efforts have been recognized in Rochester and across the nation. Among her many awards are Rochester's Minority Business Person of the Year, 1998; Who's Who in American Women, 1989; Rochester's Athena Award, 1991; and the U.S. Small Business Administration Small Business Person of the Year Award, 1997.

She is or has been a board member of such organizations as the Rochester Area Educational Television Association, the national board of directors for Girl Scouts of the USA, Rochester Area Foundation, and United Way of Greater Rochester.

The Hutchison Medal is the highest honor the University gives its alumni; it recognizes outstanding achievements and notable service to community, state, or nation.
---
N. KATHERINE HAYLES '77 (PhD) IS DISTINGUISHED SCHOLAR
N. Katherine Hayles '77 (PhD), professor of English at the University of California at Los Angeles, received Rochester's Distinguished Scholar award at graduate student ceremonies at the University's 148th Commencement.

Hayles earned bachelor's and master's degrees in chemistry and held chemical research jobs before her love of literature led her back to graduate school. The work Hayles has done since earning her doctoral degree in English literature here in 1977 marries her knowledge of both science and literature. The author of the instant classic, Chaos Bound, as well as other books and dozens of book chapters, articles, and reviews, Hayles seeks to stimulate discussion and further study of how science is represented in American culture.
---
G. ROBERT WITMER '59 IS ARMSTRONG ALUM
G. Robert Witmer Jr. '59 received the James S. Armstrong Alumni Award for Service to the University at the reunion in June.

A member of the Board of Trustees since 1979, Witmer is a partner in the Rochester law firm Nixon, Hargrave, Devans & Doyle. A former president of the New York State Bar Association, Witmer specializes in environmental law. He is a current member and former chair of the Board's executive committee, former member and chair of the facilities committee, former member of the Trustees' Council of the College, and an energetic reunion, campaign, and VAN volunteer.

The Armstrong Award recognizes outstanding service to the University and honors the University's former director of alumni relations, a member of the Class of 1954.
---
RECRUITING ROCHESTER'S BEST AND BRIGHTEST
Research indicates that the more personal contact an applicant has with the University, the more likely he or she is to enroll. Members of the Volunteer Admissions Network (VAN), who can provide this extra contact, are indispensable to our admissions process.

Thanks go out to the following alumni who hosted receptions for applicants: Richard Hanft '68, Albany; Trustee Jerry Gardner '58, '65 (Mas) and Trustees' Council member Kathy Waller '80, '80S (MBA), Atlanta; Bridget Klenk '95, '97 (Mas), Buffalo; Lauren Herko '96 and Pat Yuzawa Rubin '76, Chicago; Trustees' Council member John Lyddane '69, Connecticut; Honorary Trustees' Council member William Gamble '50, Cincinnati; Mary Ruhl '93, Cleveland; Trustees' Council member Stuart Pack '72 and wife Robin Levine Pack '74, Denver; Dwight Yim '69, Hawaii; Trustees' Council member Paul Lester '71, Miami; Trustee Gail Lione '71, Milwaukee; Migdali Ramos '94, Puerto Rico; Trustees' Council member David Mack '69, Rochester; Terri Sizemore Robson '97 and Steve Robson '91, '97 (Mas), Syracuse; Nancy Feldman '73 and Adam Konowe '90, Virginia.

The Office of Admissions plans to hold recruiter training sessions in the fall. For more information, contact Jane Tibbitts, (716) 275-8635 or via e-mail, jtibbitts@macmail.cc.rochester.edu.
---
LAMBDA BUILDS ALUMNI MOMENTUM
The Lambda alumni group, an active volunteer presence at Rochester, is looking for gay and lesbian alumni ready to be out and active in University activities. Volunteer Bob Dardano '77 was recently quoted in an article by Deb Price, national gay issues columnist, on the ways that gay alumni are giving back to their alma mater.

Currently, Lambda alumni are raising money to buy a Strong Auditorium chair, organizing an annual event for homecoming weekend, and producing a Lambda alumni directory.

For more information about Rochester's Lambda group, contact the Alumni Association at (800) 333-0175. In Rochester, call (716) 273-5888. The e-mail address is info@alumni.rochester.edu and the mailing address is Fairbank Alumni House, 685 Mt. Hope Ave., Rochester, NY 14620.
---
THANKS TO YOU: REGIONAL ALUMNI COUNCIL EVENT HOSTS
Events hosts are the heart and soul of regional alumni activity. The Alumni Council wants to thank the following volunteers who hosted events in their areas:

Atlanta: Jerry Gardner '58, '65 (Mas)--Class of 2002 reception

Boston: Don Peters '62--reception with President Jackson

Buffalo: Anthony Cipolla '81--
inaugural reception for Dean LeBlanc

Chicago: John Levi '69--reception with President Jackson

Denver: Stuart Pack '72--
inaugural reception for Dean LeBlanc

Los Angeles: Francis Price '74, '75S (MBA)--reception with President Jackson

Naples, Fla.: Alan Hilfiker '60 and Carol Stephens Hilfiker '60--luncheon with President Jackson

New York City: Carla Cantor '76--lecture by Richard Gallagher '75, "How to Raise a Responsive and Responsible Child"; Gwen Meltzer Greene '65--inaugural reception for Dean LeBlanc

Orlando: Gary D. Miller '61--lecture by former astronaut Ed Gibson '59, "What It's Like to Fly in Space"

Philadelphia: Gerald Rigby '67--inaugural reception for Dean LeBlanc

Rochester: Richard Rice '65 and Susan Quick Rice '67--lecture by Alan Finder '69, "The State of The New York Times"

San Francisco: C. Woodrow Rea '70--reception with President Jackson

St. Petersburg, Fla.: Gordon Shillinglaw '46, '48 (Mas)--Titanic exhibit and reception

Washington, D.C.: Bob Dardano '77--lecture by Dean Ron Dow, "Is the Academic Library Still Relevant in the Internet Age"; Patricia Kraut Mossel '55--reception and opera at Washington Opera; C. William Tayler '44--reception with President Jackson
---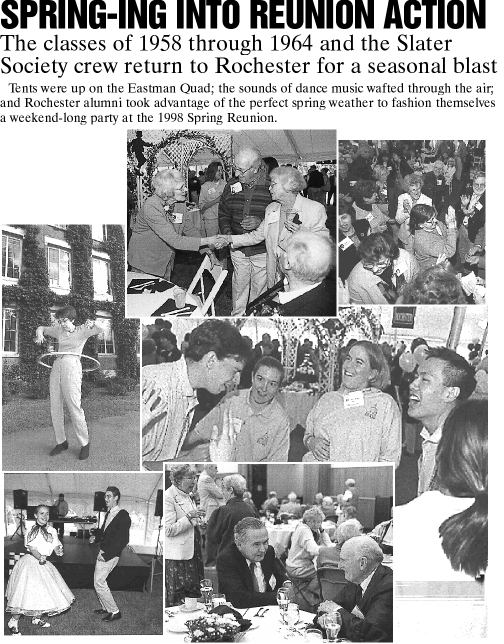 ---
TO CONTACT A CLASSMATE VIA THE UNIVERSITY . . .
If you would like the Alumni Association's help in contacting a classmate or friend, please write that person a letter (specifying the individual's name and class year) and send it--in a sealed envelope if you prefer--to the Fairbank Alumni House, University of Rochester, P.O. Box 278993, Rochester, NY 14627-8993. We will then forward the letter.

We forward these requests to protect the privacy of our 79,000 alumni. The Alumni Association does not, without permission, share the addresses or phone numbers of alumni with anyone, including fellow alumni.
---