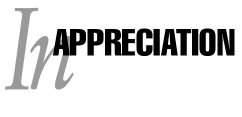 DISCOVERING THE EXISTENCE OF SOCCER
When Dan Stoller '66 was an undergraduate at Rochester, women's soccer was the furthest thing from his mind--almost. "My roommate played soccer," he says on the phone from Manhattan. "But I barely knew it existed." Since it was the 60s, with its gender-specific dorms, his roommate, the soccer player, was male. Women's soccer? Forget about it!
Thirty-some years and three daughters later, Stoller has become particularly interested in women's soccer. In fact, he is so enthusiastic, he has contributed $25,000 to Rochester over the last several years, earmarked especially for the women's soccer team.
Stoller is a lawyer and partner in the Manhattan law firm Skappen, Arps, Meagher and Flom and specializes in mergers and acquisitions. Soccer became a thread in the fabric of his life when each of his three daughters began playing it in elementary school. Katherine, the oldest and now a student at Yale, played varsity soccer through high school, and was team captain in her senior year. Sarah, still in high school, plays on the women's varsity team, and Patty, in junior high school, has been playing since elementary school. (His wife, Sandra, co-directed the Manhattan girl's soccer league for three years.)
"I coached each of my daughters," he says. As the first wave, as he calls it, went on to play successful high school soccer, he was encouraged to continue coaching. "Of course, my daughters are too good for me to coach now," he says, laughing. Besides watching games these days, any extra time he has now goes toward playing golf and tennis.
Women's soccer coach Terry Gurnett '77 used Stoller's gift to buy portable dugouts for the team. The long, tube-like contraptions allow players to sit protected from the wind and rain during a game. "With the kind of weather we have here in Rochester, the dugouts have come in very handy, as you might guess," Gurnett says. In thanks for the gift, Gurnett presented Stoller with a soccer ball signed by all the women on the Rochester team at a New York City Alumni Council event last year hosted by Nancy Lieberman '77.
"Sports in general is good for women," Stoller says. "But soccer is better than good, it's a great sport for them."
---
LEADERSHIP GIVING REPORT ADDENDUM
The following donors were omitted or incorrectly listed in the 1996­97 Leadership Giving Donor Report. The staff of the Office of Alumni Relations and Development regrets the errors.

Martin Brewer Anderson President's Society

Life Members: William Pulsifer '50 and Barbara Rice Pulsifer '52

Annual Members: Leonard W. Swett '37

Alan Valentine President's Society

Annual Members: Nelson Spies '38 and Grace Spies, Eli Sokol '33 and Mildred Sokol, and G. Robert Witmer, Sr. '26 and Marion Witmer.