A Report on the Events of the Year
As you read this section of Rochester Review highlighting some of the noteworthy events of the past academic year, I hope you will note with pride the pattern of sustained high achievement among our faculty and students.
As our motto, Meliora, urges us, we have been moving "ever forward" on many fronts. As reported here, we have, collectively, learned to create matter from light and have discovered a new way to produce DNA, among other scientific advances. We have formed productive new alliances within our metropolitan neighborhood in health care and in music education. We have written books and hosted conferences. And, always, we have continued to seek out the new ways of developing and sharing knowledge that are the hallmark of a vibrant academic community.
I take great pride in these collective accomplishments of our University community. I hope you will, too.


Thomas H. Jackson
President
---
'Rolling Circles' Offer DNA Copies
By drawing upon nature's own DNA-copying techniques, University chemist Eric Kool has developed minute rings of DNA--dubbed "rolling circles"--that can crank out more copies of the genetic template less expensively than methods now at scientists' disposal.

The new method of DNA production is easy and inexpensive: "You can just toss a rolling circle, some free DNA nucleotides, and DNA-copying enzymes into a test tube, and when you come back 12 hours later, the tube is full of DNA," says Kool.

Rolling circles don't require special enzymes or complex equipment, reducing the cost of genetic research or routine laboratory testing. The technology might also open the door to new procedures requiring high sensitivity, such as detection of DNA sequences in organisms' genomes, for instance, or identification of specific cancer-related mutations.

The new method uses a single piece of circular DNA as its template. This ring unfurls a long strand of daughter DNA that repeats a single sequence hundreds of times. Kool then cuts this long strand with restriction endonucleases into smaller DNA duplicates.

Rolling circle DNA synthesisHow the process works--A single short strand of DNA is selected. The ends of the strand are chemically attached, forming a circle. In a test tube, DNA nucleotides and enzymes are added to the DNA. The enzymes surround the strand of DNA and proceed around the circle, copying and spitting out duplicates along the way.
---
MENTORS
What makes a teacher great? After the de rigeur command of the subject, a great teacher needs a creative and compassionate connection with students, a connection that divines and then exploits students' talents and needs. At this year's Commencement in May, three teachers were honored for their contributions.

Dale McAdam, dean for freshmen and professor of clinical and social psychology, received the Edward Peck Curtis Award for Undergraduate Teaching. Among the first to use undergraduates as teaching assistants, he is praised by colleagues and students for his ability to connect with students. A faculty member since 1967, McAdam has been class dean to either first-year or sophomore students since 1991. The Students' Association honored him in 1988 with its Teacher of the Year Award.

Simon School finance and accounting lecturer Edna Seidmann received the G. Graydon and Jane W. Curtis Award for Undergraduate Teaching. "She is one of the best professors I've ever had," one student wrote in an evaluation. "Great class! Great teacher! Wonderful experience," wrote another. Seidmann draws on her real-world experiences in market dynamics and profit analysis for classroom instruction. She joined the Simon School in 1990.

Madeline Schmitt, holder of the Independence Chair in Nursing and Interprofessional Education, received the University Graduate Teaching Award. Mattie, as her students call her, has made a career out of building the foundation for her students' future successes, with former students going on to teach and practice at universities and hospitals around the country. "I find myself constantly trying to model my interactions with doctoral students after Mattie's style," writes a former student. Schmitt has taught in the School of Nursing's graduate program for 27 years. She is now director of the doctoral program.
---
Strong to the Finish: Debate at Rochester
Ignoring Sophocles's warning to "think not that thy word and thine alone must be right," 200 debate teams, taking part in one of the largest events of its type in the world, spent an entire weekend on the River Campus doing little but arguing over whose words--in the forensic sense--were more right than others. In March, Rochester's team, now ranked sixth in the nation, hosted the Cross Examination Debate Association's (CEDA) annual championship, which included teams from, among other schools, the University of Miami, Florida State, Cornell University, University of Alabama, and Syracuse University. The topic? Whether the United States should substantially increase its security assistance to 10 Southeast Asian countries.

The students brought box upon box of backup information to the event, containing seven months' worth of obsessive research. Every bit of salient information, every supporting newspaper article is noted, copied, written down, indexed, and filed away in household storage tubs--up to 150 pounds of precious information per debater that gets hauled to meets each weekend throughout the school year.

Moving quickly from event to event in classrooms across the campus in the championship match at Rochester, two-person teams advanced through eight preliminary debates and seven elimination rounds in their quest to be named the top college debaters in the country.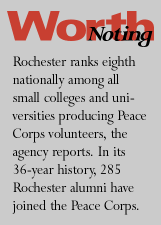 In the end, Emory University's team took top honors, with two Rochester debaters among those copping individual honors: Chetan Gulati, a junior majoring in pre-med and pre-law, was named CEDA Academic All American, and senior Ria Dimalanta, an All-American debater.

The CEDA tournament was an opportunity for Rochester to show off its own team's accomplishments. A little more than five years ago, the Yellowjacket debate team consisted of three uncoached students, struggling and unranked in competition. Today, coached by Sam Nelson, assistant professor of English, its 50 members make the school one of the strongest competitors in the nation, moving to sixth place from last year's ninth.

The Rochester team is notable as much for its diverse make-up as for its rank. About a third of the team are Asian, Asian Indian, or African American, and almost half are women. Nationally, about a third of the competitors at CEDA championship matches are women, and just under a fifth are minorities.

Earlier in the year Yellowjacket debaters won the Eastern Regional Tournament, where Gulati was named top varsity individual debater, freshmen Philip Segaloff and Akash Desai won the novice championship, and Sam Nelson was voted coach of the year for the Eastern region.
---
Why Some of Us Bounce Back
What makes some of us survive and even thrive, despite a difficult childhood? Two University psychologists have received $540,000 from the William T. Grant Foundation to find out why some children come away from poor urban childhoods competent and well-adjusted, while others don't.

Emory L. Cowen, professor of clinical and social psychology and psychiatry, and Peter A. Wyman, associate professor of psychology and psychiatry, are co-principal investigators on the Rochester Child Resilience Project. Since 1987, they have studied the capacity of some urban children to come through severe stress.

Resilient children, they say, are more likely to have a close relationship with a devoted and competent parent, positive expectations for the future, and social competencies, such as empathy and good social problem-solving ability.

To help other children on the road to survival, the challenge will be to determine how children and families can acquire the skills to survive stress in timely, effective ways.
---
Archiving Mack the Knife
The Eastman School's Sibley Music Library, one of the world's foremost music research libraries, is the new home to the Universal Edition­Kurt Weill Archives. Containing the original manuscripts of all of Weill's works owned by the Viennese music publisher Universal Edition, A.G., the archives include The Three Penny Opera, containing Weill's memorable "Mack the Knife," along with The Rise and Fall of Mahagonny.

The Sibley Library offers an extraordinarily active environment for the promotion of Kurt Weill's music, said Robert Thompson of Universal Edition.

In fact, Eastman has become a significant center for Weill research. Three faculty members are editing volumes of the Kurt Weill Edition, several dissertations have been completed or are under way by doctoral students, and the school has mounted a number of performances of Weill's stage works. Kim Kowalke, University professor of musicology, is a prominent Weill scholar and president of the Kurt Weill Foundation.
---
Discussing Quantum Optics, Congress, and Robin Hood
A university wouldn't be a university without the opportunity to meet with and talk to other academic experts in the various fields of inquiry. Rochester faculty played host or were feted by several national and international conferences this year, including three in October:

Richard F. Fenno, Jr., the University's William J. Kenan Professor of Political Science and an expert on the U.S. Congress, was honored for his scholarship and teaching by 27 political scientists--all former Fenno graduate students--who gathered at a conference on the River Campus. In his 40 years on the University faculty, Fenno has written more than a dozen books about Congress and the American system of government and won numerous prizes.

The 600-year-old legend of Robin Hood brought experts from across the globe to the River Campus for the world's first Robin Hood conference. Organized by Thomas Hahn and Russell Peck, professors of English, and Alan Lupack, curator of the University's Robbins Library, the conference attracted experts from as far away as Japan and resulted in plans for a second conference in England.

The distinguished career and 75th birthday of Emil Wolf, the University's Wilson Professor of Optical Physics, were celebrated in California via a workshop held by the Optical Society of America. Wolf, former president of the society, is one of the world's leading authorities on physics and optics, winner of numerous honors, and an organizer of an ongoing series of renowned conferences on coherence and quantum optics.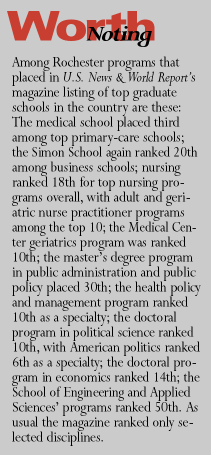 ---
Learning Teamwork Through Mentoring
At a time when corporate restructuring is demanding team-based problem-solving skills from its managers, the William E. Simon Graduate School of Business Administration has been recognized for a unique program that integrates teamwork and critical leadership skills into its top-ranked academic curriculum. General Electric--through its Learning Excellence Fund--awarded the Simon School a three-year, $219,645 grant to help to underwrite the Coach-Mentor Program and for further study of team learning.

The Coach-Mentor Program is a year-long, real-world experience in which second-year student coaches help first-year students navigate through the academic and interpersonal challenges associated with life in an M.B.A. program. In contrast to programs at other business schools, in which teams may stay together for only as long as a single assignment or class, the Simon students remain paired for their entire first year of study. The program better equips students to work with others in a business setting, Simon faculty say.

Stacey R. Kole, assistant dean for academic affairs and assistant professor of economics and management, and Ronald M. Schmidt, lecturer and chair of the Faculty Committee on International Executive Programs, are using part of the grant to fund research into the larger questions involving learning in team structures.
---
The College's Dean of Engineering
Kevin Parker, professor of electrical engineering and radiology, has been named dean of the College's School of Engineering and Applied Sciences. He succeeds optics faculty member Duncan Moore, who resigned the post to become associate director for technology in the White House Office of Science and Technology Policy.

Parker, a member of the University faculty since 1981, is considered an international expert in ultrasound and digital imaging. Since 1992, he has served as chair of the electrical engineering department (recently renamed the Department of Electrical and Computer Engineering) and has been the University's associate vice provost for research and graduate affairs. Director of the Rochester Center for Biomedical Ultrasound, Parker is also a fellow of the American Institute of Ultrasound in Medicine and the Institute of Electrical and Electronics Engineers. He has received Eastman Kodak Co.'s Outstanding Innovation Award in Manufacturing Research and Engineering, and undergraduates have named him outstanding engineering professor.
---
Rocking Away the Blues
Although the Gray Panthers and other activist senior citizens express dismay at the image of their peers ensconced in rocking chairs, a study of elderly nursing home residents suffering from dementia finds these patients can ease their anxiety and depression in just such chairs.

Researchers in the School of Nursing found that using a rocking chair for about an hour or two a day not only could ease the demented patients' symptoms, but also that those patients who rocked the most requested less medication to alleviate their daily aches and pains. And, as a plus, their balance improved.

It has been documented that infants are often soothed by a gentle repetitive motion, says Nancy Watson, an assistant professor of nursing and an expert in gerontological nursing research, an area in which the University is ranked among the top 10 nationwide. Watson studied 25 nursing home residents diagnosed as hav-ing dementia stemming from Alzheimer's disease or other causes. Her findings prove that what soothes an infant can also work for an older, emotionally distressed population.
---
Faculty Honors
Dana Mukamel, David Stewart Assistant Professor of Health Policy in the Department of Community and Preventive Medicine, has received the 1997 James G. Zimmer Award for Excellence in Research in Aging and Disability from the American Public Health Association. Mukamel received the award for her research in the quality and economics of health care for the elderly.

Lawrence Tabak, professor of dental research and biochemistry and biophysics, was among 270 academics named as fellows of the American Association for the Advancement of Science. Tabak is an authority on the saliva and salivary glands that help keep the mouth disease-free.

Another faculty member named an American Association for the Advancement of Science fellow is John Werren, professor of biology. Werren is known for his pioneering research in evolution, particularly the evolution of microbe-host interactions.

Robert Haggerty, professor of pediatrics, emeritus, received the American Pediatric Society's highest honor, the John Howland Award. Considered the most prestigious in its field, the award honors individuals who have added to the advancement of pediatrics and the improvement of child health.

William Bowen, the Margaret and Cy Welcher Professor of Dental Research, was recently elected to the prestigious Institute of Medicine, a division of the National Academy of Sciences.

A CD of cello concertos, Premieres, featuring a work by Professor of Composition Christopher Rouse, won two Grammy awards at the award ceremonies in February, one for best classical album and the other for best instrumental soloist performance with orchestra.
---
FIRST EDITIONS
Prolific as ever, Rochester faculty continued to put pen to paper (or fingers to keyboard) in 1997­1998. Some published works are scholarly, others are for more general audiences, all are exceptional. Here are some of them:

Trace Elements, a volume of poetry by Barbara Jordan, associate professor of English (Penguin Books)

Americans at MidLife: Caught Between Generations, by Rosalie Genovese, visiting scholar at the University's Susan B. Anthony University Center (Bergin and Garvey)

High Contrast: Race and Gender in Contemporary Hollywood Film, by Sharon Willis, associate professor of French and visual and cultural studies (Duke University Press)

The Computational Brain, by Dana Ballard, professor of computer science (MIT Press)

Fair Play: What Your Child Can Teach You About Economics, Values and the Meaning of Life, by Steven E. Landsburg, associate professor of economics (Simon and Schuster)

Cultivating Music in America: Women Patrons and Activists Since 1860, edited by Ralph P. Locke, Eastman School professor of musicology, and Cyrilla Barr (University of California Press)

All the Essential Half Truths about Higher Education, by President Emeritus Dennis O'Brien (University of Chicago Press)

Derivatives Handbook: Risk Management and Control, edited by Clifford W. Smith, Jr., Clarey Professor of Finance at the Simon School, and Robert J. Schwartz (John Wiley and Sons)

A Scientist's Tools for Business, by President Emeritus Robert L. Sproull (University of Rochester Press) (This book was a finalist in the competition for Best Business Book of 1997.)

Managerial Economics and Organizational Architecture, by Simon School professors James Brickley, Clifford Smith, Jr., and Jerold Zimmerman (Irwin)
---
Progress Report on River Campus Improvements
From a new and improved plaza in front of the Interfaith Chapel to a hockey field along Wilson Boulevard and new seats and carpeting in Strong Auditorium, the River Campus has seen a flurry of improvements in the last year. The facility work is a small part of the Renaissance Plan, a five-year program to strengthen and refocus the College experience.

A number of offices providing student services have moved to locations more convenient to their users: the Office of the Registrar to Lattimore Hall, and the offices of the Bursar and the Career Center to Meliora Hall, in a convenient cluster with Financial Aid. The Undergraduate Admissions Office, meanwhile, moved to renovated quarters in the Administration Building, literally putting it at the "front door" of the University.

All residence halls and fraternities were networked, completing the two-year-old ResNet Project to give all River Campus students access to the Internet from their rooms. In other improvements, the Hill Court Bridge was replaced with a state-of-the-art overpass, new sidewalks were planned for Trustee Road, some parking lots now have security cameras, and masonry and roof repairs have spruced up several campus buildings.
---
Urban Children Learn to Make Music
While leading another generation to the pleasures of music-making, faculty and students at the Eastman School are fostering the habit of perseverance in urban schoolchildren through what is to become a model program across the nation. Conducted at Rochester's School 17, the "Time for Bows" program offers free violin lessons to third-grade students paired with adult sponsors who take classes with them. Sponsors, who can be a parent, teacher, or any adult volunteer, make a formal commitment to practice with the youngsters over a period of three to five years. Developed by Louis Bergonzi, associate professor of music education, this is one of a series of Eastman Initiatives designed to strengthen music programs in public schools and encourage community music-making. Another program, called "Many Voices, Many Songs," has brought choirs back to middle schools in Rochester, and Eastman's Community Education Division is offering free private music lessons to 75 city high school students.

Studies of urban students show that to make a real difference, there need to be sustained, one-on-one interactions and deep connections to the local community, says Bergonzi, an educational sociologist. In learning to play the instrument, the adult-as-music-student also becomes mentor, helping the child develop a lasting relationship with learning, with music practice, and with an adult, he notes.

Each week, mentors and students participate in three lessons--two of them group sessions, one private--and two practice sessions. For most of the children, the several-times-a-week connection is essential, Bergonzi points out, since practice often does not happen at home.

Communities across the nation are struggling to support serious music. One of the difficulties is that audiences are dwindling, notes James Undercofler, director of the Eastman School. The Texaco Foundation and the Eastman School will be working together to develop a program that will encourage similar music education partnerships across the country. Programs like "Time for Bows" cultivate talent and music appreciation in an urban population, he points out. With its success, it is serving as a model for other cities across the country.
---
Faculty Honors
Shaul Mukamel, professor of chemistry, received Germany's 1997 Humboldt Research Award, for his contributions to the study of molecular dynamics.

Alice Conklin, assistant professor of history, was awarded the Berkshire Conference of Women Historians' Book Prize for A Mission to Civilize: The Republican Idea of Empire in France and West Africa, 1895­1930.

Charles Thornton, associate professor of neurology, has received the Paul Beeson Physician's Faculty Award from the John A. Hartford Foundation, the Commonwealth Fund, and the Alliance for Aging Research. He was recognized for his work on the pathogenesis of myotonic dystrophy.

Diane Dalecki, assistant professor of electrical engineering, has been elected a fellow of the American Institute of Ultrasound in Medicine for her research on the bioeffects of ultrasound.

Kim Kowalke, chair of the College's music program and professor of musicology at the Eastman School, won a 1997 ASCAP­Deems Taylor award. Kowalke was cited for outstanding print and media coverage of music.

David Headlam, associate professor of music theory at the Eastman School, also won a 1997 ASCAP­Deems Taylor award for outstanding print and media coverage of music.

Abraham Seidmann, the Simon School's Xerox Professor of Computers and Information Systems, was named a member of the Texas Tech University Academy of Industrial Engineers.
---
Study Abroad: Engineers Can, Too
The University has joined the ranks of fewer than a dozen schools nationwide offering programs that allow engineering students to take technical courses abroad. Rochester undergraduates can now choose a semester at ORT-Braude, an engineering college in Israel.

Study-abroad programs have traditionally catered to students in the humanities and social sciences. Engineers, however can also benefit from the experience. As large companies become increasingly multi-national, engineers working for those firms will be working with--or competing against--fellow engineers all over the world. Seeing how engineers work in other parts of the world is not only an opportunity, but it also affords the student some necessary skills.

The ORT-Braude program is intended for second-semester sophomores majoring in computer science or mechanical, chemical, or electrical engineering. ORT-Braude also offers courses in biotechnology, an academic opportunity not available at Rochester.
---
The Next Internet Generation
As the Internet continues to become an even larger part of our daily lives, the University officially joined the effort to develop the next incarnation of the global communication network.

Rochester is now a member of Internet2, a consortium of some 110 universities and agencies working to create a network that will be between a hundred and a thousand times faster than the current Internet.

Internet2 is expected to have an even larger effect on online communication than its parent, according to Edward Titlebaum, vice provost for computing. Rochester was originally involved in ARPANET, the government computer network that laid the groundwork for today's Internet system.

Internet2 will be based on entirely new fiber optics connections and a new system of channeling information. The new connections will provide higher speeds, greater capacity, and better quality of service. Rochester and other New York State institutions should be connected, by cables laid along the Thruway, by early 1999.
---
'Fish into Swans'
College-educated women from working-class backgrounds who become academic professionals face considerable obstacles, reports a researcher from the Margaret Warner Graduate School of Education and Human Development. Their hard-earned higher social status can bring crises of identity and self-esteem to these women, along with a loss of close personal relationships.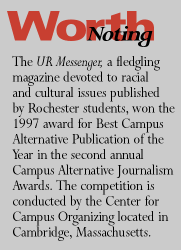 In her study, Turning Fish into Swans: The Ambiguous Transformation of Women from Blue-Collar Backgrounds into Higher Education Professionals, Signe M. Kastberg, assistant professor in the Warner School, found that such women who become professors and administrators in higher education often discover that their gender and class keep them on the margins of their professional and personal lives. At times, the women seem to hold multiple identities, she observed, because of the contradictions in the value systems of their past and their present.

The academic environment often excludes deserving women from lower social classes, both socially and educationally, according to Kastberg's study, which notes that academic women from those ranks are in the minority among other academic populations.
---
Eastman Dental Center Joins the University
The Eastman Dental Center, in a move predicted 75 years ago by its namesake, became part of the University in July 1997. Now known as the University of Rochester Eastman Dental Center, it has joined the Medical Center as a peer organization with Strong Memorial Hospital, the School of Medicine and Dentistry, the School of Nursing, and the Medical Faculty Practice Group.

"George Eastman anticipated this affiliation in a letter he wrote in 1920, and now in 1997 that vision has become reality," said Jay Stein, CEO of the University Medical Center. "The combination of these two outstanding entities will produce the nation's number one institution for oral health, post-graduate dental education, and research."

The Eastman Dental Center was founded by philanthropist George Eastman in 1915. Now with Ronald J. Billings as director, the dental center has been a leader in advanced clinical training and dental research for more than 80 years. The dental center also provides oral health services to more than 25,000 people in the greater Rochester area, with approximately 70,000 patient visits annually.
---
And Then There Was Matter . . .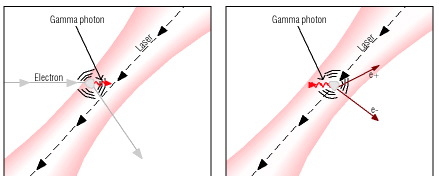 Literally making something from nothing, scientists from the University of Rochester, Princeton University, the University of Tennessee, and Stanford University created particles of matter from ordinary light in experiments using photons generated from a tabletop laser that was built at Rochester's Laboratory for Laser Energetics (LLE).

Scientists have long been able to convert matter to energy; witness a nuclear explosion. Now physicists can do the opposite: convert light energy into electrons and positrons.

In this experiment scientists observed for the first time the creation of particles from real photons, packets of light directly detectable in the laboratory. They achieve this result using high-energy electrons, traveling near the speed of light, that were produced by Stanford Linear Accelerator Center's two-mile-long accelerator, and photons from a powerful, "tabletop terawatt" glass laser developed at LLE. The laser unleashed a tiny but powerful sliver of light lasting about one trillionth of a second (one picosecond) and measuring just half a millimeter long. Packed into this sliver were more than two billion billion photons.

The team synchronized the two beams and sent the electrons head-on into the photons. Occasionally an electron barreled into a photon in a way that Adrian Melissinos, professor of physics at Rochester, likened to a speeding Mack truck colliding with a ping pong ball. The impact knocked the photon backward with such energy that it collided with several other photons and combined with them, creating an electron and a positron.
---
American Sign Language Becomes a Major
A University of Rochester program that was already among the most respected of its kind in the country since its inception in 1988 has further widened its orbit: The American Sign Language (ASL) program has become one of the first in the nation with an undergraduate major in the language.

Other institutions offer ASL classes and degree programs that examine the sociological aspects of deaf culture, but few explore the language's unique literary and cultural treasures. With an approved B.A. concentration in an extensive menu of courses, the Rochester program offers not only basic language classes, but also a series of advanced literature and culture courses, the only program in New York State to do so.

Only recently have the stories and songs of American Sign Language emerged from a culture long hidden behind closed doors, offering a rich "new" field full of unique stories and history for students and researchers to explore, reports Ted Supalla, associate professor of linguistics and director of the ASL program. It is a full, natural language with a new literary tradition, both in poetry and theater, he points out.

Some 350 students studied ASL at Rochester this year, more than the number enrolled in any other language course.
---
Prenatal Lead Exposure Linked to Dental Caries
Through the efforts of Rochester dental researchers, another preventable source of cavities may have been identified: In utero exposure to high amounts of lead is likely one cause of certain high rates of tooth decay.

In a study of rats, the scientists found that while lead does not actually cause cavities, it appears to make rats--and thus people, whose teeth get cavities in an identical manner--much more susceptible. The findings present a compelling case to remove lead contamination in the environment, says principal investigator William Bowen, Margaret and Cy Welcher Professor of Dental Research and the founder of the Rochester Caries Research Center, the nation's first research center on tooth decay.

For decades, lead has been well recognized as causing developmental and other problems. While it has been removed from most gasoline products, it's still present in old paint and is commonly found in soil or dust around contaminated buildings. Bowen says that the areas with the highest lead pollution--inner cities everywhere and in much of the Northeast--mirror areas where dentists see the highest rates of tooth decay.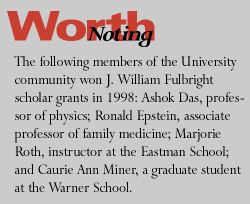 The study examined susceptibility to cavities in rats born of mothers that had been exposed to lead compared to offspring of unexposed rats. The study found that offspring from exposed rats developed 40 percent more cavities. Funded by the National Institute of Dental Research (NIDR), the Rochester study is the first to document the link between lead exposure and high cavity rates that a few small epidemiological studies had earlier suggested.

Lead is likely one reason why dental cavities are still a major problem in some pockets of the population despite the widespread use of fluoride and fluoridated toothpaste, Bowen says. While about half of 12-year-olds in the nation are now free of cavities, 80 percent of the cavities in the group are seen in just one-fifth of these children. Ninety-five percent of all U.S. adults have cavities, which are a leading cause of tooth loss.

Bowen and his team are now searching for the cause of lead-exposure cavities. Some studies have suggested that lead, which is stored in the bones of humans for decades, interferes with the development of teeth. Higher amounts of lead than normal are released into the blood of women who are pregnant and reach the fetus at a time critical to the development of teeth and salivary glands.

Although the perception in the public mind is that dental caries is no longer a problem, it continues to be a serious public health problem among this country's populations and throughout the world, Bowen says. Removing lead may be one big step toward controlling dental caries.
---
Undergraduate Research Awards
With undergraduate research as a cornerstone of the Rochester Curriculum, it is no wonder that its students find primary research topics that span the spectrum of the humanities and social sciences. While immersing themselves in their research questions--from chivalry and the Boy Scouts to the international economics of health care, for instance--the following students also earned Barth-Crapsey Undergraduate Research Awards:

Joel Helfrich '98, a history major, traced the influence of medieval chivalry on the modern Boy Scout movement, advised by Richard Kaeuper, professor of history.

Rachel Rains '98, a history and political science major, examined 1930s U.S. political film, advised by Joan Shelley Rubin, professor of history.

Tracie Rubeck '98, a biology and history major, looked at gender relations in the films of Preston Sturges, advised by Robert Westbrook, professor of history.

Lien Tran '98, an economics and health and society major, compared health care policies for the Asian ethnic minority across the globe, advised by Nancy Perkins, assistant professor of political science.

Clinton Young '98, a history and Spanish major, researched the musical politics of the Third Reich and Stalinist Russia, advised by Celia Applegate, associate professor of history.

The awards are funded by a gift from Rochester resident Arthur Crapsey and his late wife, Jean Barth Crapsey '40. Each winner receives up to $600 to help with research-related expenses. Students present their work to the University community in the spring semester.
---
Welcome the Heyen Collection
Rush Rhees Library, with close to 3 million volumes already among its holdings, added 10,000 more in January--the William and Hannelore Heyen Collection of Modern Prose and Poetry. The literary archive, with materials from the extensive collection of poet William Heyen, is considered one of the finest assemblages of inscribed first editions, manuscripts, and correspondence from this country's major writers during the past 30 years. Joyce Carol Oates, Richard Wilbur, Robert Penn Warren, William Stafford, May Sarton, and Elie Wiesel are among those represented.

The collection is part of what is to become the Hyam Plutzik Library for Contemporary Writing, a collaboration of Rush Rhees Library and the Hyam Plutzik Memorial Poetry Series of the Department of English. The Plutzik Library will become a space devoted to the study and appreciation of contemporary and creative writing, reports Dean of River Campus Libraries Ronald F. Dow. The library and its modern writing collection will be a major asset to the University, to the Rochester community of writers, and to scholars everywhere, Dow notes.

The interior space of the Plutzik Library will be named the Jarold Ramsey Study in honor of the recently retired English professor and director of the Plutzik Series. The overall facility is to provide space for the study of writing and various literary readings and events.

A lead gift from Jonathan and Lesley Plutzik, the son and daughter-in-law of the late Hyam Plutzik, Deane Professor of Poetry and Rhetoric, will help with the construction of the facility. Alumni and friends have also donated generously for the collection's purchase.
---
Health Care Delivery Becomes Strong
Strong Health, the University's new integrated health care delivery system designed to provide the community with the best in health care resources, was introduced to the local community last fall.

Encompassing Strong Memorial Hospital, Children's Hospital at Strong, Highland Hospital, the Highlands at Pittsford (an adult living community), and the Eastman Dental Center, Strong Health includes more than 1,000 physicians and more than 6,000 other health care providers and support staff. The components of the Strong Health system continue to use their own names, along with the name and logo of the parent organization.

The formation of Strong Health continues the Strong tradition of highest quality health care, reports Jay H. Stein, CEO of the University Medical Center and Strong Health. The alliance, he notes, incorporates the medical research and teaching missions of its members, giving patients access to the latest in technology and treatment based on sound medical research, and ensures that doctors, nurses, and allied health professionals will apply these innovations to patient care.
---
Going High Tech
With the help of an unusual computer classroom, the College intends to boost students' appreciation and understanding of science, especially among those whose primary field of study lies outside the sciences.

The new facility in Bausch & Lomb Hall links 20 computers with light sensors, motion detectors, video analysis software, temperature sensors, and even a track for simulated accidents between small carts. The equipment should help students better understand the principles of science and engineering through experiments based on everyday experience.

The classroom is funded by a National Science Foundation­sponsored initiative that seeks to offer courses that marry disciplines as divergent as literature and optics and mechanical engineering and art history. Students get a feel for the scientific method, while trying to minimize the amount of time they have to spend on calculations and other drudgery. As a result, students can spend their class time on experiments and leave the number-crunching to the computers, reports Frank Wolfs, an associate professor of physics and astronomy who designed the facility and uses it for his course Physics by Inquiry. Five other instructors plan to make use of the new classroom this year.

In the physics course, Wolfs uses computers to illustrate key physical concepts to students who might otherwise never set foot in a physics classroom. Students act out computer-generated graphs of time versus distance, for example, shuffling to and fro before motion sensors hooked up to their computers, or study velocity and the physics of collisions by using small carts on a track hooked up to their computers.
---
Ceremonial Inductions
The 1997­98 academic year at the University of Rochester saw two ceremonial observances--the inaugurations of Thomas LeBlanc and James Undercofler '67E.

LeBlanc was inaugurated as dean of the faculty of arts, sciences, and engineering in November in ceremonies at the Interfaith Chapel. James Undercofler was inaugurated as the fifth director of the Eastman School of Music in April, at the Eastman Theatre.

As dean of the faculty, LeBlanc is the chief executive officer of the College with primary responsibility for its academic, administrative, and research activities. He joined the Department of Computer Science at the University in 1983 and served as department chair from 1990 to 1996. His research interests broadly encompass issues in the development of software systems for parallel programming.

Undercofler came to the Eastman School in 1995 as associate director for academic affairs and professor of music education and has directed the ground-breaking, nationally noted Eastman Initiatives. He was previously founding director of the Minnesota Center for Arts Education in Minneapolis, director of the Educational Center for the Arts in New Haven, founder and conductor of the New Haven Concert Orchestra, and had received numerous awards, including those from the Arts Council of Greater New Haven and the Minnesota Alliance for Arts in Education, for contributions to the arts in the community.
---
Taking a Poke at Bacterial Infections
By finding a chink in the armor of an opportunistic microbe--a top cause of infections in hospitals--Rochester microbiologists and other researchers have been able to break up the germ's defenses against detergents and antibiotics.

Pseudomonas, a common bacterium, is the single most common cause of infections acquired by hospital patients. Through genetic alteration, researchers interfered with the chemical communication system that these bacteria use to "talk" to each other when releasing toxins and gaining a foothold.

Pseudomonas can be extraordinarily resistant to antibiotics, largely because the bacteria form themselves into sticky clusters called biofilms. Together, they become hundreds of times more resistant to detergents and antibiotics.

Once they create a biofilm, they become difficult to get rid of, according to Barbara Iglewski, Rochester professor of microbiology and immunology and a member of the research team. Pinpointing a gene that lies at the root of the bacteria's ability to form a biofilm, the team was able to knock out that gene, causing the bacteria to form more vulnerable biofilms, open to detergent attack.
---
Contributing to Undergraduate Achievement
Individual faculty, academic departments, and committees were awarded the first set of Goergen Awards--named for, and funded by, Board of Trustees Chairman Robert B. Goergen and his wife, Pamela--to recognize contributions to undergraduate education in the College.

Six individual faculty members received Awards for Distinguished Achievement and Artistry in Undergraduate Teaching: Professors Celia Applegate, history; Theodore Brown, history and preventive medicine; Michael Gage, mathematics; Barbara Ilardi, clinical and social psychology; Thomas Krugh, chemistry; and Frank Wolfs, physics and astronomy.

The Department of Earth and Environmental Sciences and the College Music Program were selected for the Award for Curricular Achievement in Undergraduate Education.

The Award for Distinguished Contributions to Undergraduate Learning went to the 1994­95 College Curriculum Committee: Professors Paul Slattery, physics and astronomy; Robert Angerer, biology; Celia Applegate, history; Douglas Brooks, religion and classics; Richard Feldman, philosophy; William Scott Green, dean of the College; Suzanne O'Brien, associate dean of the College; and Alan Stockman, economics. A separate co-award also went to Green for his general contributions to curriculum improvement.

Each recipient of the teaching award receives $5,000. Those recognized for their work on programs or committees share a group award of up to $30,000.
---
NAMED CHAIRS
A newly endowed professorship at the Simon School honors Ronald L. Bittner '93S (MBA), former chair and chief executive officer of Frontier Corporation and a University trustee. Frontier created the professorship following Bittner's death in 1997. First incumbent will be Jerold Zimmerman, professor of accounting and Alumni Distinguished Professor at the Simon School.

School of Nursing Professor Madeline Schmitt was named to the newly created Independence Chair in Nursing and Interprofessional Education. The school's first endowed chair, it is funded by the Independence Foundation of Philadelphia.

David Williams, director of the Center for Visual Science, was named the William G. Allyn Professor of Medical Optics. Allyn, a 1934 graduate of the University's Institute of Optics, was second president of Welch Allyn, Inc.

Janet Berlo, who has a dual appointment in the art and art history department and in the Susan B. Anthony Institute for Gender and Women's Studies, was named Susan B. Anthony Professor of Gender and Women's Studies.

Howard Kirschenbaum, professor of education, was appointed Frontier Professor of School, Family, and Community Relations in the Margaret Warner Graduate School of Education and Human Development.

Zvi Zeitlin, professor emeritus of violin, was named Distinguished Professor of Violin at the Eastman School of Music, where he has been teaching since 1967.
---
Moving Up, Moving On
The University's 148th Commencement brought both Nobel Prize winner Steven Chu '70 and presidential technology advisor Duncan Moore to ceremonies on the Eastman Quadrangle on Sunday, May 17.

A physics professor at Stanford University, Chu was awarded the Nobel Prize in Physics last fall for his work using lasers to chill and trap atoms. Holder of both a B.A. in math and a B.S. in physics from the University, he received an honorary degree at the ceremonies. (At the 1970 Commencement, he was prophetically awarded the Stoddard Prize, given each year to the physics major producing the most outstanding term paper.)

Moore, who gave the Commencement address, is on leave from the University. Rudolf and Hilda Kingslake Professor of Optical Engineering, former dean of the School of Engineering and Applied Sciences, he was appointed associate director for technology of the White House Office of Science and Technology Policy in 1997. (Moore was elected to the National Academy of Engineering this year.)

Other Commencement honorees and their awards: Mary-Frances Winters '73, '82S (MBA), founder of the Winters Group, the Hutchison Medal (see page 43); Katherine Hayles '77, professor of English at the University of California at Los Angeles, Distinguished Rochester Scholar Award (see page 43); Ruth Kirschstein, deputy director of the National Institutes of Health, an honorary degree at the Medical School Commencement. James Gleason '68S (MBA), president and chair of Gleason Corp., delivered the Simon School commencement address and received the David T. Kearns ['52] Medal of Distinction, which recognizes achievement in business, public service, and education. Paul A. Brands '66S (MBA), CEO of American Management Systems, Inc., received Simon's Distinguished Alumnus Award.
---
Monks, Mandalas, and MAG
With American society becoming increasingly diversified, cultural institutions such as fine-art museums and symphony orchestras have been struggling for survival as their traditional supporters head toward senior citizenship.

Squarely facing that challenge, the Memorial Art Gallery has been reaching out to--and intriguing--new audiences with exhibitions that transcend the usual boundaries of "art." Case in point: the mandala exhibition of a year ago that attracted the highest weekly attendance in the museum's history. In that show, three Tibetan Buddhist monks over a period of six weeks created a sacred sand painting, or mandala, as a meditation practice. On the final weekend alone, some 3,000 gallery-goers, many of whom had never visited the museum before, celebrated the exhibition closing with music and dancing.

Building on the interest generated by the mandala exhibition, the gallery has in the year just past continued to attract a diversified audience of other "first-timers" at a lively series of exhibition preview parties that have drawn an average attendance of 2,400 participants per event--among them, a celebration of "New Russian Art" that pulled in a large representation from the local Russian community and an eye-popping show of installation art from the San Diego Museum attended by a wall-to-wall crowd of mostly college-age students.
---
Laser Fusion Research at Rochester
Ensuring that Rochester will continue as a central player in the nation's research into laser fusion, the Department of Energy (DOE) has renewed a $143.4 million, five-year, cooperative agreement with the Laboratory for Laser Energetics (LLE).

Rochester's successful commitment to research in this field has produced outstanding technical and academic achievements, noted the DOE announcement in October. Regarded as a national resource, LLE is designated as a National Laser Users' Facility, available to the entire scientific community. The federal government initially became an LLE sponsor in 1975.

Omega, the world's most powerful ultraviolet laser, is housed at LLE. Experiments conducted on Omega are regarded as invaluable: Through investigation of matter under extreme circumstances, researchers can closely duplicate certain conditions otherwise found only in the sun and other stars or inside a nuclear weapon as it is detonated.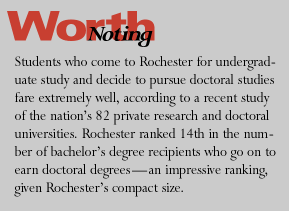 Among other goals, this laser research plays a critical role in the Energy Department's plan to ensure the safety and reliability of the nation's nuclear weapons stockpile without the use of underground nuclear tests. Fusion research here aids in the understanding of aging and other subtle physical effects on nuclear stockpiles over time. Rochester does not perform research on weapons themselves, but performs high-
energy physics experiments, at extreme temperatures and densities, that allow researchers to understand the properties of nuclear materials.

Omega experiments also help in assessing the potential of inertial fusion as an inexhaustible source of commercial energy: This research helps scientists understand the principles behind fusion energy and other basic physical interactions.

Since 1995, when the Omega laser received a major upgrade, it has been able to focus highly uniform ultraviolet radiation from 60 high-power laser beams onto a small fuel pellet, a major advance in the quest for fusion.

Many of the techniques that were invented and refined at Rochester for using ultraviolet light as a more efficient power source are now used in inertial-confinement fusion experiments worldwide and for other applications in the optics industry.

Rochester's Omega program is regarded as a world leader in the development of "direct-drive" inertial fusion focusing laser beams directly on a target. Omega also has the capability to conduct experiments on "indirect-drive," where the laser beams produce x-rays that in turn are used to irradiate a target.