In Brief
Freshman class: All set to arrive on the River Campus at the end of August, the Class of '02 is every bit as promising as its immediate predecessors, reports W. Jamie Hobba, director of admissions for the College.
The 940 class members, from among nearly 9,000 applicants, show average SAT scores more than 100 points higher than four years ago. Other parts of the profile considered for each student--for instance, rank in class, special talents, and outside interests--also "show that this class is ideally suited to take advantage of Rochester's opportunities," says Hobba.
About half of the class comes from New York State, with the proportion of students from the South, Midwest, and Southwest showing an increase. About a quarter of those who opted to report their ethnic status are members of minority groups or are foreign students. Six percent are children of University alumni.
The Eastman School of Music also reports enrolling an outstanding freshman class, with 126 first-year students chosen from nearly 900 applicants.
100th book for University Press: A loving tribute to the Seventh Army Symphony that toured recovering European countries after World War II is the subject of the 100th book published so far by the University of Rochester Press.

Established in 1989, the press has been producing scholarly titles in a variety of fields, including science, history, music, art, African studies, and philosophy. The range of titles has expanded recently into medical history, with the press meanwhile building a following in musicology and music theory.

The 100th volume, Uncle Sam's Orchestra: Memories of the Seventh Army Symphony, was written by one of the orchestra's former conductors, John Canarina. The first conductor, incidentally, was Samuel Adler, who recently retired as chair of the Eastman School's composition department.

New trustees elected: Five new members have joined the University Board of Trustees. They are Larry Bloch '75, chairman of TransWestern Publishing Company, San Diego; Ernest J. Del Monte, Sr., chairman and CEO of E. J. Del Monte Corporation, Rochester; Barry Florescue '66, president and CEO of Marietta Corporation, Cortland, New York; and Barry Meyer '64, executive vice president and COO of Warner Bros., Inc., Burbank, California.

Biennial rite for physicists: Some 50 up-and-coming scholars in high-energy physics gathered earlier this summer in St. Croix for a biennial conference that fosters collaboration among young physicists from around the world. Attendance at the gathering, founded by Rochester physics professor Thomas Ferbel, has become a rite of passage for those hunting such exotic entities as quarks, neutrinos, and bosons.

"After spending years in their labs working intently on their own individual projects, most of these students find it almost like coming out into the daylight--suddenly they get the big picture of all that's happening in particle physics," Ferbel reports. He says he conceived the program some 20 years ago when a graduate student of his acquaintance became so frustrated at being trapped at Fermilab during the Christmas holiday that he "destroyed his own car."

Children's ear infections: They're over-diagnosed and often mismanaged, and physicians should change the way they handle them. So says pediatrics professor Michael Pichichero in a recent editorial in the Journal of the American Medical Association. The piece accompanied a study demonstrating that uncomplicated ear infections can be treated effectively with five days of short-acting oral antibiotics; currently, more than 90 percent of children diagnosed with ear infections are treated with a 10-day course.

Pichichero points out that short-course therapy is less likely to cause children to develop resistance to antibiotics, and he estimates that between 40 and 80 percent of the children for whom they are prescribed don't suffer from an ear infection at all.

Eastman summer seminar in Japan: Ten Eastman faculty members are in the city of Hamamatsu this summer conducting a 10-day session of master classes and private lessons for some 80 outstanding young Japanese musicians. The students who perform with exceptional distinction during the classes will be offered scholarships to study at Eastman. The summer school is an outgrowth of a sister-city relationship that was established two years ago between Rochester and the Japanese city.

Foggy Day revived: A "lost" Gershwin musical that can credit its rebirth to political science professor (and Fred Astaire expert) John Mueller has been playing to sold-out houses at this summer's Shaw Festival at Niagara-on-the Lake, Ontario.

Based on a 1919 tale by P. G. Wodehouse, A Foggy Day was to have been a movie musical with words and music by George and Ira Gershwin, but the composer died before the score was finished, and the film was never made. Mueller first proposed its revival some 10 years ago, and a stage version, which he researched and wrote, was produced by the Eastman Opera Theatre. Its latest incarnation, with the story line polished by Canadian playwright Norm Foster, was deemed by the Toronto Star to be a five-star "heartwarming experience."

Double star implicated: Rochester astronomers Tim Collins and Adam Frank have presented evidence that Supernova 1987A, the most famous stellar apocalypse in modern history, was caused by a double star system and not a single star as had been previously thought.

On February 24, 1987, a star known as Sanduleak­69 202 in the nearby Large Magellanic Cloud, a satellite galaxy of our own Milky Way, caught the world's imagination by blowing itself up right before astronomers' eyes. The event confirmed the bulk of supernova theory, but a few things didn't quite fit. It turns out that Sanduleak­69 202 likely had a small companion that the massive star swallowed up before its own catastrophic death.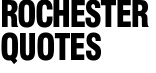 The (London) Economist: "It's about as useful as simulating the gains from owning a helicopter gunship in the Middle Ages"--Simon School Professor Ray Ball, speaking about using today's technology to simulate the effects of investing in yesterday's market. The benefits of developing investment strategies based on financial database histories and 20/20 hindsight are limited, he noted. Good information on the market is expensive to obtain, the article said, although it can help uncover potential investment bargains. The trick is that the gains made need to offset the cost of obtaining the information.

USA Today: "The future has never looked better for people with diabetes"--John Gerich, director of the Diabetes Research Laboratory at the University Medical Center. The pharmaceutical market is offering new drugs that reduce blood sugar levels by a significant amount and enhance a diabetic's sensitivity to insulin, he said. Better, more accurate treatment means a potential lessening of damage to kidneys, eyes, and other organs.

The Washington Post: "The real question is, is it worth it?"-- So asks Thomas Pearson, chair of the University's Department of Community and Preventive Medicine, commenting on the benefits of cholesterol-lowering drug treatment for apparently healthy individuals.

Over a period of five years, a project called the Air Force/Texas Coronary Atherosclerosis Study looked at 5,600 men and 1,000 women, half of them taking a cholesterol-lowering drug and half a placebo. Researchers reported that the drug reduced the risk of a major coronary event in people with no signs or symptoms of illness. Although the drugs appear to have few side effects, still, as with any medication taken long term, "there could be some snakes in the grass," Pearson said. Before prescribing, doctors need to weigh the risk of heart attack in a healthy person versus the potential risks of medication, he advised.

Education Week: "The teachers are ready. But the field is not ready to tell them what to do"--Lucia French, Warner School professor, on the lag in encouraging the use of hands-on science activities in pre-school classrooms as compared to programs aimed at developing reading and language abilities. French has been successfully using such a science program in Rochester Head Start classes as a method of capturing the children's attention and reducing disciplinary problems.

The Chronicle of Higher Education: "This is like the evolution to the automobile from the horse and buggy"--Provost Charles Phelps, on a plan to encourage scholars to turn to alternative, less expensive modes of publishing, such as electronic means. The plan, promoted by a group of academics including Phelps, also asks that universities give up the "publish or perish" criterion for tenure and instead look to a method of certification of scholarship by a panel of experts.

U.S. News & World Report: "This debate has completely changed the way we view the brain"--Elissa Newport, psycholinguistics expert, on the latest research into the ways babies learn language. For years, linguists have argued over whether infants are born with a certain language faculty or if they learn language after birth. New research is beginning to settle the argument. Infant brains, it turns out, are regular Univacs, taking in and processing information, and then finding patterns in the data. Newport and her colleagues have found that babies remember words by listening for patterns of syllables that occur together with statistical regularity--a big step toward learning to speak.

New York Daily News: "Aging is one of those inescapable phenomena that we can't prevent, can't understand, and probably should include with death and taxes as something we can't do anything about. And yet. . ."--George Abraham, director of the University's Cancer Center, on whether anything can and should be done to extend the human life span.

* The Raleigh (N.C.) News and Observer: "It didn't have any negative connotations back then"--Pop culture expert Tom DiPiero, associate professor of modern languages and cultures, on the origins of the word that sounds like witch and begins with the letter B. The word dates back more than a thousand years, taking on a negative connotation only in the 1400s, he said. "The negativity seems to come from comparing a woman to a female dog in heat and suggesting that the woman acts out of carnal lust."

Sports Complex to Get an Overhaul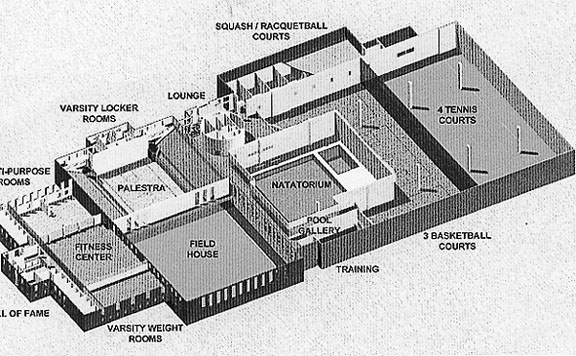 Renovated sports and recreation complex, projected for completion in August 2000


The River Campus sports and recreation complex is about to undergo a dramatic $12.6 million renovation.

The new look will involve a complete reconstruction of the interior of Alumni Gym and substantial improvements to the Palestra, Field House, and Zornow Center.

On completion of the renovation (currently scheduled for August 2000), the sports and recreation complex will be named the Robert B. Goergen Athletic Center to recognize the $5 million gift that Goergen '60 has made in support of the project.

The gift is one of many that he and his wife have made to the University over the past years. Chairman of the University's Board of Trustees, Goergen is chairman also of Blyth Industries of Greenwich, Connecticut, a company manufacturing and distributing candles, accessories, and home fragrance products.

Edmund Hajim '58 is chairman of the Campaign for Sports and Recreation that is engaged in raising the additional funds needed for the project.

In announcing the plan, President Jackson said that it is a direct outcome of the needs, identified in the Renaissance Plan, to improve campus facilities. Some 1,200 individuals walk through the sports and rec complex every day, he noted, but the Alumni Gymnasium has seen little structural or cosmetic improvement since its construction in 1929. And while Zornow Center was added to the complex in 1982, some of its spaces also require renovation or reconfiguration to meet the current demands of users.

It is expected that the completed project will make Rochester's athletic facilities among the best at NCAA Division III schools around the country. Changes to the facility will include a vastly improved entrance to the complex, with better access to various areas inside; relocation of coaches' offices; construction of a new and spacious fitness center and multi-use rooms; enlargement of the basketball court; renovation of the spectator area of the pool; and installation of air conditioning in Alumni Gym, the pool, and squash courts.

In addition, the complex will have two new elevators and significant ADA improvements with the reworking of the main entrance and primary circulation routes.
Winter/Spring Wrap-Up
The 1997­98 winter and spring athletic seasons brought sweet success to a number of Yellowjacket players.

Sprinters dominated for the men's track and field teams, helping the 'Jackets claim back-to-back UAA crowns. Women's tennis players competed at the NCAA Championships for the first time in school history. And baseball won an ECAC title outright for the first time ever.

Some highlights:

Track and Field: Rochester's track success has typically been determined by field event performers and distance runners. This year, the Yellowjackets relied on sprinters to carry them.

Mario Simpson '99 was named Most Outstanding Performer at the indoor championships, singled out as winner of the 55- and 200-meter runs and a runner on the winning 1,600-meter relay.

Following suit, Andy Locke '01 captured Most Outstanding Performer honors at the outdoor meet: He won the 100- and 200-meter runs and ran on the winning 1,600-meter relay.

Tennis: Jill Mazza '01 and Kristy Brown '00 of the women's tennis team competed at the NCAA Division III individual national championships. Mazza was an automatic qualifier in singles, and she and Brown were first alternates at doubles. They played when one of the 16 scheduled teams was forced to drop out. Rochester lost in the first round of both singles and doubles play.

Baseball: The Yellowjackets used timely hitting and solid pitching to win the ECAC Upstate New York Championship. The team had shared the title in 1989 and 1990. This time, however, Rochester defeated SUNY College at Brockport, 9­6, in the semifinals and knocked off St. Lawrence, 8­4, in the title game later that day. Bobby Versacci '99, who hit three home runs in the two games (two against Brockport), was named the ECAC MVP.

Over the season, Versacci hit a record 15 home runs, breaking the single-season mark of 12 set by Tom Havens '91. Versacci was named All-ECAC, All-Region, All-UCAA, All-UAA, and Co-Player of the Year in the UCAA.

Among other standouts: Pitcher Aaron Jacyna '98 was an honorable mention All-Region choice. Chris LaRocco '99, a right-hander, won six straight decisions, including the 8­4 triumph over St. Lawrence, to lead the mound staff.

In Brief: Laurie Kurtelawicz '99 won the 1,500-meter run at the New York State championships outdoors. . . . Golf finished second at both the UAA and UCAA championships. . . . Men's tennis, under first-year coach Chris O'Brien '93, was third at UAAs and UCAAs. . . . Squash finished second in C Division of the National Squash Racquets Association championships. . . . Men's basketball saw 13 of its last 14 games decided by 10 or fewer points . . . . Women's swimming was third at Uncaps; men's was fifth. Both swim teams finished sixth at UAAs. . . . Softball made its varsity debut.
Winter/Spring Season Records
Women's lacrosse: 8­7
Baseball: 23­17
Women's tennis: 15­4
Men's tennis: 9­8
Men's basketball: 12­13
Women's basketball: 4­20
Squash: 6­9
Softball: 8­16
Men's swimming: 1­8
Women's swimming: 5­4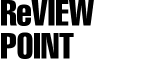 An occasional column of faculty opinion
The Evidence on Class Size
By Eric Hanushek

A wave of enthusiasm for reducing class size in American schools is sweeping the country, yet the evidence shows that smaller classes do nothing to raise the level of achievement for a typical student.

This conclusion is frequently greeted by surprise. Why? Because people want to believe that small is better. In reality, the effects of class size have been studied more intensively than any other aspect of schools. Time and again, the results simply do not support the types of policies that have been recently proposed or undertaken around the country. Broadly reducing class size is extraordinarily expensive and, as shown by years of research and experience, very ineffective.

There are powerful reasons for us as a nation to expand and improve investment in human capital. The strength and vitality of our own economy depend on having skilled workers who can compete in the international economy. But that need should not lead to unqualified support for policies that involve haphazard and ineffective spending on schools.

A thorough review of the scientific evidence provides no support for broad programs of class-size reduction.

Between 1950 and 1995, pupil-teacher ratios fell by 35 percent. While we do not have information about student achievement for this entire period, the information that we have from 1970 for the National Assessment of Educational Progress (NAEP) tests indicates that our 17-year-olds were performing roughly the same in 1996 as in 1970.

The aggregate trends cannot be explained away by a worsening of students over time. While some family factors have worsened--increased child poverty and fewer two-parent families--others, such as better-educated parents and smaller families, have improved.

Nor does appeal to the mandated increases in budgets for special education explain the ineffectiveness of past reductions in class size and increases in spending. Even though special education is more expensive, it simply is not large enough to rationalize past resource growth.

Extensive statistical investigation of the relationship between class size and student performance shows as many positive as negative results. I have reviewed all available econometric studies of the determinants of student performance. After analyzing close to 300 separate studies on the effect of class size, I find no reason to expect performance improvements from lowering class sizes.

Much of the current enthusiasm for such reductions is supported by references to the results of a random-assignment experimental program in Tennessee in the mid-1980s. Students in Project STAR were sent either to small classes (13 to 17 students) or large classes (21 to 25 students with or without aides). They were kept in these small or large classes from kindergarten through third grade, and their achievement was measured at the end of each year. At the end of kindergarten, kids in small classes scored better than those in large classes. They maintained this differential for the next three years.

If smaller classes were valuable in each grade, the achievement gap would have widened. It did not. In fact, the gap remained essentially unchanged through the sixth grade, even though the experimental students from the small classes returned to larger classes for the fourth through sixth grades. The inescapable conclusion is that the smaller classes, at best, matter in kindergarten.

What the public ignores is considerable evidence showing that the quality of teachers by far has the most dramatic impact on student achievement. Thus, whether or not large-scale reductions in class size help or hurt will depend mostly on whether or not any newly hired teachers are better or worse than the existing teachers.

Unfortunately, the current organization of schools and incentives to hire and retain teachers do little to ensure that the teacher force will improve. If we are to have a real impact on teaching, we must evaluate actual teaching performance and use such evaluations in school decisions.

The largest impediment to any constructive change is that no one in today's schools has much of an incentive to improve student performance. Careers simply are not made on the basis of student outcomes. The flow of resources is not related positively to performance--indeed it is more likely to be perversely related to performance. The unfortunate fact is that we have little experience with alternative incentive structures.

A very productive use of state and federal funds would be to conduct a series of experiments to evaluate improvements. Minimally, instead of funding smaller classes everywhere, the state and federal governments could team together to mandate more extensive trials and evaluation of the benefits of lowered class sizes, à la Tennessee.

Much of our knowledge about treatment therapies in medicine is directly related to prior experimentation. The last period of social experimentation by the federal government during the 1960s and 1970s produced many useful policy insights. A new program of trials with altered performance incentives could place an indelible positive stamp on the nation's future.

Today we do not know enough to develop an effective program of improvement. Nor will continuation of past research programs help, because they must rely upon the existing structure of schools with the existing incentives--or lack of incentives.
---
Hanushek is professor of economics and public policy and director of the University's W. Allen Wallis Institute of Political Economy. From 1983 to 1985, he was deputy director of the Congressional Budget Office.