---
ALUMNI LEGACIES: WHAT GOES AROUND . . .


Patricia Gallant Wasserman '71

When Patricia Gallant Wasserman '71 entered Rochester, chances are some of her fellow students were wearing some of those newfangled platform shoes. When her daughter Leah entered the University this fall as a member of the Class of 2002, women students were once again wearing those platform shoes along with their newly revived bell-bottom jeans. What goes around definitely comes around, including new generations of alumni families.
| | |
| --- | --- |
| | Leah Wasserman |
Leah is the third generation in the family to become a Rochester student. Her grandparents, the late Leonard Gallant and Dorothy Levy Gallant '43, both attended the University. Other family alumni include uncles and aunts Andrew Gallant '69 and Janet Bernstein Gallant '70, and James Gallant '73M (MD) and Janice Matson Gallant '73.

"Leah is excited to be so well connected to the University of Rochester," writes mom Patricia.

Here's a list of other alumni offspring entering the College this fall, along with their parents, as reported to us in September. If we've missed anyone, please let us know!

Abrams, Matthew--Joseph Abrams '74S (MBA)

Aglietti, Rachel--Susan Burke Aglietti '66

Anaizi, Amjad--Dr. Nasr Hamed Anaizi '82 (PhD)

Armstrong-Brown, Janelle--Sonya Armstrong '97 (PhD)

Beagley, Starbuck--Daniel Beagley '85S (MBA)

Blenner, Matthew--Barry Blenner '71

Bock, Daniel--Richard Bock

Bonino, Christopher--Samuel Bonino '72 (Mas)

Branower, Joshua--Andrew Branower '70

Braunstein, William--Marc '75 and Claudia Rothchild Braunstein '74

Calman, Kurt--Diane Calman

Caplan, Laura--Steven Caplan '75M (MD), '77M (Res)

Chiao, Leo and Max--Wen '77 (PhD) and Yu-Chih '76 (PhD) Chiao

Delaney, G. William--Gerald Delaney '71 (Mas), '80S (MBA)

Dillaway, Sierra--Gail Dillaway '69

Dugan, Louise--Wendy Kimble-Dugan '74

Enders, Laramy--Sandra Enders '89 (Mas)

Epstein, Shoshanna--David Epstein '71, '72S (MBA)

Gabbai, Marco--Jacques '75 (Mas) and Mary Goodenow Gabbai '72

Gombert, Sara--Laurie Liskin '71

Hafner, John--James Hafner '65S (MBA)

Hakiel, Elizabeth--Zbigniew Hakiel '77, '89 (PhD)

Hammond, Paul--Gary Hammond '78

Hesterman, Jacob--Peter Hesterman '78E (PhD)

Hollander, Jamie--Jeffrey Hollander '60E, '61E (Mas)

Hoskins, Jason--James Hoskins '74E

Izenstein, Charles--Paula Algranati '72

Jacobs, Aaron--Stephen '70, '76 (PhD) and Leslie Harris Jacobs '71, '75 (Mas)

Jones, Leslye--Rhonda S. Jones '72

Kalburgi, Sonal--Ashok Kalburgi '83S (MBA)

Kim, Jeffrey--Shin Seung Kim '72 (Mas)

King, Andrew--Earle '72E and Paula Hunsicker King '72E (Mas)

Lay, Michelle--Yunan Lay '81 (Mas)

Lin, Wincheng--Ying-Wei Lin '74 (PhD)

Liu, Nathaniel--James Liu '81 Res

Lowell, Julie--Jonathan '70 and Margaret Trani Lowell '72N

Meltzer, Cassie--Richard '69 and Judith Levy Meltzer '69

Morris, David--Mark Morris '79 (Mas), '95S (MBA)

Mueller, Benjamin--Ann Winn-Mueller '71

Niswander, Craig--Richard Niswander '72 and Barbara Lewis Stafford '72

Norris, Erica--Gregory Norris '73, '79S (MBA)

Petrondas, Stella--Demetrios Petrondas '82 (PhD), '84 Res

Rao, Sonaly--Satish Rao '69 (Mas)

Robbins, Jonathan--Anna Greenbaum Robbins '68

Rosen, Seth--Richard '69 and Ann Gold Rosen '70

Ruskin, David--Paul Ruskin '74

Solomon, Alan--Elizabeth Kraus Solomon '70, '73 (Mas)

Strumpf, Michael--Hal Strumpf '65

Strychalski, Elizabeth --Hideki Sugiyama '82S (MBA)

Taylor, Tiffany--Richard Taylor

Vitek, Daniel--George Vitek '81M (Res)

Warren, T. Camber--Patti Gupton Warren '80N

Wasserman, Leah--Patricia Gallant Wasserman '71

Whitfield, T'hani--Lawrence Whitfield

Yao, Kairu--Meng-Chao Yao '76 (PhD)

Zeldis, Beth--Steven Zeldis '68
---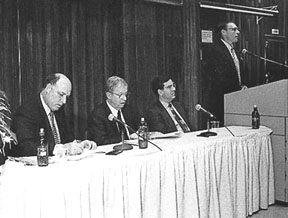 An insider's look at Wall Street: Ronald Fielding '73, '76S (MBA), senior vice president of the Oppenheimer Funds, Inc.; University trustee Martin Messinger '49, general partner, Neuberger & Berman; and Professor of Economics Alan Stockman shared some of their expertise with some 140 Rochester-area alumni in a presentation last spring. That's Terry Gurnett '77, director of regional programs in the office of Alumni Relations and Development, at the lectern introducing the panel. (For more on Messinger--and to find out why the periodical reading room at Rush Rhees Library is being renamed in his honor--see In Review.)
---
TO CONTACT A CLASSMATE VIA THE UNIVERSITY . . .
If you would like the Alumni Association's help in contacting a classmate or friend, please write that person a letter (specifying the individual's name and class year) and send it--in a sealed envelope if you prefer--to the Fairbank Alumni House, University of Rochester, P.O. Box 278993, Rochester, NY 14627-8993. We will then forward the letter.

We forward these requests to protect the privacy of our 79,000 alumni. The Alumni Association does not, without permission, share the addresses or phone numbers of alumni with anyone, including fellow alumni.
---