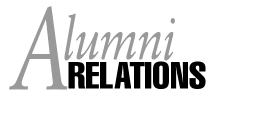 THE 'PLACE' PLACE
For most students in the early 1950s, calling on the dean of men to ask for a week off from classes to go sailing at Bermuda might be a bit intimidating. Imagine that the dean is the uncle of your girlfriend and you understand the boat Robert Place '54 was in one spring day.
Place needed the permission of Lester O. Wilder '11, the uncle of his future wife, Patricia Goodenough, to attend a sailing meet in the Caribbean. Place, the first fleet captain of the University's Sailing Club, had been asked to be a crew member by a friend of his father's who was the skipper of one of the yachts in the meet.
"Back then, it was a big deal to go over there for a week," says Place, reminiscing about life before "spring break" had become a seemingly mandatory part of college life.
After getting permission from Wilder, Place could have stopped in to see another future uncle-in-law, Raymond L. Thompson '17, the University treasurer. Place had met both men at family gatherings.
"I'd known those men since I was a freshman in high school," he says.
Place himself was something of a legacy student. Both his father, E. William Place '25, and mother, Eleanor Rand Place '24, had graduated from the University.
When he married Patricia Goodenough--she graduated from Wells College in 1953--the University connections grew exponentially.
All together there have been 14 graduates in the Place-Goodenough families. In addition to Wilder and Thompson, other graduates include Pat's father, Swayne P. Goodenough '13; Bob's aunt, Stella Rand Hill '31; Pat's sister, Ann Goodenough Dinse '45, and brother-in-law, John Dinse '47; plus cousins Cynthia Wilder Mott '44, Jane Thompson Southgate '45, and Curtiss Rand Hill '59; and nephew David Goodenough Merrill '84.
Bob and Pat's son, Charles W. Place '86, earned an M.B.A. from the Simon School in '92.
In addition to serving in the Sailing Club, Place was a captain of two Yellowjackets basketball teams, setting a University record in the '52-'53 season for free-throw shooting at 88 percent. The record stood for 30 years. In 1997, Place was inducted into the University's Hall of Fame.
After serving in the U.S. Navy, Place worked for 34 years at Rochester's Lincoln First Bank and retired in 1990 as a senior vice president of the bank's parent company, Chase Manhattan.
He currently is helping organize the Early Fifties 50th reunion to be held October 13-15, 2000, the same weekend as the University's Sesquicentennial celebration.
"The University has been a real bedrock in my life," Place says.