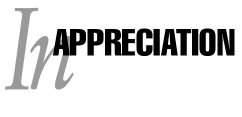 THAT'S MS. SAMMY TO YOU
Leslie Spira Lopez '77 had some experience in diversifying a small section of the campus when she was an undergraduate. One of the first women to live in a fraternity house during the brief time in the mid-1970s when houses opened their doors to the opposite sex, Spira Lopez is now helping create a more lasting diversity.
She made a donation to the College to finance scholarships for Hispanic students. The gift acknowledges her husband, Mark, a civil rights attorney for the American Civil Liberties Union (ACLU). He put himself through college and law school through hard work, Army programs, and some scholarship help.
"Mark and I simply thought it would be nice to provide some of the opportunities that I had to some very deserving minority students who might otherwise have a difficult time paying their tuition," Spira Lopez says.
Spira Lopez, who lived for a year in the Sigma Alpha Mu house, is now executive vice president of Kew Management Corporation, a commercial real estate management firm founded by her grandfather in 1953. She earned a bachelor's degree in mathematics from the University, an M.B.A. from Columbia University in 1993, and worked for 11 years in the computer industry doing software development at the forefront of the Internet boom before joining the family's Manhattan-based business.
She remains in contact with many of her classmates--those she met through the Sammy house and elsewhere.
"Most of my closest friendships were made at Rochester," she says. "I had a great experience there."
Says Robin Lynn '70, director of the University's New York Regional office: "She strikes me as the linchpin around which everyone in the class operates."
As for living in the Sammy house: "It was no different from living on the Hill," Spira Lopez says. "Or living in a big family. It was like having many brothers--our brotherhood had no gender boundary.
"The girls on my freshman floor all wanted to live together, and the Sammies--and most fraternities at that time--had a declining membership. At the encouragement of one of our friends who was a Sammy we decided to all join together."
And she admits it's still fun to walk into the house and say to the men living there, "'I'm a Sammy.' And then I give them the secret Sammy handshake."