The story opens with the 1962 Co-Kast production of Bye-Bye Birdie. Robert Forster (then known as Robert Foster) is a 20-year-old history and psychology major in the College, pondering a future as a lawyer.

He spots a girl in a black raincoat. He wants to talk to her.

"As I was trying to think of what to say, I followed her into an auditorium," Forster says.

There, auditions were under way for the College's production of the Broadway musical, composed by Tony Award-winner Charles Strouse '48E, about a rock 'n' roll star about to be drafted.

Forster lingers, still hoping to talk to the girl. To maximize his chances, he tries out for the musical--"I wanted to be the guy in the yellow suit"--and ends up with a small role in the chorus.

"But the girl was in the play, so I was happy," Forster says.

He eventually works up the nerve to talk to the girl--June Provenzano--and by the end of the year, finds he's hooked on acting.
A Fistful of Forsters

Movies featuring Robert Forster '64 scheduled for 1999 release:

Supernova, directed by Walter Hill. A science fiction adventure co-starring Angela Bassett, Lou Diamond Phillips, and James Spader.

All the Rage, directed by Jim Stern. Co-starring Joan Allen, André Braugher, Josh Brolin, Jeff Daniels, Anna Paquin, Giovanni Ribisi, David Schwimmer, and Gary Sinise.

Great Sex, directed by Paul Chart. Co-starring Fairuza Balk, Amanda Plummer, Chris Sarandon, and David Thewlis.

Kiss Toledo Goodbye, directed by Lyndon Chubbuck. Co-starring Nancy Allen.

The Magic of Marciano, directed by Tony Barbieri. Co-starring Nastassja Kinski, Jason Cairns, and Cody Morgan.
"When I graduated, I didn't want to be a lawyer anymore; I wanted to be an actor," he says. "But I didn't know how to do it."

After a brief stint in Rochester community theater, Forster and Provenzano (they married in 1966; divorced in 1975) move to New York, where he finds work and an agent. And then it's off to Hollywood.

Roles in a few major motion pictures follow, with Forster cast against such stars as Gregory Peck, in The Stalking Moon, and Elizabeth Taylor, in Reflections in a Golden Eye. He receives rave reviews for his role as a cameraman in the 1969 movie, Medium Cool.

The major studios--Fox, United Artists, Universal--are all sending scripts. The young actor is hot, a success, a star.

CUT.

That's a wrap. Story's over. The end. End on a high note. Always leave 'em wanting more.

If this were a movie and if Forster were directing it 30 years ago, perhaps that's where the story would have ended. But it's not a movie.

The story takes a turn for the worse.

CUE somber organ music.

ACTION.

The best roles come less frequently. There are a few characters that are fun to play, quasi film noir efforts like the television series Banyon and roles in cop shows. Action movies. Cheap thrillers.

More often than not, Forster is the terrorist, the criminal, the thug.
"I got stuck in a lot of crappy roles," Forster says now of those years. "I played Gaddafi, I played Noriega, I played the guy who tossed the hostage off the boat.
"I played every heavy there was for 15 years," he muses. "What a miserable bastard I was."
But even in the heaviest of roles, Forster's skill and professionalism stand out.
How Do You Pick,
Mr. Peck?

Early in his career, Robert Forster asked screen legend Gregory Peck how he chose his movie roles. The two actors were filming the western The Stalking Moon in 1969, about the time Forster's self-professed "first act" was coming to a close.

"Peck said he had asked the same question when he was starting out," Forster recalls. "He asked Montgomery Clift, and Clift said, 'You have to be very, very, careful about the roles you do. You have be very selective because you want to protect yourself.'

"So Peck asked Gary Cooper, and Cooper said, 'You have to work all the time. Never pass up a job because only a few movies each year are going to be hits.'

"Peck said, 'If you look at their careers, it doesn't seem to matter which method you choose. They each had about the same number of hits.'"

And the lesson for the then young actor?

"I'm of the school that I only have a certain number of years to work, so I take what I can get and then deliver the best work I can," Forster says. "I have to deliver the goods now. In the moment. Time is all you have, and now is the only time you can deliver excellence."
Describing Forster's role as the Middle Eastern terrorist Abdul in the 1986 Chuck Norris vehicle The Delta Force, film critic Roger Ebert says, "As Abdul, the chief terrorist, [Forster] gives a frighteningly good performance, intense and uncompromising. He makes the threat real and keeps The Delta Force from becoming just an action comic book."

MEANWHILE, somewhere in suburbia:
A young wannabe filmmaker named Quentin Tarantino is watching reruns of Banyon. As a video store clerk, he's a connoisseur of B-movie schlock, of movies like Alligator, Vigilante, and The Delta Force.
There's something about this Forster guy that catches his eye. . . .
MEANWHILE, somewhere in Great Britain:
Another young wannabe filmmaker, named Paul Chart, also is watching reruns of Banyon. He, too, is a connoisseur of B-movie schlock, of movies like Walking the Edge, Committed, and Esmerelda Bay.
There's something about this Forster guy that catches his eye. . . .
FLASH FORWARD to Hollywood, circa 1985:
Forster, having trouble getting any acting roles that pay more than union scale, hires himself out as a drama teacher to help make ends meet. He becomes a motivational speaker, developing a multi-presentation program he calls "Interacting."
He gives the presentation to any group that is willing to listen. FREE.
At the core is what Forster calls his "Three-Step" program. It is, he says, based on his own experience.
Step I: "Have the right attitude." No matter what you may think of your situation and whatever grudges and blame you harbor, let it go, get past it. It's only holding you back.
Step II: "Deliver excellence right now." "NOW is the only moment you've got control over," Forster says. "No matter how bad the job, no matter how dopey the job, deliver excellence and you've given yourself the best shot you can for success."
Step III: "Never quit." "No matter how bad things get, you can still win it in the late innings," he says. "It ain't over till it's over. All of that."
The program, he says, is the kind of well-worn truths that most people know about life, but are often unwilling to put into practice.
But the rewards are manyfold.
"The reward is self-respect and satisfaction," he says. "Once you figure out what's important in life, you always get paid the dividend of self-respect, respect from others, and satisfaction. That's the real McCoy."
CUT.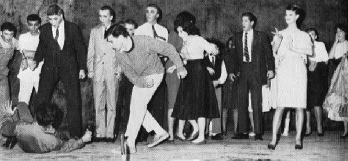 The 1962 River Campus production of Bye-Bye Birdie that gave Forster his first taste of an actor's life (in the chorus, actually; he is believed to be the overalled character on the far left). "When I graduated, I didn't want to be a lawyer anymore," he says now.

Story ends on inspirational note. Actor finds measure of happiness despite career slide.

But the audience wants more.

ACTION.

The scene opens in the late 1980s with the actor pondering the turns his life has taken from his beginnings in Rochester.

"I kept hoping during my 25-year slide that some guy who had liked me as a kid would grow up to be a filmmaker," he says. "Turns out I had two such guys."

SLOW DISSOLVE to another part of Hollywood:

Tarantino, the iconoclastic director who left his video-clerk job to pursue his dream of making movies, has written a script about five ruthless bank robbers. He looks up Forster and asks him to read for one of the parts in the movie that would become Reservoir Dogs.

Forster doesn't get the part, but Tarantino tells him, "I'll be back."

After the critical success of Reservoir Dogs, Tarantino makes the 1994 instant cult classic Pulp Fiction. The movie resurrects another promising 1970s career on the skids--John Travolta's.

FADE to yet another part of Hollywood:

Chart also has written a movie. A police thriller he calls American Perfekt. He tells Forster he wants him to star in the film, but his backers are looking for a bigger name. A few weeks later, he returns to say he now has new backers for the small independent film, and Forster is his man.

Shooting on the film is wrapped up in 1996.

JUMP cut:

Tarantino, true to his word, has returned with a new script, a story called Jackie Brown, loosely based on Elmore Leonard's novel Rum Punch. Tarantino asks Forster if he's interested in the role of a Delfonics-loving bail bondsman, Max Cherry, who develops a different kind of bond with the movie's title character, played by 1970s star Pam Grier.

"This was a script that everybody in town was after," Forster says. "Tarantino had DeNiro after him. Everybody wanted to be Max Cherry."

When Forster is given the part, Tarantino immediately puts him at ease.
And the Oscar Goes to . . .

A few nights before last year's Academy Awards presentation, a friend of Robert Forster's cautioned him about being overeager.

The veteran actor was nominated in the best supporting actor category for his role as Max Cherry, the film noir bail bondsman in Quentin Tarantino's movie Jackie Brown.

Along with Forster, the nominees were Anthony Hopkins for Amistad, Greg Kinnear for As Good As It Gets, Burt Reynolds for Boogie Nights, and Robin Williams for Good Will Hunting.

"My friend said, 'Bob, listen. When the guy on the stage opens the envelope and says, "And the Oscar goes to . . . ROB--in Williams," don't make a fool of yourself.'

"I was firmly planted in my seat," Forster says. "I wasn't going to make that mistake."

But is the old saw about an Academy Award nomination being reward enough really true?

"I figured it was a very, very long shot," Forster says. "But the nomination has given me my career back. And it's created a tremendous amount of good will. That's astounding.

"For a guy who could not get a job just a few years ago to now have people come up to me on the street and say nice things--it's just astounding."

"He knew I hadn't worked at this level in a while," Forster says. "But he said, 'Don't worry, I got a lot of film. If I have to get you from the chair to the door, I got enough film to go around the world to do it with.'

"In my book, Tarantino is one great guy," Forster says.

CRITICS AGREE. (At least with the part about Max Cherry being a great role.)

People magazine says: "The real surprise here, though, is the touching turn by [Forster] as an aging bail bondsman who's sweet on Grier."

The Chicago Tribune says: "And (in another Tarantino reclamation project) [Forster], the feral star of 1969's Medium Cool but rarely seen since, shines as a mellow, melancholy bail bondsman named Max Cherry, who falls for Jackie and helps weave her web."

Forster, the actor who couldn't get out of B-movies just a few years before, wins one of five coveted Academy Award nominations as best supporting actor in a motion picture.

USA Today gives Forster an "outside chance" of taking home the award.

The tuxedo is pressed for the big night in March.

AND THE OSCAR GOES TO . . .

Somebody else. (Robin Williams, actually, for his role in Good Will Hunting.)

CUT.

Another nice ending. Forster wins recognition, if not the award, for his 35 years of dedication to the profession of acting.

EPILOGUE.

"I have not stopped working, practically, since the day after the Academy Awards," Forster says. "I've had a few days off, but I've been very, very busy."

In 1998, he appeared in Gus Van Sant's meticulous remake of the classic Psycho, in the film Outside Ozona, and in the television production of Rear Window, co-starring Christopher Reeve.

He has five movies scheduled for release in 1999, including an ensemble drama called All the Rage, which he finished shooting just before the end of the year.

The film also features Joan Allen, Gary Sinise, Jeff Daniels, André Braugher, and Anna Paquin.

"It's the best work of my career so far," Forster says.

Other films due for 1999 release include Supernova, Kiss Toledo Goodbye, and The Magic of Marciano.

More roles await.

"I had a five-year first act--ascending--and a 25-year second act--mostly descending," Forster says. "And now I'm at the start of a third act.

"And it looks like I'm ascending again."

ROLL CAMERAS.
---
Scott Hauser is associate editor of this magazine. This is his first movie script.