Bringing special students into the life of the campus
A Shared Education
| | |
| --- | --- |
| | Lunch in "the Pit" |
Sherry Stulpin-Cretelle is a builder of bridges for young people who are earnestly trying to make a transition from school to work, from a world with limits to a life of independence. And this teacher at Monroe No. 1 Board of Cooperative Educational Services does it in a novel "classroom"--the River Campus.

The BOCES students, young adults with developmental disabilities, have found on the campus an environment they've never known before: a place where they and their college-student contemporaries can learn from one another.

Spending half the day at a paying job, Stulpin-Cretelle's students spend the other half on campus continuing their education through a special BOCES program that meets year-round.

For all practical purposes, the whole campus is Stulpin-Cretelle's classroom. Basics such as writing checks, buying lunch in Wilson Commons or stamps at the post office, and maneuvering from place to place fulfill many of the assignments she gives her class.

Links forged with the School of Medicine and Dentistry several years ago moved BOCES to ask about renting available classroom space. University officials agreed, but weren't content to just let out a room.

"We wanted to bring BOCES students into the life of the campus, and for our students to learn about a group that would be educationally enriching," says William Scott Green, dean of the College. The arrangement, now in its third year, has spawned useful academic and social interactions.

Loisa Bennetto, assistant professor in the Department of Clinical and Social Sciences in Psychology, says working with the BOCES class offers invaluable insights for undergraduates.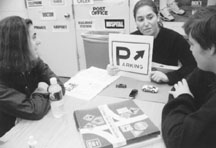 Coaching session on rules of the road

"This is an opportunity for people in many different disciplines--psychology, medicine, political science, law, health and society, and genetics--to learn about developmental disabilities," she notes.

Since the BOCES students, who are 18 to 21, started meeting on campus, a cluster of psychology courses has been built around aspects of developmental disabilities.

"In daily interactions, the BOCES class gives Rochester students an exposure to people with different social, physical, and learning skills," says Bennetto, who directs an internship centered on developmental disabilities.

To handle details and to stay responsive to student needs, the Department of Clinical and Social Sciences in Psychology at the College and the Strong Center for Developmental Disabilities at the medical school continue to cooperate.

Undergraduates act as coaches for the BOCES students and also help to develop projects relevant to Stulpin-Cretelle's curriculum. Beyond their coursework, participating College students are also learning about career possibilities in the biological and social aspects of mental retardation, autism, and related disorders.

Some of Bennetto's undergraduates have participated in research related to developmental disabilities, and a number of them have gone on to graduate programs in psychology and special education.

This unique partnership has reshaped what many would consider a traditional special education class. State education officials say they don't know of another program like it within the state, although services for BOCES students in their late teens can take many forms and sometimes are offered on community college campuses.
| | |
| --- | --- |
| | Brushing up on phone technique with Stulpin-Cretelle |
As word spreads about the program, more students have applied than the teacher, the aides, and the specialists who work with her can handle.

The level of confidence Stulpin-Cretelle sees in her students amazes her. She believes a great deal of their growth stems from being with others their age and experiencing new things.

"I told the kids we were pioneers," says Stulpin-Cretelle, who pushed for the concept and worked with a team to fashion the program. "They've really grown from this experience. And as we become more noticed on campus, we can do more and more."

Maintained by University Public Relations
Please send your comments and suggestions to:
Rochester Review.