LEARN-ALONG WITH MITCH: FAMED GRADUATE RETURNS TO EASTMAN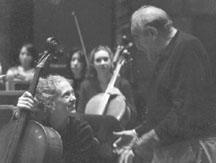 The guiding principles behind the extraordinary career of Mitch Miller '32E were hard to miss during the 88-year-old maestro's visit to the Eastman School last fall.
An example: With just two days of rehearsal time left before a concert as guest conductor of the Eastman Philharmonia, Miller's perfectionism--along with his unbridled enthusiasm for speaking his mind--was on full display.
"If I sound impatient, it's because you do some things so marvelously," he said from the conductor's dais, stopping the student orchestra several times before it had played even a dozen bars. "Why not do them all that way?"
Such were the lessons Miller brought to his three-week stint as artist-in-residence at his alma mater. During his residency, he taught master classes, met with students, and conducted the Eastman Philharmonia in a visit-culminating concert.
Outspokenness in defense of excellence is a lesson that Miller has honed during his 70-year career as an accomplished oboist --the instrument he specialized in as a student--top-10 record producer, successful record company executive, television personality, and conductor.
In February, Miller was honored by the National Academy of Recording Arts and Sciences with a Lifetime Achievement Award during the annual Grammy Awards presentation.
Perhaps best-known for his television show, Sing-Along with Mitch, a show whose nearly four- year television run was over before today's current students were born, Miller says he connects with his younger proteges because they are eager to learn.
He admits that today's music students may be better instrumentalists than students of his generation, but his goal is to bring out what he calls the "mysterious 10th sense" required for true musicianship.
"A good conductor can do that," Miller says. "I try never to say, 'This is wrong.' I say, 'Do what you're doing, but do this, too.' "
A Life Trustee of the University, Miller says he's impressed with the direction the Eastman School is headed.
"Nowhere else in the world does a music school have the facilities to recreate the world that these students are going to go to," he says.
His advice for those students?
"The whole point is, do what you love doing, do it to the best of your ability, and excellence will always win in the end."
Maintained by University Public Relations
Please send your comments and suggestions to:
Rochester Review.