CELEBRATION
Sesquicentennial Weekend, October 12-15, 2000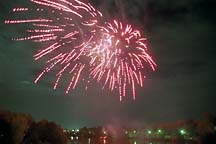 For one golden weekend in October, a wonderfully assorted mix of nearly 8,000 alumni, faculty, staff, students, parents, and other friends and relations of the University family happily jammed the River Campus for a once-in-a-lifetime celebration of the University's 150 years of academic life.
Exceeding expectations both in attendance (7,805 people registered, almost 5,000 more than hoped for) and level of satisfaction (expressed in words like "awesome," "incredible," "fantastic," and "energizing"), the Sesquicentennial celebration was, as President Jackson pronounced it, "an extraordinary experience."
By all accounts the biggest and best party in University history, Sesquicentennial Weekend broke new ground, setting the stage for future annual events resonating the celebratory spirit and intellectual energy of last fall's festivities.
From the blazing fireworks over the Genesee River to the eminently satisfying triple-overtime win in the Homecoming football game to the array of brain-tingling discussions headlined by such notables as actor Robert Duvall, historian Doris Kearns Goodwin, and Surgeon General David Satcher '72M (Res), Sesqui offered something for everyone.
The future of higher education, academic medical centers, space exploration, the motion picture industry, and sports all offered fodder for lively discourse, as did other topics of current interest ranging from politics to religion, child development to successful aging, and quantum physics to computers.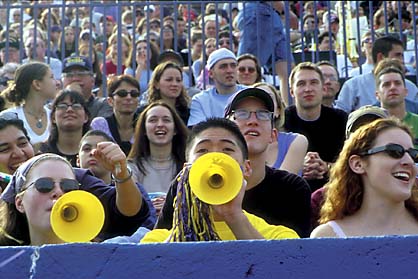 Adding to the bubbling mix were special events for Reunion classes, Family Weekend participants, and Yellowjacket fans. And, over at the Medical Center and the Eastman School of Music, their alumni were, respectively, observing a 75th anniversary and a triennial reunion. Prefatory to all this were a score of regional celebrations throughout the preceding year attended by nearly 3,000 alumni and friends.
The result of two years of planning and months of intense effort on the part of many people (including over a thousand hard-working alumni and student volunteers), Sesqui was coordinated by the College and chaired by Trustee Joe Mack '55. The program, very much a home-grown enterprise, featured 91 invited speakers, of whom the majority were alumni and faculty, with many other speakers and performers contributing their participation as friends of the University.
"The synergy was incredible," says Dean of the College William Scott Green, referring to "packed houses whose audiences were drawn by top-class intellectual programming."
"We had an array of excellent speakers and presenters-in many cases, the best people in their fields," he said. "And we also had engaged and articulate audience members who asked thoughtful, penetrating questions. It was the interaction between the people on the stage and in the audience that made Sesquicentennial a success."
Adds Thomas LeBlanc, the Robert L. and Mary L. Sproull Dean of the College Faculty:
"It's difficult to describe what an energizing event Sesquicentennial has been, and not only for the more than 2,500 alumni who returned to campus and became reacquainted with Rochester and what it means to them. On campus, morale is sky high. Students, faculty, and staff all contributed to the success of the weekend, and the payoff for them has been enormous in terms of renewed interest in the life of the University and a renewed connection to the alumni who have made Rochester what it is today.
"We hope to keep the momentum of Sesquicentennial going, and we plan to build on its success for many years to come."
On the following pages you will find recounted some of the moments of delight and discovery afforded by this milestone moment when the University community came together to celebrate the past and imagine the future. For more on Sesquicentennial, visit www. rochester.edu/sesqui.



Maintained by University Public Relations
Please send your comments and suggestions to:
Rochester Review.