Celebrating 100 Years of Education for Women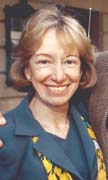 Goodwin
One hundred years after she sparked the admission of women to the University, the spirit of Susan B. Anthony was very much a presence at the Sesqui celebration.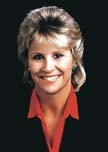 de Varona
Ten women graduates, one for each decade, were honored at the Sesquicentennial Convocation for having demonstrated Anthony's two strongest attributes-courage and skill-through their life work.
At other ceremonies during the weekend, two distinguished guests, Pulitzer Prize- winning historian Doris Kearns Goodwin and women's sports activist and Olympic gold medal swimmer Donna de Varona, received commemorative awards from the Susan B. Anthony Center for Women's Leadership.
Goodwin received the Susan B. Anthony Legacy Award honoring her as a historian and social commentator. De Varona received the Susan B. Anthony Trailblazer Award for her role in the passage of Title IX of the Equal Education Amendment Act of 1972 and the Amateur Sports Act of 1978.
Maintained by University Public Relations
Please send your comments and suggestions to:
Rochester Review.