Tackling the 'Pipeline Problem'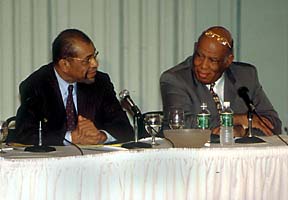 Arnold Mitchem, president of the Council for Opportunity Education, with Howard graduate dean Orlando Taylor.
Five hundred years is a long time to wait for the first African-American doctorate-holding mathematics teacher to arrive at the college or university down the street.
But that's how long Orlando Taylor, dean of the graduate school at Howard University, figures it will take before each of the 3,500 or so postsecondary educational institutions in the United States has a black mathematician on its faculty.
The computation was off the cuff. It's based on current estimates that only seven African-Americans receive a doctorate in math each year and assumes, as speakers can in panel discussions, that none of the graduates would die or choose to do something else. But it illustrated Taylor's larger point that quality education needs to become more inclusive.
"We have a pipeline problem," he pointed out.
Finding ways to increase the number of minorities in graduate education as well as in higher education generally was the focus of the Frederick Douglass Symposium, a 90-minute session subtitled "The Status of Underrepresented Minorities in Higher Education."
Taylor said more minorities are now continuing their education beyond high school, with African-American students making up nearly 10 percent of the undergraduate population in America. That nearly mirrors the general population of 12 percent.
But, he said, community colleges enroll the highest percentage of minority students and elite, private universities the lowest.
At the graduate level, only about 4 percent of the student population is African-American.
Waldo E. Martin, Jr., professor of history at Berkeley, was more blunt about the status of minorities in higher education.
"It's bad, getting worse, and is in desperate need of help," he said.
He and the other panelists urged universities and policymakers to be more creative in addressing minority enrollment.
Better advising and mentoring, better cultural sensitivity among current faculty, less emphasis on test scores, and support programs such as child care-all need to be considered, panelists said.
"We need to think more deeply about what we want," Martin said. "If we want black doctors and Latino doctors, if we want Native American lawyers, then we have to train them."
Maintained by University Public Relations
Please send your comments and suggestions to:
Rochester Review.