From Blue Books to Bandwidth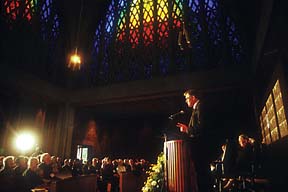 President Emeritus Dennis O'Brien: He and the panel agreed that "elbow to elbow" education will not soon, if ever, go out of style.
The lessons of 150 years of university education delivered "off-line" will resonate far into the future, no matter how "online" that future becomes, panelists gathered to discuss the past and future of higher education agreed.
The "elbow-to-elbow education" that has been the hallmark of the nation's best universities and colleges will not soon, if ever, go out of style, the panel of past and current presidents at Rochester and other prestigious institutions argued.
But electronic technology such as the Internet is likely to make inroads, and universities should recognize that, said Hugo Sonnenschein '61, president emeritus of the University of Chicago.
Noting that several elite universities, including Stanford, Princeton, Yale, Oxford, and others have recently formed a consortium to explore online courses for their university "families," Sonnenschein pointed out that faculty already collaborate over the Internet and appreciate its benefits as much as students.
"I always watch the interaction of academic colleagues to see what education will become in time," he said. "The Internet is going to affect us in a mighty way, but our responsibility is to make sure that it does it for the best and for all of the good reasons that universities exist."
Sonnenschein, a member of the University's Board of Trustees, was joined by fellow trustee Paula Brownlee '60 (Flw), former president of Hollins College and past president of the Association of American Colleges and Universities.
Rounding out the panel were John E. Bassett '71 (PhD), president of Clark University, and Rochester presidents emeriti Dennis O'Brien and Robert L. Sproull.
President Jackson served as moderator for the presidential roundtable.
All agreed that one of the greatest contributions of higher education is the diversity of educational choices-from elite privates to land-grant publics to community colleges-that have sprung up in the United States since Rochester was founded in 1850.
A major challenge will be maintaining that diversity and maintaining quality, especially in the face of rising costs.
The best universities, and the ones that have the brightest future, will be the ones that offer personal attention from top-quality scholars and teachers, panelists said.
And that experience will not soon be replicated via distance learning.
As O'Brien pointed out, "There are no class reunions on the Internet."
Maintained by University Public Relations
Please send your comments and suggestions to:
Rochester Review.