UR in Hollywood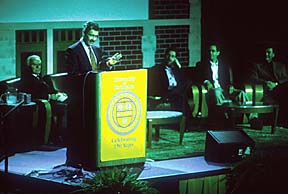 Warner Brothers CEO Barry Meyer '64: Movie studios have mushroomed into "global media conglomerates." Among other panelists were (from left) Jack Valenti, Robert Rubin '77, Michael Kanfer '80, and Robert Forster '64.
"The only general rule about our business is that there are no general rules," Warner Brothers CEO Barry Meyer '64 told a packed Palestra audience.
As if to prove his point, he and four fellow alumni participating in the "UR in Hollywood" symposium proceeded to offer varying takes on life in the film capital depending on their personal connection with it.
Academy Award-winner Michael Kanfer '80, for instance, showed how he helped make that great ship go down in his role as a special effects supervisor for Titanic. "It's pretty weird working on this stuff," he said after demonstrating how filmmakers peopled the ship's last desperate moments with hundreds of computer-generated "actors."
Speaking of the film's vast expense, panel moderator Jack Valenti, CEO of the Motion Picture Association of America, quipped that "they gave the director an unlimited budget and he exceeded it."
Warner Brothers chief Meyer confirmed the huge sums involved in running a major motion picture studio that generates about $10 billion a year. He pointed out that such companies are no longer "just a movie studio but global media conglomerates in their own right and often part of even bigger corporate giants."
Running through developments in the way you can view movies-from theaters to 24-hour cable channels to VCRs to the new DVDs-Robert Rubin '77, executive vice president of Universal Family & Home Entertainment Production, noted that the DVD is "the fastest penetrating technology" ever invented. And, he added, "I'm talking television, radio, automobiles, refrigerators, anything."
Fresh from an impromptu session talking to students, parents, and alumni at Drama House, 1997 Oscar nominee Robert Forster '64 shared stories on the vicissitudes of getting an acting job in Hollywood. It's helpful, he said, if you have a salable "special talent." Stripping to his shirtsleeves, he demonstrated what he claimed as his own specialty, a soft-shoe buck and wing that could have got him an immediate screen test from any talent scout in the audience.
Offering insights on changing styles of reporting the entertainment industry was Elaine Dutka '69, an arts writer for the Los Angeles Times. Some journalists, she noted, are now confusing themselves with the stars they are covering, while many publicists are practicing a "less is more" form of damage control as they attempt keep their clients out of the news.
Dutka had a quick answer for the audience member who asked her if today's movie studios are giving the public what it wants:
"It depends on how old you are."
Maintained by University Public Relations
Please send your comments and suggestions to:
Rochester Review.