Student Celebrants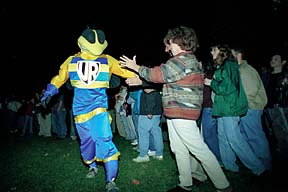 Celebrating a landmark anniversary in the life of your University is one thing, but for students like Bryan Rotach '03, the real action was behind the scenes.
"This was the premier opportunity to do something for the University and with the University," says one of the co-chairs of the student component of Sesquicentennial Weekend. "I couldn't think of anything else that would be so much fun and such a good learning experience."
Rotach and Ken DeMarree '01 co-chaired the Sesquicentennial Committee of Students Together in Networking Graduates (STING). They oversaw about 100 committee members and a total army of about 200 volunteers who helped make the celebration a success.
Student volunteers drove golf carts for parents and alumni who needed help getting around campus, put up decorations between lectures at different venues, gave tours, helped with registration, and chatted with alumni at class dinners.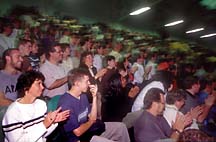 In all, about 1,700 students registered for Sesquicentennial, and an untold number of others attended events, such as the pep rally bonfire and fireworks, that required no registration.
Early on, planners emphasized events for students, adding such late-night programs as Club Night 2000 (co-sponsored with Sigma Nu fraternity) from 11 p.m. Friday to 3 a.m. Saturday, a Casino Night on the Wilson Commons lawn from 10 p.m. Saturday to 2 a.m. Sunday, and a live comedy show on Friday, as well as alumni receptions and other events.
Students enjoyed being an integral part of the celebration, Rotach says.
"To get the student body out to enjoy the weekend like that sets a new milestone," Rotach says.
Other student voices agreed. In a post-Sesqui editorial, the Campus Times noted that the University "can regard Sesquicentennial Weekend as the prototype of a successful program." Concluded the CT, "Sesqui was more than a good party-it brought the campus together in a profound way."
Maintained by University Public Relations
Please send your comments and suggestions to:
Rochester Review.