Boning Up on the Trip to Mars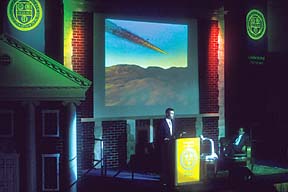 Astronaut Jim Pawelczyk '82: Describing a visit to the Red Planet.
The first astroaut to rocket to Mars may need a milk moustache.
That's the message from physiologist Jim Pawelczyk '82, who was a payload specialist on Space Shuttle Columbia's 1998 space voyage.
Using current technology, astronauts on such a voyage would lose one-half of the calcium and other minerals in their bones, Pawelczyk said.
"Somehow we have to counteract that," he told the capacity crowd at the Palestra. "Or when the astronauts land on Mars, they'll have such weak bones that they'll break a hip when they walk."
In a presentation on "Space: The Unforgettable Journey," Pawelczyk shared some of the highs and lows of space travel culled from his work as a scientist and from his 16-day mission in 1998 on Columbia. (Now an assistant professor of physiology and kinesiology at Penn State, Pawelczyk says he got his start in research at the River Campus sports complex pool: As an undergraduate he worked on a study that revolutionized the way collegiate swimmers take their marks.)
Pawelczyk told the Palestra audience that the issue of astronaut osteoporosis is a serious stumbling block for prolonged space travel. Astronauts lose 1 to 2 percent of their bone mass every month that they are in space. That's 15 times faster than an average postmenopausal woman, despite a daily exercise regimen intended to help keep astronaut bones strong.
Under current scenarios and with current propulsion, the trip to Mars would take many months, Pawelczyk said. Because of the long flight time, it makes sense that visitors should stay awhile.
If that's the case, astronauts might be in low gravity for two or three years, and nobody knows what happens to humans who are away from normal gravity for that long.
Still, a trip to Mars is an achievable goal.
"If we set our minds to it, we can go there in our lifetime," Pawelczyk said. "One of you young people in the audience today might be the first person on Mars."
Maintained by University Public Relations
Please send your comments and suggestions to:
Rochester Review.