Predicting the Unpredictable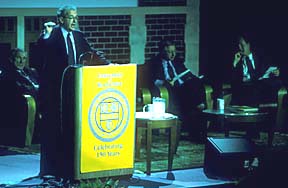 Political analyst Norman Ornstein: No one could have predicted the election of 2000.
Pity the poor political prognosticator.
The head-snapping pace of news cycles, polling techniques, and instant analysis may have befuddled many a voter.
But even professional analysts are often just as confounded, a panel of some of the best election-watchers in the country agreed during their Sesquicentennial session three weeks before Election Day 2000.
"Thought to be the 'thrilla in vanilla,' the presidential race is turning out to be one of the most consequential and interesting in our lifetime," said Norman Ornstein, a resident scholar at the American Enterprise Institute and an analyst for CBS News and other television outlets.
"But none of us have any answers with only three weeks to go," he added-as yet happily unaware of just how hard to call that election would be.
Ornstein shared a stage in the Palestra with Thomas Mann of the Brookings Institution and Vin Weber, a former Congressman from Minnesota whose consulting firm's clients included then GOP candidate George W. Bush. The session was moderated by their long- time colleague in Washington-watching, Richard Fenno, Distinguished University Professor and the William R. Kenan, Jr. Professor of Political Science at the University.
The political, cultural, and historical dynamics of the 2000 elections have upended most conventional analysis, Ornstein said.
Few elections have been for higher stakes, with razor-thin margins up for grabs in the Senate, the House of Representatives, and in many state legislatures. Add to this that the new president may get to appoint as many as four new justices to the U.S. Supreme Court.
But the general public showed relatively little interest during the months before the election.
"We've been a hotbed of social rest," Ornstein said. "Leadership will have to come from the White House."
And while Mann predicted a close victory for Democrat Al Gore, he acknowledged that the 2000 elections were putting the models of political wisdom to the test.
Weber, as a Bush campaign consultant might be expected to, predicted a Bush victory, but he, too, noted that most analysis going into the final stretch of the election was off-base.
"The truth is, nobody really knows, and those who claim to know have been wrong as often as they have been right in this election," Weber said.
Little did he know how truly he was speaking.
Maintained by University Public Relations
Please send your comments and suggestions to:
Rochester Review.