Special for Families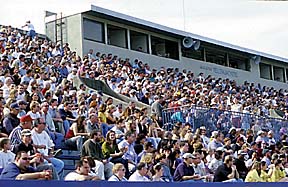 Cheers for the 'Jackets: Part of Family Weekend fare.
Lois Glassberg, mother of Jeffrey Glassberg '01, knows the ropes when it comes to Family Weekend visits on campus.
She and her husband, Ralph, realize that parents can't always expect their children-especially upperclassmen-to act as tour guides.
Which was just fine for Family Weekend 2000, held in conjunction with Sesquicentennial Weekend, Lois says.
Parents had ample opportunities to keep occupied.
"I wish we could have attended even more of the programs," she says. "Anybody who wanted to go to something interesting had plenty to choose from."
"The whole weekend was beautifully planned and organized," Glassberg adds. "We thoroughly enjoyed it."
The Glassbergs were among the 750 or so parents who attended Sesquicentennial Weekend and, as parents of current students, were invited to take part in a separate slate of programs typically part of each fall's Family Weekend.
Anne-Marie Algier, associate director of student activities on the River Campus, says combining Family Weekend with the programming for the University's milestone made sense as planning got under way.
From a logistical standpoint, planning one large celebration is easier than planning two or three smaller ones, she says, but the events also built on each other's energy.
"People seemed to like the atmosphere of having a lot going on," Algier says.
She says Family Weekend planners made sure that parents had special events just for them, such as a reception with the deans of the College on Friday and a luncheon with the deans for freshmen and sophomores on Saturday.
"We wanted to make sure that parents had time to ask the questions that they want to ask," Algier says.
"Where is my child?" was not one of the questions, according to savvy weekenders.
"Thank God for cell phones," says Glassberg. "That way we were able to keep track of our son."
Maintained by University Public Relations
Please send your comments and suggestions to:
Rochester Review.