Probing into Space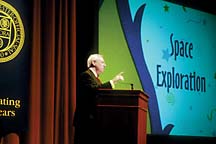 NASA chief Dan Goldin: The next generation, he predicts, will "open up the heavens."
Where there's water, there's life.
That interstellar axiom is the basis for one of NASA's top priorities in coming years-sending a probe to the Jovian moon Europa-according to Dan Goldin, chief administrator of the nation's space agency.
Believed to have a watery ocean, Europa is one of the best candidates in the solar system for harboring some form of life outside of Earth, Goldin told a nearly full Strong Auditorium.
Probing the moons of Jupiter was just one of the projects on the radar screen of NASA scientists that Goldin outlined during his presentation on "Space Exploration."
Others include closer-to-home projects such as improving telescopes to better understand the formation of stars, sending robots to Mars in 2003, improving the Space Shuttle, and building the International Space Station.
Goldin also paid tribute to University scientists, noting that Rochester researchers are designing the world's most accurate clock for the space station.
Rochester also has a research team working on a key component of SIRTF, a space telescope that's helping scientists see stars and planets as they come into existence.
And Goldin pointed out that Duncan Moore, the Kingslake Professor of Optical Engineering (recently on leave to serve as associate director for technology of the White House Office of Science and Technology Policy), was critical in designing the "contact lens" to correct the nearsighted Hubble telescope.
Maintained by University Public Relations
Please send your comments and suggestions to:
Rochester Review.