Everybody Wins! (Almost)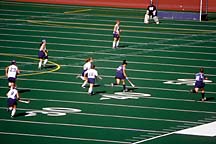 The Rochester field hockey team beat SUNY Geneseo 4-1 during Sesquicentennial weekend.
Call it the Sesquicentennial mojo at work, but every varsity team matched in head-to-head competition that Rochester fielded during the on-campus celebration came through with a victory.
Most dramatically, the football team topped Division I-AA Canisius College 34- 28 in a heart-stopping, triple-overtime, Homecoming victory.
Men's soccer blanked Nazareth College 4-0.
In women's soccer, Rochester beat St. John Fisher College 3-0.
Women's volleyball defeated D'Youville College, 3-1 (15-3, 15-8, 8-15, 15-4).
And the field hockey team beat SUNY Geneseo 4-1.
Meantime, at the Fourth Annual Yellowjacket Invitational Cross Country meet, the women's team placed third and the men's team placed fourth.
Maintained by University Public Relations
Please send your comments and suggestions to:
Rochester Review.