Yellowjackets Finish in Final Four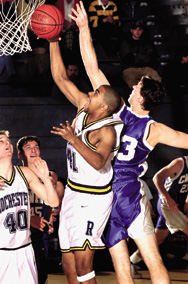 Brian Jones was named First Team All-UAA, First Team All-Region, and MVP of the seasonal playoffs.
A last-second basket in the playoffs and the most successful season in a decade made the 2002 men's basketball season one of full court excitement.
The Yellowjackets finished the season 26-4 and earned a trip to the NCAA Division III Final Four. They lost in the semifinals to Elizabethtown College of Pennsylvania after Seth Hauben '05 sent the game into overtime with his end-of-regulation shot. The team lost the consolation game to Carthage College, the top-ranked team in the nation.
It was a season of big victories, however, as coach Mike Neer earned his 400th career victory, and the team was nearly undefeated at home. Several players earned individual honors, including Brian Jones '04 and Jeff Joss '03 who were named to the All-American team.
Maintained by University Public Relations
Please send your comments and suggestions to:
Rochester Review.