Meliora Weekend: A New College Tradition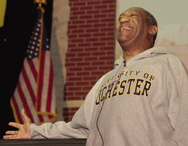 Bill Cosby was among the entertainers at the first annual Meliora Weekend last October.
More than 7,000 people gathered on campus last fall to help launch the successful debut of Meliora Weekend, a now annual celebration for alumni, faculty, and students of the College. The first edition of the three-day gathering took on added poignancy with its prescient theme of "freedom."
Worth Noting
The Simon School was again ranked among the best business schools in the nation last year.
In January, Financial Times of London ranked the school fifth in the world for finance, and in October the paper ranked the
Simon School 19th among the top 50 M.B.A. programs in the world. The school was also among 10 of the "top U.S. schools."
Computerworld magazine listed the school among the top 25 "techno-M.B.A." programs in the country in recognition of technological innovation.
Keynote speakers included Norman Mineta, U.S. Secretary of Transportation, who discussed the difficulties facing the nation in getting back to "normal" after last fall's terrorist attacks.
Ceremonies also honored the six alumni who died September 11.
Other guests for the 2001 weekend were Bill Bradley, former New Jersey senator and 2000 Democratic presidential hopeful; Jeane Kirkpatrick, former U.S. Ambassador to the United Nations; and entertainer Bill Cosby.
An outgrowth of the 2000 Sesquicentennial celebration, the three-day gathering combines the activities of Reunion, Homecoming, Family Weekend, and the Stonehurst Capital Invitational Regatta.
Organized each year around a theme related to the Rochester educational experience, events include symposia, panel discussions, and lectures by prominent national and alumni experts as well as a full slate of entertainment and other festivities.
Meliora Weekend 2002-with its theme of "leadership"-will be held October 11-13.
"This was a fantastic kickoff to the new tradition of Meliora Weekend," said Bob Bartlett, dean for College Advancement. "Our goal is to build on this model and continue by providing dynamic, eclectic, and exciting programming every year for students, alumni, family, and friends."

Maintained by University Public Relations
Please send your comments and suggestions to:
Rochester Review.