A Short Course in Leadership
Rochester abounds in opportunities for students to learn the lessons of leadership outside the classroom. Here are a few examples.
Volunteer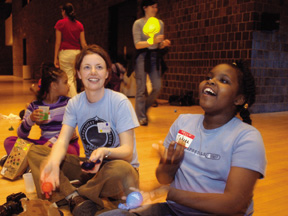 Stillwagon (left) in action at the Community Learning Center
"I want to get myself out there and see what I can do," says Sharon Stillwagon '02. So far she's done a lot.
An English and Spanish major, the Take Five Scholar served as business manager at the Community Service Network and coordinator for the University's Partnership in Reading program.
Each Friday during her senior year, she and other volunteers tutored students in Rochester's School Number 33. During school breaks, they held food drives for Foodlink.
"One of the most awesome things I've discovered is that the opportunities are there for you to get involved if you seek them out," Stillwagon says.

New Leader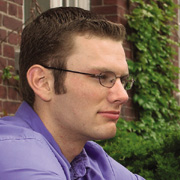 Bailey
Jesse Bailey likes to think of himself as just another member of the Class of 2005 rather than as the president of the first Freshman Class Council, an initiative of the Students' Association and the College.
"I approached this as a learning experience," Bailey says. "I tried not to think of myself as the most important person in the class."
A political science major, Bailey led the 12-person elected council for the 2001-02 school year. He helped organize projects designed to help build class cohesion and also served as the chief liaison between the Class of 2005 and the College administration.
"I hope that together we set a positive tone for a working relationship that will make student life even better," Bailey says.

Service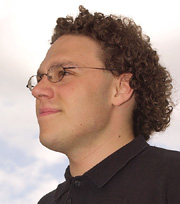 Moffa
Matthew Moffa '02 can get a lot of people to focus on one thing-at least for one day.
The physics and religion major and Take Five Scholar twice coordinated Wilson Day (named in honor of University benefactor and Xerox founder Joseph C. Wilson '31), the University's annual day of community service that's geared as a way for all first-year students to get to know one another and the community.
It's a job that requires coordinating volunteer opportunities for about 1,200 in all, a logistical challenge that Moffa says he finds intriguing.
"I'm a real believer in our ability as human beings to help one another," Moffa says. "It's a whole lot of coincidence that gave me the time and family and the temporal space to have the opportunities that I have."

Peer-to-Peer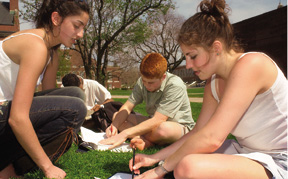 Lukose leads her chemistry workshop section last spring.
Melissa Lukose '03 has enjoyed taking organic chemistry a second time, but she's really liked the new perspective of leading the class.
The chemistry major serves as a "peer leader" for other students taking the class. She's one of about 250 students who participate in the Collegewide program. Originally created through a National Science Foundation grant and targeted toward natural science courses, the program now is one of the nation's largest.
Lukose, who herself was a member of a workshop group when she took organic chemistry, says helping teach her fellow students has given her a different viewpoint.
"Every student is his or her own person and everyone is different. Early on, you have to figure out everyone's learning style and get them all to mesh."

Court Judge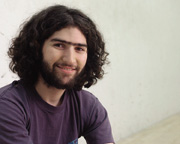 Strumpf
Michael Strumpf '02 admits he's not the best player on the College squash team.
But in a sport that requires members of each team to keep score of matches, coach Chris O'Brien says the senior electrical engineering major and son of former squash team member Hal Strumpf '66 never loses sight of the big picture. That sometimes means penalizing a teammate to keep a match fair.
Says Strumpf: "Squash is really a gentleman's sport, and some of the rules are often not well defined. When you're tired and running around and moving, it's tough to see some of the calls.
"But I like to follow the rules. I think it's best if you're fair to everybody."

Contributor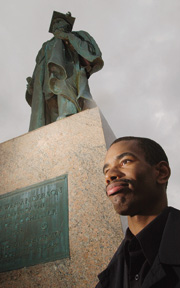 Evans
As the treasurer for the College's student government organization, Malik Evans '02 calculated the dollars and cents when it came to contributions made to support student-run activities.
But his reasons to volunteer for such roles go beyond accounting exercises.
"Any time you are a part of a community-whether it's a college, a school, or a city-you have an obligation to give back in any way that you can," Evans says.
Evans, a political science major, served as treasurer for the Students' Association during his junior and senior years.
Last spring, Evans received the Robert Rouzer Award for Excellence in Student Government Leadership, an honor named to recognize the contributions of the longtime director of student activities at Wilson Commons.

Lead Singers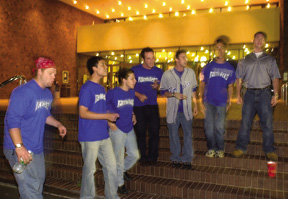 The Midnight Ramblers
Before 1998, if Rochester men wanted to sing in a College-recognized all-male a cappella group, there was only one outlet. The Midnight Ramblers have changed that.
Mike McKinsey '02, an English major at the College and a vocal performance major at the Eastman School, was one of the founding members of the group. He says the Ramblers were created with the idea that the College needed another opportunity for a cappella singers, one that would be performance based, and one that would make service to the University part of its ethos.
"We really wanted to be a voice of the University," McKinsey says.
Frequently called upon to perform at University and alumni programs, the group has provided invaluable experience, says Andrew Freuh '03, a computer science and studio arts major.
"The things I learned in this group are going to be as helpful to me as the things I learned in class: leadership, dealing with people, business management. I'll take that stuff with me forever."
Maintained by University Public Relations
Please send your comments and suggestions to:
Rochester Review.