Leading the FightAgainst Bioterrorism
One of the world's most highly regarded epidemiologists, D. A. Henderson '54M (MD) is again called into duty to prepare for the worst.
By Scott Hauser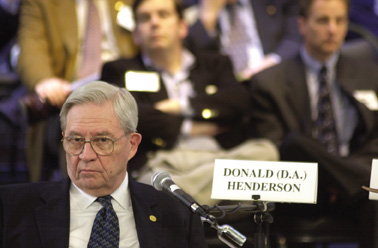 Henderson at the Medical Center's conference on bioterrorism last spring.
On the afternoon of Sunday, September 16, 2001, the telephone rang at the home of Donald (D. A.) Henderson '54M (MD) outside Baltimore. On the other end of the line was Tommy Thompson, secretary of the U.S. Department of Health and Human Services.
"Secretary Thompson asked if I could come down to Washington for a meeting," Henderson recalls almost eight months later. "And I said, 'When?'
"And he said, '7 o'clock.'
"And I said, 'Tonight?'
"And he said, 'Yes.'
"So I went down to Washington."
The native Ohioan tells the story with the self-effacing, at-your-service demeanor of a country physician, but with that phone call-just five days after terrorists killed thousands of Americans at the World Trade Center, the Pentagon, and in rural Pennsylvania-Henderson began the latest chapter in his nearly 50 years of service as an international public health leader.
It's a career that includes credit as the scientist who crafted the World Health Organization's plan to eradicate smallpox, an unprecedented effort that was officially declared a success on May 8, 1980. A former dean of the School of Hygiene and Public Health at Johns Hopkins University, Henderson also had served in the early '90s as science advisor to the first President Bush and, later, as deputy assistant secretary in the Department of Health and Human Services and as senior science advisor to the secretary of the department.
In 1998, he founded the Center for Civilian Biodefense Studies at Johns Hopkins University, leading a nationwide effort to urge scientists, health care workers, and policymakers to prepare for the possibility of bioterrorism.
In the months after September 11, Henderson would become the first director of the Office of Public Health Preparedness, a federal agency created by the Department of Health and Human Services to coordinate national responses to public health emergencies. Henderson officially stepped down as director last May, but he continues to serve as an advisor to Thompson.
The 73-year-old Henderson was looking forward to retirement last fall, but his track record-and his seeming prescience about bioterrorism-made him a logical choice for the new appointment, according to experts in the field.
"He is the consummate field epidemiologist," says American College of Epidemiology president Richard Kaslow, professor of epidemiology and international health, medicine, and microbiology at the University
of Alabama at Birmingham, of Henderson's work to eradicate smallpox. "He was able to accomplish in the real world what others thought could not be done."
Larry Brilliant, a physician, epidemiologist, and technologist, who worked with Henderson on the smallpox eradication effort, says that during that campaign Henderson would read biographies of great military leaders after the daily smallpox work was done.
"D. A. always reminded me of a football coach, urging his players to greatness," says Brilliant who currently serves as an on-call "first responder" for the Centers for Disease Control in the event of smallpox bioterrorism. "His tenacity and perseverance in the 10-years-plus effort to eradicate smallpox are his hallmark. He also works longer days and harder than most. He's an inspiration to those who work with him."
In calling on Henderson, Thompson said, "His distinguished record speaks for itself, and his expertise will only improve the excellent job the public health service is doing at the local, state, and federal levels."
Almost a year later, Henderson's retirement plans are still on hold as he oversees many of the nation's plans and preparation for the possibility of future attacks.
"An enormous change has taken place," Henderson says of the social, political, and public health upheavals that have occurred in the past year.
While the emotional toll of the attacks and their aftermath cannot be calculated, Henderson says several measurable steps have been taken to improve the nation's ability to respond to future crises.
For example, on September 20, 2001, the inventory of smallpox vaccine in the United States stood at about 15 million doses, but only about 90,000 doses were available to be used immediately.
"We could move 150 million doses today," he says (thanks, in part, to studies completed last year at the Medical Center). And he notes that antibiotics for anthrax can be in any community in America within 12 hours.
By the end of 2001, Henderson had the infrastructure of the office in place and had a commitment from Congress for $3 billion to begin working with states and local communities on ways that they could prepare for situations that all of them hoped would never arise.
As of last spring, about 40 states had sent in proposals for funding. "They're impressive," Henderson says. "A lot of good work has been done."
Nationally, Henderson and his team are recommending that every hospital region have a plan in place to deal with a sudden influx of 500 new patients.
They also are proposing that all communities prepare to be able to dispense anthrax and smallpox vaccines within four to six days of exposure.
"Behind the scenes a lot is happening," Henderson says. "We have options available now that weren't available even six months ago."
Although Thompson would not say so in the brief telephone conversation with Henderson last September, he and his advisors, based on intelligence from the Middle East, had already turned their attention to the possibility of terrorists using biological weapons, particularly anthrax, to launch another attack on Americans.
For much of the past decade, the potential for such an attack had been on Henderson's mind as well. As director of the biodefense center at Johns Hopkins, Henderson and his colleagues have been urging policymakers and the medical community to think seriously about scenarios few wanted to contemplate.
Spurred by a changing international climate that included the collapse of the Soviet Union and the disrepair of its military complex as well as reports of ongoing research in countries such as Iraq, Henderson sounded the alarm that the elements for biological weapons were likely to fall into the hands of terror organizations. The center focused its work on six key biological agents: smallpox, anthrax, plague, rabbit fever, botulism, and a group known as the hemorraghic fevers, which includes ebola. Those six now are the focus of federal studies as well.
Of the six, anthrax is probably the easiest for terror cells to obtain and work with, Henderson says, but turning the microbe into a weapon requires a level of scientific sophistication beyond the skills of most. Smallpox is probably the most difficult to obtain, he notes.
He was not surprised that Thompson and his advisors were already focusing on anthrax, but he says no contemporary understanding of weaponized anthrax prepared the federal team for the events of the past fall. As reports of inhaled and cutaneous anthrax cases arrived in October-first from Florida, then from New York City, New Jersey, and Washington, D.C.-the picture remained a puzzle.
Not only was anthrax being delivered through unexpected means-the mail-but the spores themselves behaved in previously unreported ways-easily becoming and remaining airborne-and seemed to be far more lethal than expected.
In all, five people died from the inhaled form of anthrax. For two of the cases-the October death of a 61-year-old employee of the Manhattan Eye, Ear, and Throat Hospital and the November death of an elderly woman in Connecticut-the source of the infection remains a mystery.
Most studies showed 5,000 to 10,000 spores were required to produce an inhaled infection in half of any population exposed to the pathogen. Most assumed any individual would have to inhale hundreds of spores to become infected.
That's likely true for the postal workers who handled infected letters, Henderson says, but the deaths in Connecticut and in Manhattan are difficult to explain unless they were caused by far fewer spores than previous studies would have indicated were possible.
All of which made responding to the crisis more difficult than some critics seemed to appreciate, Henderson says.
"As you go back over the days and the events and what we knew, I don't think there was a delay in taking action," Henderson says. "If there was a delay, it was because we didn't know what was going on."
"We're still puzzled in many ways," he says. "This was very much a learning experience."
After serving two months in an advisory role, Henderson was officially appointed last November as the director of the new office, which reports to the secretary of Health and Human Services and works closely with the Homeland Security Director Tom Ridge.
"I just began working more and more until finally they said, 'Would you take this over?'"
With his "yes" came a caveat: He would direct the office for about six months, just long enough to get the operation on its feet, a commitment that has meant a nonstop schedule of 14-hour days, seven days a week.
"I don't think I have ever worked this hard in my life," Henderson says. "And I've certainly worked some long hours-at the World Health Organization and as a dean-but nothing like this."
In May, Henderson stepped down and Jerome Hauer, a former student of Henderson's at Johns Hopkins and director of emergency management for New York City under former Mayor Rudolph Guiliani, took over.
But Henderson is still on duty at "80 percent time."
"Secretary Thompson phrased it as 80 hours a week, and it's been about that," he says.
The hectic schedule has meant that Henderson had to turn down most invitations to speak, but he wanted to be sure to honor a commitment to speak at Rochester, which he did in May.
Over the summer of 2002, Henderson was scheduled to chair hearings to discuss his former nemesis, smallpox. Last vaccinated against in the late '70s, the disease could be catastrophic if released today, Henderson says.
People under 30 have no immunity, and there is scientific debate about whether the vaccine's effectiveness erodes with time among those who were inoculated almost three decades ago.
The hearings planned to focus, in part, on whether to resume a vaccination program. And if so, who should be inoculated? And how would the program get under way?
It's a discussion Henderson says he had hoped he would never have to lead, but he says the past year has focused attention on the aging and long-neglected state of the nation's public health system.
That system has been eroded during the past 35 years to the point that it was ill-equipped to deal with a major epidemic, such that could come from a new strain of flu, much less from a major act of bioterrorism.
"We need to strengthen our public health system," Henderson says. "If we're going to be better prepared, we have to have a stronger system in place."
Scott Hauser is editor of Rochester Review.
Maintained by University Public Relations
Please send your comments and suggestions to:
Rochester Review.