An Integral Major (or, Can Calculus Be Cool?)
Figure this: The number of mathematics majors in the College has tripled in the past three years, and many of those undergraduates are choosing to sign up for the "boot camp" version of calculus.
By Jenny Leonard
Photography by Elizabeth Torgerson-Lamark
Mandy Danforth '02 faced a choice when she arrived as a freshman four years ago: Skip an entire year of college math or sign up for what promised to be one of the most grueling and demanding years of undergraduate mathematics offered at Rochester or on any other campus.
A no-brainer, right? Well, not exactly.
Having aced her AP tests and packing a high school transcript that included enough advanced calculus and algebra to make any math-phobic student cringe, the Coloradoan arrived more interested in studying music or astronomy than math.
That was until her freshman orientation, when she met Naomi Jochnowitz, associate professor of mathematics, who encouraged Danforth to try Rochester's honors calculus series. To Jochnowitz, the series can forever change the way students conceptualize math — the subject and the major.
"I tell students math doesn't close any doors; it only opens them," says Jochnowitz. "And I encourage students to push themselves and to take on intellectual challenges, assuring them the faculty will be there to support them all the way."
Danforth and a surprising number of like-minded undergraduates seem to figure they are up to the challenge. Three years ago, the University graduated only 14 math majors. By last May, the number had soared to 44 majors in a graduating College class of about 900 students.
"Strange as it may sound, math is hip on the western New York campus, where more than 5 percent of undergrads major in it," noted the Christian Science Monitor in a recent account of the state of math on college campuses that found Rochester's renaissance unique. "That's about triple the national average."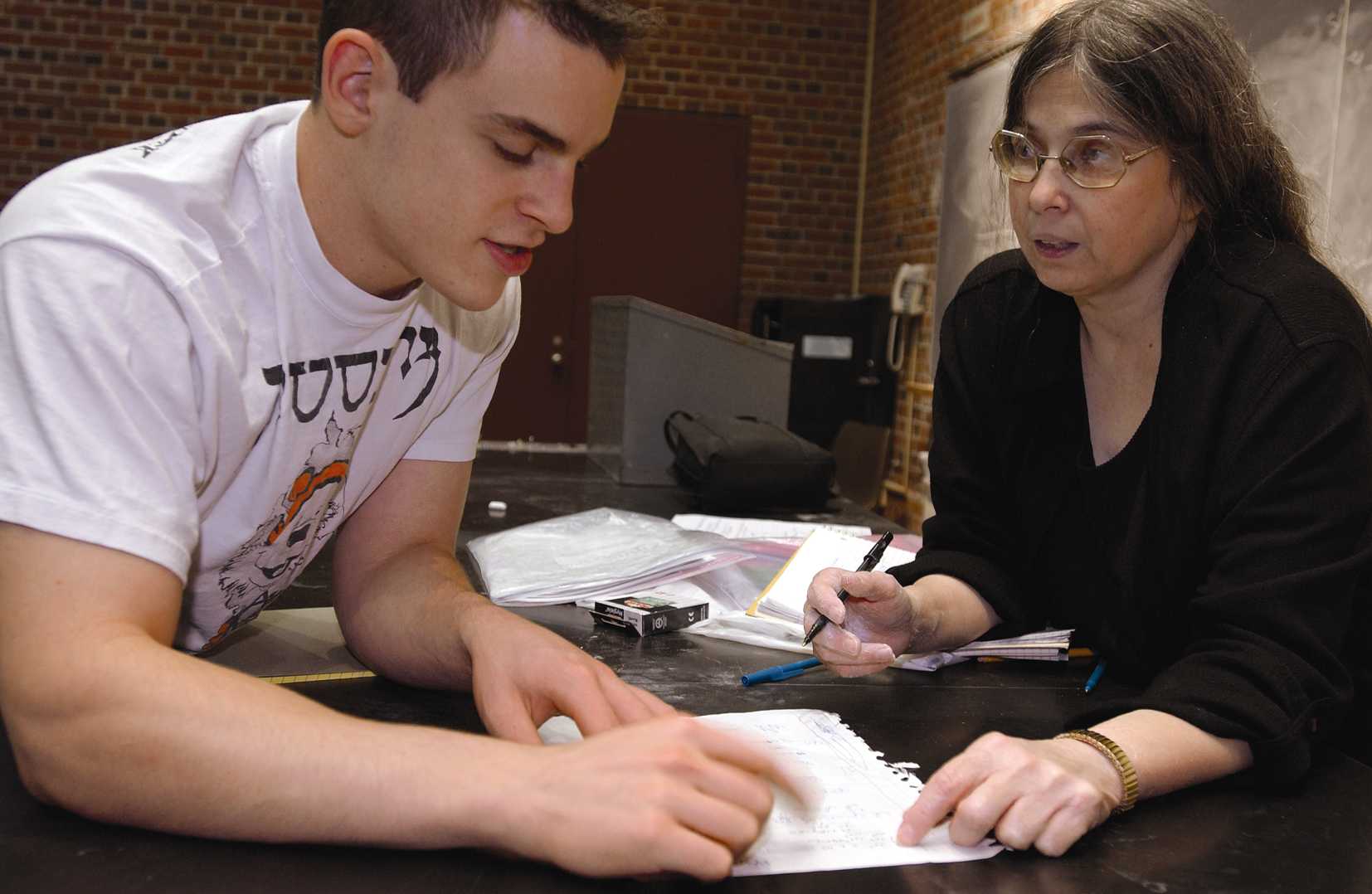 MULTIPLICATION TABLE: Naomi Jochnowitz, associate professor of mathematics, and David Toub '06 discuss an assignment after an honors calculus session last fall.
According to David Lutzer, professor of mathematics at the College of William and Mary, who edited the Conference Board of the Mathematical Sciences 2000 survey of undergraduate math programs in the United States, about 1.8 percent of undergraduates across the country major in mathematics, a percentage that has held steady for much of the past decade.
"The most recent survey data suggests there has been no real increase in the number of mathematics majors produced in the United States between 1995 and 2000," Lutzer says. "It's fair to say that producing 5 percent of a university's bachelor's degrees in the mathematics department is substantially above the national average."
Equally surprising to calculate is the notion that many of Rochester's math majors choose to take the 170 honors calculus series, classes that they have been promised will be difficult. Sitting in on a class filled with such math devotees, it's easy to forget that early in Rochester's history, students made a tradition of "burying calculus" (or burning, drowning, and ceremonially destroying their bête noire) at the end of the then required course (see Rochester Review, Spring–Summer 2000).
All told, more than 30 percent of Rochester undergraduates go on to receive the graduate degree that is considered the final one in their field. In addition to the 10 percent who receive doctorates, another 10 percent earn law degrees, and about 12 percent go on to get medical degrees.
In a related study, Bruce Jacobs, dean of graduate studies at the University, has identified more than 1,000 graduates who have earned academic degrees from Rochester and who are now on the faculty at all of the nation's top 25 colleges and universities, as measured by the National Research Council and U.S. News
& World Report rankings. The graduates include 10 deans of highly ranked schools, 36 department chairs, and 60 program directors. (For more, see Rochester Review, Spring- Summer 2002.)
Designated with Quest status by the College, the 170 series is for students who take their math straight up, no holds barred. Completely different from the series for nonmath majors and philosophically different from the applications-focused series designed for dual majors or for students studying such math-heavy subjects as physics and engineering, the 170 series appeals to mathematics- and science-minded students who find the fundamentals of the subject fascinating.
At many high-powered math departments this is the "sink-or-swim" class for yearling math majors. But at Rochester, the two-year series, taught by the same professor for the entire four semesters, is an experience that many describe as something akin to epiphany.
When asked why they put themselves through such challenges, the students who finish the series have a difficult time articulating what it is they love about math. It's like asking them to describe why a piece of music is moving or the lines of an architectural design beautiful. Balance, order, clarity, truth — these are the words they use.
Completing the 170 series, which satisfies the calculus requirements for the math major or minor, is for many students the feather in the academic cap. Designed to be difficult and demanding, the class also is structured so that students can succeed.
"We tell students this is the place they come for the real thing," says Professor Steve Gonek. "It's like math boot camp, and they like that analogy because they feel it; they suffer. But for most it's a refreshing and unique challenge. And they are very proud they make it through and that they've done it together."
Homework Counts
Grading homework in calculus classes was a monstrous task until Professor Michael Gage and Professor Arnold Pizer developed WeBWorK, an Internet-based system that generates homework problems and provides immediate feedback to students.
According to chair Doug Ravenel, the program has had a tremendous effect in many math classes.
"In traditional grading, students typically don't get feedback for several days, and by then they may have forgotten about the problem," Ravenel says. "The thing about immediate feedback, you get it when the problem is fresh in your mind and you can do something about it. With WeBWorK, students will keep plugging away and resubmitting answers until they figure the problems out. Now, in a typical calculus class about half of the students end up with perfect homework grades."
The program, which serves 1,200 students at Rochester, is generating national interest. In 1999, WeBWorK received the International Conference on Technology in Collegiate Mathematics Award for Excellence and Innovation with the Use of Technology in Collegiate Mathematics. Across the country, more than 40 departments and 20,000 students use WeBWorK, and the numbers continue to grow.
— Jenny Leonard
That sense of togetherness is one of the intangible factors contributing to the department's growth, says Doug Ravenel, chair of the math department. Creating a sense of community among faculty and students and creating a support network have helped make math accessible to a wide range of students.
"But we've also made some very tangible curricular changes based on input from students and other departments, developed a new computer program that motivates students to complete homework assignments, and introduced workshops into many of the honors classes," Ravenel says.
Some of the incentive for making those changes, Ravenel says, came from the 1995 Rochester Renaissance Plan, an initiative designed to improve the quality of undergraduate education at Rochester. The plan, which at one point recommended eliminating the Ph.D. program in mathematics (a recommendation that ultimately was not carried out), was viewed within the department as an opportunity to spell out the discipline's integral place within the University, Ravenel says.
"About 80 percent of College undergraduates take at least one calculus course, and faculty in mathematics have more contact with freshmen than in any other department," he says. "Good calculus instruction is crucial to the success of an undergraduate program like Rochester's."
In the weeks after the plan was announced, mathematics faculty met with every other department that included a math requirement for its major to find out what mathematics could do to help students majoring in other subjects.
Working with other departments to tailor math classes and encourage dual majors is just one example of ways the department is attracting students. However, attracting a new type of student — the rarest of birds: a student solely interested in studying math's theoretical core — has been accomplished through changes partly structural and partly philosophical.
Niles Johnson '03 planned a dual major in math and physics when he came to Rochester from Edenston, Wyoming. By the second year of the calculus series, Johnson — who plans to apply to Ph.D. programs in pure math — became captivated by the theoretical, abstract side of the subject.
"My honors professor once described calculus as a car, and in most courses you learn how to drive the car," he says. "In the honors classes, we get under the hood and learn how the car works. It was interesting to be so drawn into a subject and understand its fundamentals. There was a real distinction, not just in what I was learning, but the way I was learning. By the beginning of my second year, I knew I wanted to pursue this type of math."
While the advanced calculus class has been offered at the University for decades, in recent years the math department has taken a closer look at the class's strengths and weaknesses. According to Gonek, one strength was the unabashed level of difficulty. "I tell colleagues what we are doing in our honors program and their jaws drop," says Gonek.
However, Gonek points out, the level of difficulty also was tied to one of the class's weaknesses—mainly, students had little support for tackling and managing the workload. "Years ago, we could have as few as four students finish the entire sequence, and now we have over 30," says Gonek. "Really very little has changed as far as the structure, but one thing that is different is the workshops.
"We began implementing that about four years ago to avoid the typical situation where bright students would sign up for the class, get these incredibly difficult problems to work on, and go back to their dorms alone, banging their heads against the wall."
Informal, yet mandatory, the two-hour workshop sessions push students to interact with each other while solving homework problems. Beyond the academic benefits, there is a larger, perhaps more incalculable, benefit of camaraderie that develops during workshops. Students tend to stick together and remain friends.
Sarah Zubiary '04, who attended high school in Pakistan, found that workshops helped her adjust to college. "The whole package of the class — the teacher, the workshops, the subject — I felt like I was part of something, which is really important during the freshman year. I made some of my best friends in that class."
And according to the numbers, workshops are paying off. In the 1995–96 academic year, fewer than 15 students were enrolled in the honors series. In 2000– 01, there were more than 60. Enrollments have increased so much in recent years, that for the first time in its history, the department now offers two sections of the initial freshman class.
With the influx of students came the need to create a space where students could meet, hang out, and discuss new math problems. And after the walls came tumbling down a few years ago, a "cool" and comfortable math lounge emerged. Students now can follow the smells of pizza and espresso to find the lounge. As Ravenel puts it, "Every great math department has a great math lounge."
Creating a framework of spaces where students feel empowered and connected and challenged only begins to explain how the department is redefining what it means to be a math student at Rochester. But in the end, it all comes down to that moment, or accruing of moments, in each student's college career when something clicks and a whole new realm of thinking opens up.
Danforth credits the honors series for her decision to major in math. She signed up after meeting Jochnowitz four years ago, and since graduation has been combining her two passions — math and music — in Penn State's graduate acoustics program.
"Professor Jochnowitz convinced me that I had nothing to lose by trying the honors class," Danforth says. "And the class did push me a lot harder than I think the other calculus classes would have, but I might not have majored in math without that early experience. And the support from Professor Jochnowitz was amazing.
"She would stay up with us until midnight working on homework problems. She knows so much and enriches her teaching with stories about all the great mathematicians and how they developed their theorems and proofs.
"I never knew math could be so creative and exciting. The class was an introduction to a whole new world."
---
Jenny Leonard wrote about the College's writing program in the Spring-Summer 2002 issue of Review

Maintained by University Public Relations
Please send your comments and suggestions to:
Rochester Review.